A common method of reducing stress for many SNHU students is to take a break from studying
and head off campus for a bite to eat with friends. The vast array of options in the Manchester
area may seem overwhelming for those unfamiliar with this part of New Hampshire. Nearly all
SNHU students have a favorite dining destination and there are several local institutions that
have become famous across campus.
For those who have no desire to leave their dorm, but still want a satiating meal, Pizza 911 is a
solid choice. This local chain will deliver right to your dorm and there is no order minimum.
Their New York-Style pizza comes in five different sizes, ranging from twelve inches to a
whopping twenty-eight. The massive menu also consists of hot subs, salads and unique
appetizers, such buffalo mozzarella sticks and fried pickle spears.
Among the most original eateries in the area is Mr. Mac's, a restaurant devoted to macaroni and
cheese. This crowd-pleaser offers roughly a dozen varieties of homemade mac and cheese,
including buffalo chicken mac, chicken parm mac and shrimp scampi mac. Cold pasta salads
and garden salads are also available.
For those who like a bit of history with their meal, the Puritan Backroom is an old-school
restaurant, function hall and take-out counter dating back to 1917. Believe it or not, their most
famous dish is their chicken tenders, which they claim to have invented. They have a slightly
sweet flavor and bear no similarity to the frozen variety that many restaurants serve.
Another standout is the homemade ice cream, especially the baklava flavor, which was inspired
by the owners' Greek ancestry.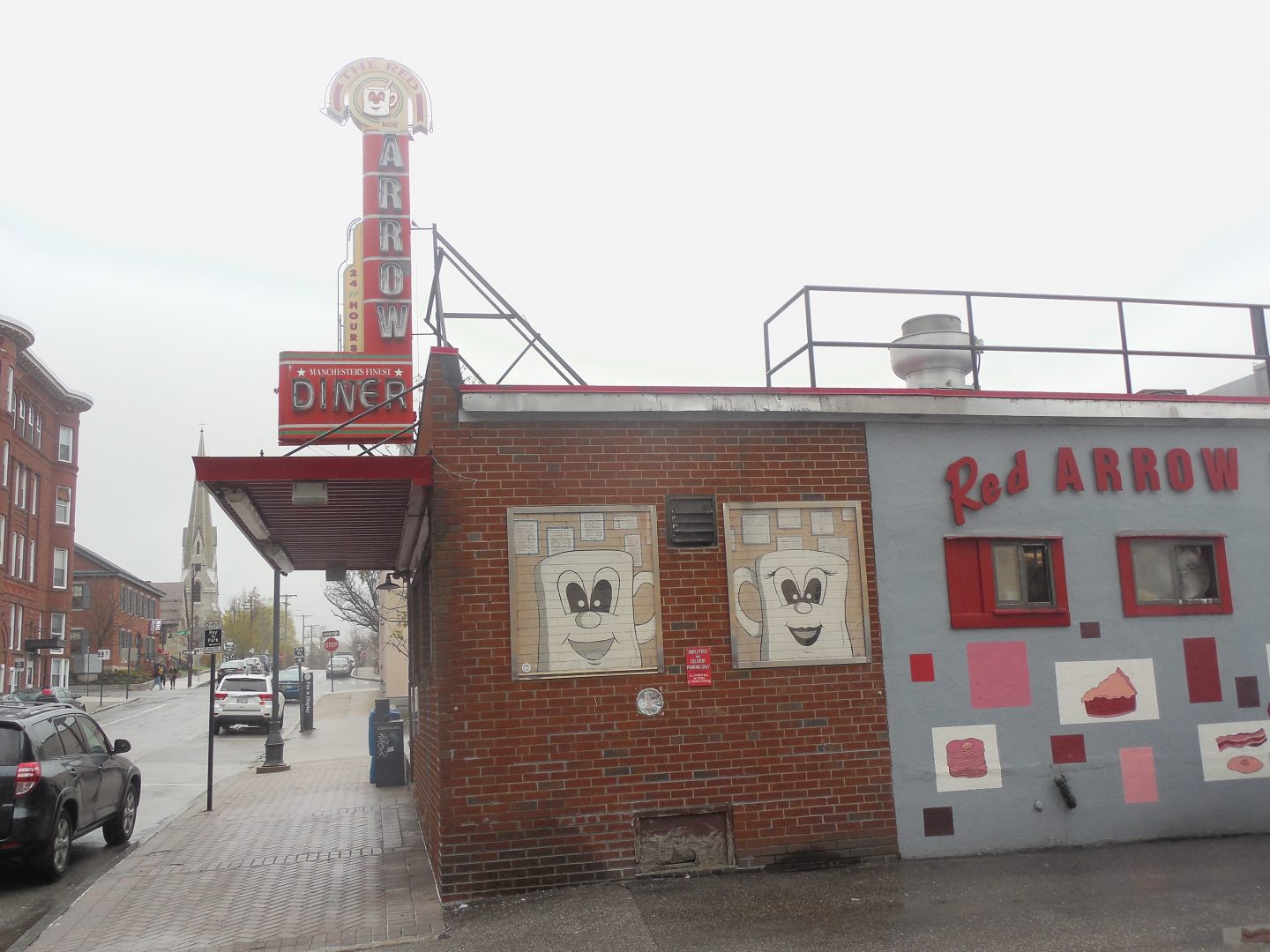 Many locals would agree that the most famous eatery in the area is the Red Arrow Diner. This
local institution has served up all the diner classics since 1922. The whole menu is available 24
hours a day, seven days a week. That means ordering an omelet at 11 P.M. or a burger at 5
A.M. is entirely acceptable.
For those looking for something a bit more upscale, Republic is a farm-to-table Mediterranean
restaurant with a classy, yet casual, atmosphere. The menu offers something for everyone;
salads, flatbread pizzas, paninis, mezze (small plates) and full entrees. They are open for lunch
and dinner daily, and breakfast is served on the weekends.
Manchester's food scene has something for everyone and new eateries are always opening, so
there is no need to be confined to the limitations of the dining hall.