Sometimes a cause is worth braving the cold.
Despite the cold and windy day, Jay Jenkins and Jess Pantano ('20) could be found this past week in the Green Space with a chalkboard and a table full of cupcakes and cookies.
Written on the chalkboard was the question, "How do you help others?"
Jenkins and Pantano were representing the Center for Community Engaged Learning (CCEL), the office responsible for connecting students with service opportunities. They aim to make finding community service simple.
"Without CCEL I have no idea where I would be right now. Probably really bored," said Pantano.
Both Pantano and Jenkins have been involved with service from their beginnings at SNHU. They have the Take 5 program to thank for that.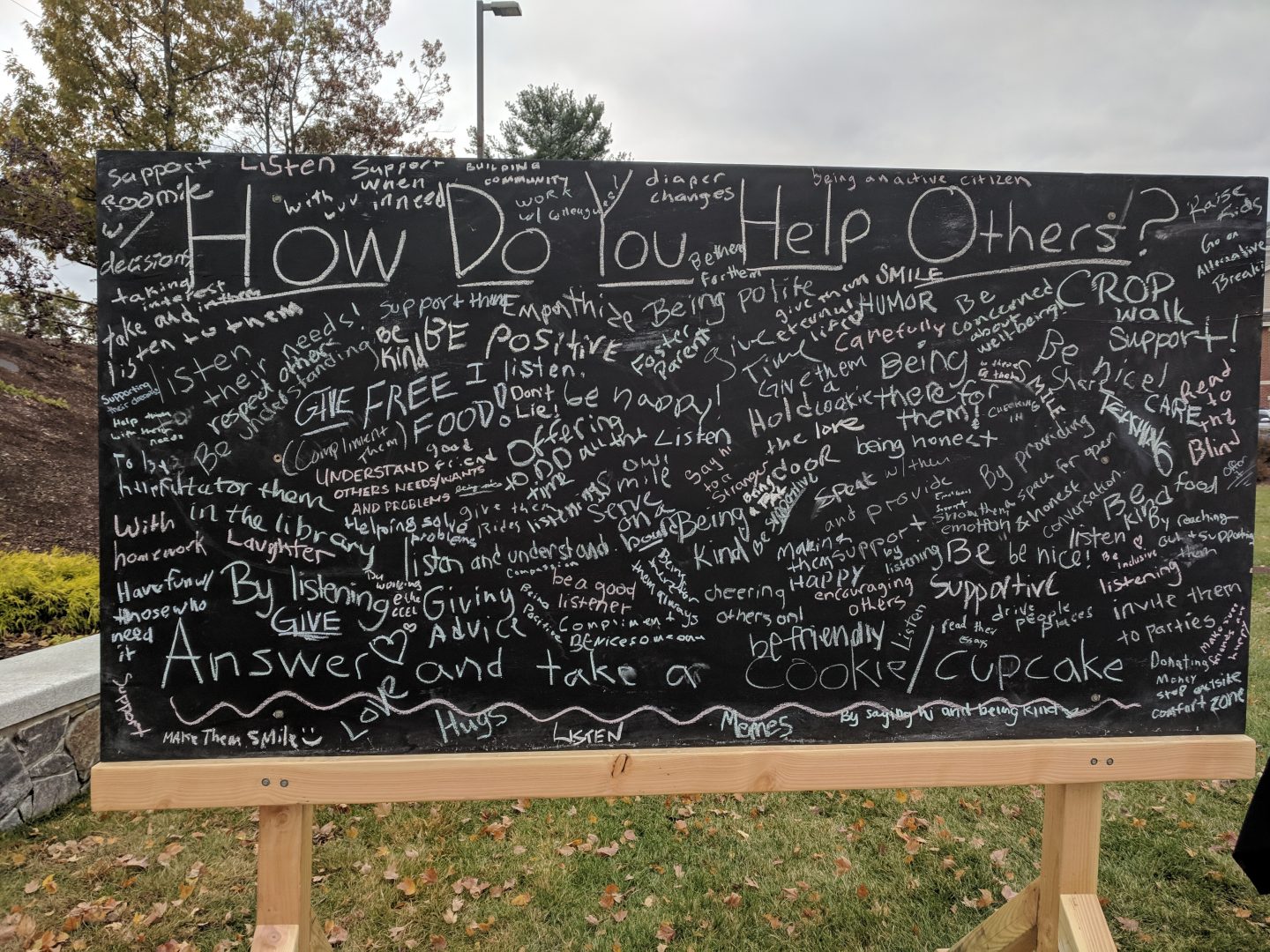 Take 5 is a running start-style program for SNHU freshmen. It lets them take a week before everyone else moves in to learn about the campus and college life, as well as be involved in community service activities.
"I wasn't really into community service until then, but I realized it was a passion of mine that I needed to find," said Jenkins through shivers. He was wearing shorts despite the frigid temperature.
Jenkins is now a Take 5 leader. At this moment, however, he and Pantano were representing Alternative Break (AB).
Through AB, a student has the opportunity to spend their spring break participating in a service project, one they'll be travelling domestically to get to. Students can go to the Dominican Republic, Washington D.C., North Carolina or Utah. Weekend opportunities are also available.
Jenkins recalls his AB experience last year in Cincinnati, Ohio.
"It was amazing for me. I hadn't gone on a trip before that but I had been running the program for almost a year. For me it was like 'I believe in this program but I don't really know why,'" said Jenkins. "As soon as I went on a trip I fell in love with this thing."
His group was studying gentrification, the process of uprooting lower-class individuals from neighborhoods through the renovation of properties to meet the tastes of the more affluent. In cities like Cincinnati, the phenomenon is prevalent.
"I knew nothing about gentrification going in. Going on the trip helped me define what that meant," said Jenkins.
Pantano is hoping to take the values of service with her as she moves beyond SNHU. She wants to be a high school special education teacher.
"They're at that age where they need to understand what they need to do for others as they go off on their own," said Pantano.
For those interested in Alternative Break, the applications will be open until November 11 and can be filled out online at http://bit.ly/2CP6QVS. Jenkins and Pantano encourage anyone interested in service to stop by the CCEL office in the Green Center.
"I walked into that office on the first day and it felt like home to me. I felt like I had found my people — people who understood why service was so important to me. I had never had that before college," said Pantano.