Manchester has no shortage of local bakeries churning out cupcakes, muffins, cookies and other craveable confections. One item that is seldom found around here is the humble cheesecake. This smooth and creamy classic is getting a gourmet update at Mr. Baker Cheesecake, a brand-new bakery specializing in everyone's favorite cheesy dessert.
Owner Dante Baker began baking cheesecakes in 2010. He comes from a rather unconventional background, having gained tremendous success as a hip-hop artist under the name Quiet Akillez. His decision to start the business stemmed from wanting to pursue another venture apart from his music and the desire to pass something down to his children, who love to cook.
"I wanted something else that was different. You have to have a plan B, C, D, F, G. I didn't want it to be what other rappers or entertainers have like clothing or cologne," said Baker. "I just jumped right into it."
After almost a decade of business, Baker decided to open a brick-and-mortar shop in the former Kay's Bakery space on Lake Avenue. The popular Greek bakery served Manchester's Eastside for many years before closing in 2017.
"Having the internet and [having] a storefront is totally different, especially when you're going in where a bakery was. You're filling a void in a neighborhood. For 30 to 35 years, you had a baker that was one of the nicest ladies ever," said Baker.
Although Baker knew the community needed a local bakery, he had no intention of replicating the business model of Kay's.
"It's big shoes to be able to fill," said Baker. "If you're trying to be somebody else, then you're setting yourself up for failure. Nobody can be Kay," said Baker.
Among the most intriguing things about Mr. Baker's is the huge abundance of flavors. Baker claims to offer 500 varieties. There are classic options such as strawberry, chocolate chip and oreo, but fans of adventurous flavors can opt for one of the specialty flavors, with options including cherry chocolate brownie, white chocolate macadamia nut and the completely original "cultural vibe," a tropical combination of strawberry, kiwi, mango and coconut.
All flavors are available to be ordered in advance as whole cheesecakes. A selection of flavors is available by the slice each week. Customers also have the option to create their own flavor.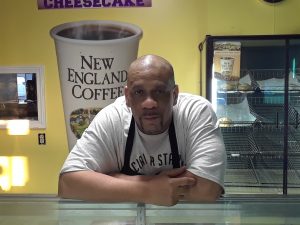 All it takes is a quick glance to realize that this is not the dense, leaden New York-style cheesecake that most people are used to. This cheesecake has a uniquely light and fluffy texture. Many of the cheesecakes sit on a traditional graham cracker crust that has a bit of added sugar to spice it up. After one bite, the fluffiness of the cheesecake starts traveling around your taste buds at full-speed. Many more bites will undoubtedly follow.
Baker also sells fresh muffins, coffee and other treats, as well as New England Coffee for those wanting a one-two punch of sugar and caffeine to get them through the day.
Baker has numerous plans to expand his business, including introducing vegan cheesecakes and cheesecake-infused drinks. He also wants to open a steakhouse with a similar name to further increase business. Additionally, he has recently started using Grubhub for delivery service to further extend his cheesecake reach across the Manchester area.
Mr. Baker Cheesecake may be a small, quiet shop, but it has the strength of the Greek legend Achilles. Visit them at 443 Lake Avenue Manchester, NH.