The University of Essex is a public university in Colchester, England. The study abroad program offered at SNHU makes it possible for students to attend and study at that university. While in the United Kingdom, students are encouraged to explore all that the country has to offer.
Madeline Frisella ('20) studied abroad last semester at the University of Essex and stayed in Colchester, England. "The downtown area is filled with great tourist locations, many are historical sights, as well as a variety of restaurants and shops," said Frisella when asked to explain what she enjoyed most while being in England. "A main attraction in town is the Colchester Castle, which has a museum within it covering all of the events that took place in it, dating all the way back to 1076, which is crazy."
Rebecca Martone ('18) also studied abroad last semester at the University of Essex. Martone said some of the best activities she did while there were, "a walking tour at night in Edinburgh where I got to learn about the darker history of the city and I took a punting tour in Cambridge (which is like a boat tour, not the best idea to do on a freezing November day, but it was fun nonetheless)."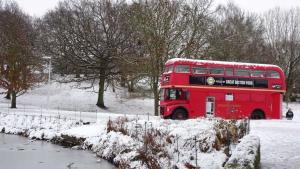 Martone's favorite place that she visited while in the United Kingdom was Edinburgh, Scotland. "The city is beautiful just to walk around, but there's also a little bit of everything to do," said Martone, "I went to The Writer's Museum, National Museum of Scotland, ate at The Elephant House Café, visited the Edinburgh Castle, went on a tour of 'haunted' Edinburgh, tried Haggis and got to enjoy Edinburgh Christmas since I went at the end of November."
One lesson Frisella took from studying abroad was recognizing the importance of stepping outside of one's comfort zone. In doing this, she was able to discover new things about herself which definitely made her study abroad experience all the more memorable.
Frisella gives advice for students interested in studying abroad in the future: "Each place has something wonderful and unique that its neighbor doesn't have, so I can't stress enough to do anything you can to save up your money so you can take every opportunity that is presented to you to see more of the world."
Any students interested in studying abroad should contact the Study Abroad Office, studyabroad@snhu.edu, or Stefano Parenti at s.parenti@snhu.edu. Information can also be provided by visiting their offices, located in Exeter Hall.