Southern New Hampshire University's (SNHU) homecoming weekend started on Oct. 14 and continued until Oct. 17 with a series of athletic events, alumni reunions, and other fun activities.
On Oct. 15, many alumni, families, students and SNHU friends attended the street fair to check out all of the different vendors and tables.
Students and families enjoyed the carnival games, variety of foods from food trucks, and giveaways.
"I'm really excited to be back on campus and see my friends. As always, everyone and of student involvement and alumni killed it," said John Wescott, a 2015 alumnus.
"This is my fourth year coming to the Street Fair. It has been great so far; the foods from food trucks are delicious," said Chief Information Officer of Student Government Association (SGA), Victoria Maguire.
The Office of Student Involvement and Alumni Engagement and other offices and clubs on campus made this homecoming weekend possible.
"It's a fun event to plan. We are a huge committee of event representative across campus to help plan the event," said Associate Director at Office of Student Involvement, Colleen Lubin. "It's fun to see all come together [and] see family and alumni enjoying it."
International Student Association members did the henna tattoos for its visitors. "It's wonderful to celebrate the students and alumni," said Director of Community Relations, Helen Davies, while waiting for her henna tattoo to dry.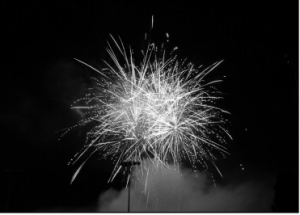 Many alumni stayed for the evening activities, such as the SNHU Alumni Men's Soccer Game, fireworks, Greek Night, and Big Money Bingo.
"[This homecoming] has felt like a dream," said Logan McCarthy, a 2016 alumni, at the Lighting up the Night Event. "It reminded me how positive everybody is [at SNHU]. It reminded me that [participating in SNHU events like homecoming is] why I am happy."