A hidden gem lies at 844 Elm Street in Manchester.
Surrounded by restaurants and cafes, it can be easy to overlook the small store with a stylized sign that reads Bookery Manchester.
Yet, once inside, the Bookery immediately feels like home, with the smell of tea and coffee in the air and the sight of hundreds of books just waiting to be pulled from the shelves. Upon entering, a greeting rings out from the cash register with a friendly smile and a, "How are you today?" One thought that may come to mind is how did such a wonderful place come to be?
The answer goes back years ago when Elizabeth Hitchcock and her husband had the desire to open up a bookstore in Manchester.
"[Elizabeth] has always wanted a community space for Manchester. We have great restaurants, great bars, other spaces people go but don't necessarily stay, hang out, connect with other people," said Liz Cipriano, the manager and co-founder of the Bookery.
That interest ignited a spark for Hitchcock to open the Bookery in 2017. The hope for those at the Bookery is for it to be a "community hub" where everyone feels welcome, as their website says.
Along with its well curated selection of books, the Bookery hosts a wide range of events. Some events include live music concerts every Thursday and its weekly Story Time on Saturday mornings. Story Time allows young children the opportunity to hear a good book and partake in an activity.
The Bookery also has a partnership with Slam Free or Die, a nationally known slam poetry group. The group comes to the Bookery every first and third Wednesday of the month to facilitate a slam poetry workshop that is open to the public. The Bookery also hosts author events every Monday and various workshops from flower arranging to mindfulness and even political events.
Manchester Mayor Joyce Craig spoke at the Bookery for International Women's Day this year.
"The fact that she visits here and supports local downtown business is amazing. She comes back and I think we just have a great space for her type of events. It feels really good to be thought of as a place like that," said Cipriano.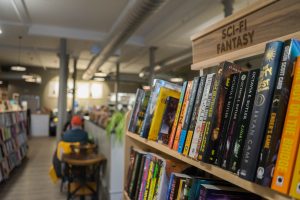 As the Bookery becomes a large attraction in the Manchester area, many people may wonder how that came to be due to the popular belief that the increase in technology has led people to read books on Kindle's or on their phones. However, this belief may actually prove to be fiction.
In the article, "Book Sales are Up this Year Over Last Year, and Physical Books are Thriving," published on December 28, 2018 on the online news source Quartz, writer Natasha Frost states that the amount of independent bookstores, like the Bookery, grew 35 percent between 2009 and 2015. Additionally, Frost states that in October 2018, book sales reached $699 million, which was a $50 million dollar increase from 2017.
"I think we reached this cap of e-readers, electronic media and then people just pivoted and realized there's so much value in holding something, seeing something, connecting with people over it versus looking at a screen. Most people do that all day for work or school anyway. A lot of people don't want another screen to add to that," Cipriano said.
This pivot that Cipriano mentions is only proven by the reactions of the customers at the Bookery. Cipriano explained that there is not just one type of customer, but people of all different backgrounds who come into her store.
"When we have people walk in the store, they have huge smiles on their faces, [saying] 'We've needed this space. We wanted this space. Thank you for bringing books to downtown,'" she said.
With seating dispersed throughout the store, a cafe and even a kid's play area, the Bookery exhibits the best form of the coffee shop atmosphere; it's any writer or bookworm's dream. It allows for all different types of people to gather, learn, work and collaborate.
"This is just what [Hitchcock] wanted for Manchester, and what Manchester has needed," Cipriano said.
The Bookery is open 11 a.m. to 9 p.m. on every day except Tuesdays. There is no doubt that for as long as they are around, they will continue to be "more than a bookstore."