Victoria Dean ('20) is not a typical student athlete. She is also a cadet in the SNHU On-Campus ROTC program.
The ROTC, otherwise known as the Reserves Officers' Training Corps, is a college military program that presents enrolled students with military-focused classes and field training to properly prepare them for an army officer position after graduation.
Army ROTC students, or "cadets," learn invaluable character-building commands to become diverse, self-disciplined civilians through tough, centralized leadership development training.
Dean, a junior on the women's basketball team, joined the ROTC program after her sophomore year.
"I needed to do something that was separate from basketball to keep me motivated," she said.
Dean comes from a military family. Her sister, Abby, is a first lieutenant stationed at Fort Leavenworth in Kansas. Dean admires her sister's ambitions and wants to follow in her footsteps.
"Seeing [my] sister and how prepared she was for the military after college was truly inspiring," said Dean. "I've always had a passion for serving the country and watching her succeed at it really pushes me to want to do the same."
Dean found herself in the ROTC office on campus following an unsatisfactory basketball season her sophomore year. She spoke to several officers and cadets in the office to learn more about the program and how to enroll.
She then became an official cadet.
The following summer, she attended a cadet training camp. This camp served as a contingency to get her feet wet and acclimate her to customary military protocol. This summer, she plans to travel to Fort Knox for an advanced training camp where she will be placed on an official merit list that will rank her cadet status.
When she graduates SNHU in May 2020 with a Bachelor's Degree in Justice Studies, she plans to commission as an official army officer.
While she continues her quest at SNHU to eventually become an army officer, she must take a series of military science classes as required by the ROTC. These courses include introductory classes such as Military 1, 2 and 3 and advanced classes such as Leading Small Tactic Units. She must also take a world war history class.
This semester, Dean is taking Military Science 301. The class goes one day a week from 9 a.m-12 p.m. and is followed by a physical component at 1 p.m. The physical component combines the drills and instruction that were learned in class.
"You run through everything you learned in class which can be an ambush, a raid," said Dean of Military 301. "You run the drills as if it were your real-life training."
Dean's physical training consists of various drills one would endure during boot camp. On Monday, Wednesday and Thursday mornings, she hits the campus gym with her ROTC group and runs through training exercises. She also runs across campus or the Livingston Park trails.
Every Friday, she treks to the University of New Hampshire (UNH) for additional training.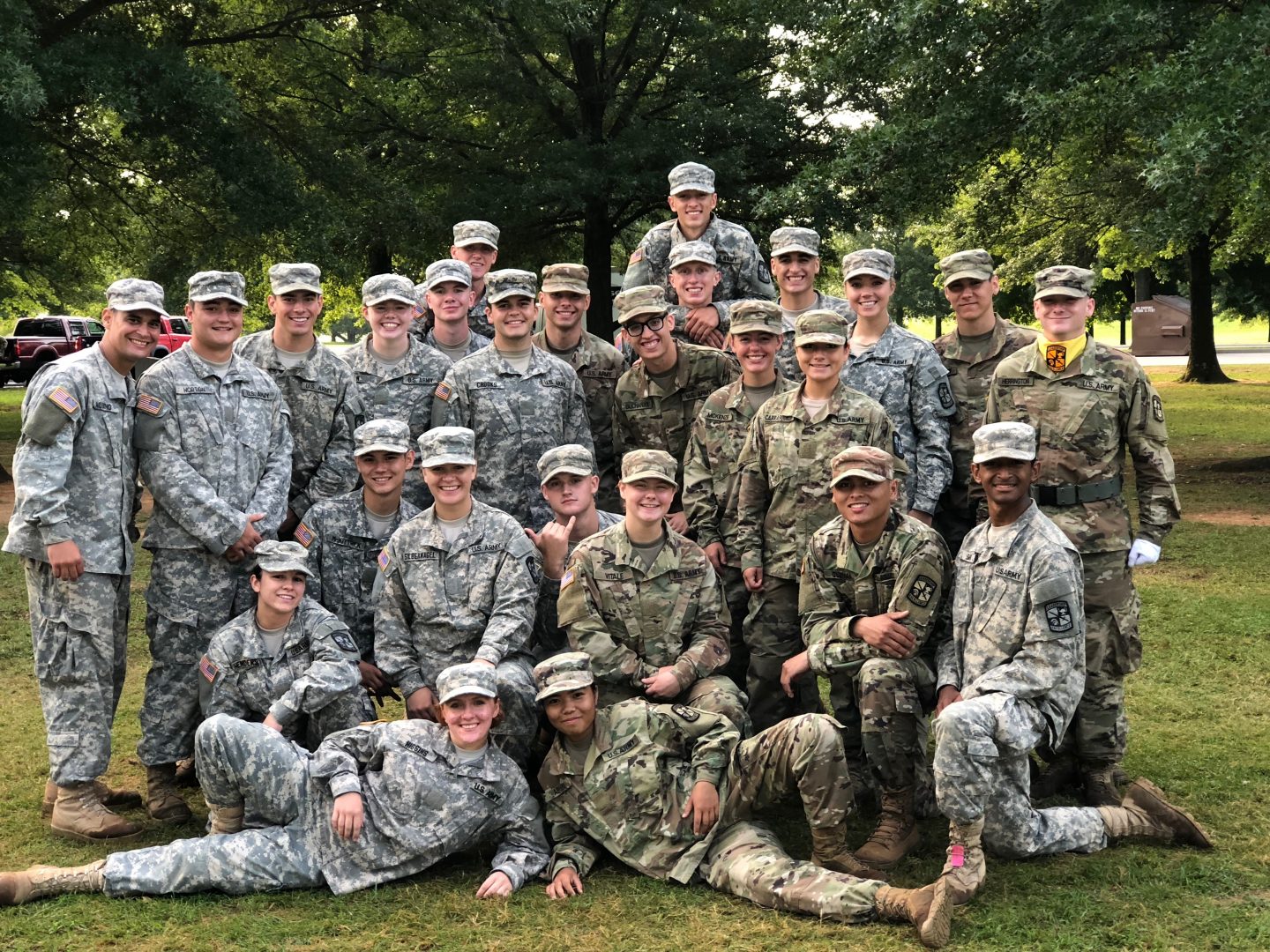 Training for the ROTC program is intense, as Dean describes it, and varies greatly from her basketball training.
"Basketball is more stop and go and more interval," said Dean. "Whereas you have to be 100% in the army. There are no breaks, you have to be on at all times."
Dean must take physical fitness tests for both the army and basketball. The army physical fitness test consists of two minutes of pushups, two minutes of situps and a two-mile run. The basketball fitness test, however, is completely different training.
Yet, between the two physical tests and training, Dean says she is in "the best shape [I've] ever been in."
In addition to being physically fit, Dean must have a strong mindset. She has to adapt to stressful situations and perform under intense pressure. This holds true for both her role in the ROTC and on the basketball team.
For the army, she must have an aggressive mindset, whereas, in basketball, a team-oriented mindset is necessary. She also takes a step back in basketball.
"I have to know my role," she said. "I have to have a completely different mindset for basketball and the army, but in both, I have this incredible group of people coming together to achieve what they want."
Dean must also have strong interpersonal skills. In both the ROTC program and basketball, she works closely with other people to accomplish a common goal.
In the army, she must know her personnel officers and learn their strengths and weaknesses to better accomplish a given task. In basketball, the objective is to win as many games as possible as a collective group and to do so, she must comprehend each of her teammates' strengths and delegate certain tasks to them.
Through the ROTC program, Dean has gained many additional valuable skills that translate into her basketball career. These skills include leadership, motivation and discipline.
"I definitely view myself as a leader," she said. "This year, I have a lot of younger kids looking up to me [on the basketball team], and I think joining the ROTC program has helped me mature as a person and as a player."
Dean's basketball teammates admire her passion for the army. When she was first going through the decision-making process, she mentioned it to them and they were supportive of her.
"They keep me going," said Dean, referring to her teammates. "They respect what I do and think [ROTC] is super cool."
Dean uses the leadership, motivational and disciplinary skills she acquires from basketball and the ROTC program and uses them interchangeably to achieve the utmost success on the court and in the army.
"Both of them coincide to make me better in whatever I'm doing," said Dean. "So, if it's the army, I learn things to make me better in basketball, and if its basketball, I learn things to make me a better leader in the army."