Among the many factors that promote the success of a restaurant is versatility. Offering a diverse menu, unpretentious surroundings and multiple dining options enables an establishment to appeal to a broad range of people. No other New Hampshire eatery may embrace this concept more effectively than the Black Forest Café, a community gathering place that has been in business for thirty years.
This commanding, yellow building nestled along route 101 in Amherst, New Hampshire houses a casual restaurant, marketplace and bakery. Martha and Bruce Walters started the business in 1988. Bruce was trained in France and England, so he strived to incorporate classical French techniques into an approachable menu of new and old favorites. The café assumed its current location in the late nineties to accommodate the couple's desire for expansion.
According to General Manager Anthony Cormier, the kitchen at Black Forest is a from-scratch operation.
"We make everything from scratch. I would say like 95% of the things we make are from scratch. If there's that five percent that isn't, [then] it's a local purveyor that's doing it for us… other than that, we're making mayo, salad dressing, pie crust bread, bread…literally everything," said Cormier.
The restaurant side of the operation features a menu reflecting both traditional American dishes and international fusion. There are a variety of small plates, such as cauliflower tacos with edamame hummus, sweet potato and caramelized onions and a meatball skillet with lemon pesto and marinara.
Creative sandwiches include a Reuben made with sauerkraut that is laced with bacon and apples and a grilled cheese featuring two-year aged cheddar, apple chutney, kale and bacon on fresh sourdough.
Splurge-worthy entrees include homemade chicken pot pie, crab cakes with napa cabbage slaw and the so-called Shaker Cranberry Brisket, a dish that Cormier is particularly fond of.
"There are things that we don't have time to do at home anymore, and I feel like some of those items are becoming more and more rare because they are so hard [to make] or they take so long. So that we don't fall away from some of those traditional things, I encourage people to try some of those things, like our slow-braised brisket." said Cormier. "It's braised in carrots, celery, onions, red wine, garlic and fresh rosemary. Then it sits in the oven forever. Then we cut it ourselves and with all the drippings and liquid that's leftover in the pan, we strain that down and we make our gravy."
The restaurant is open for lunch Monday through Saturday and dinner Tuesday through Saturday. Brunch is offered on Sundays with dishes such as salted bourbon caramel French toast and southern-style biscuits with sausage gravy. There is also a full catering menu.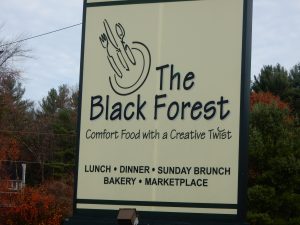 The Bakery/Marketplace/cafe side of the operation is a bustling environment filled with grab-and-go options for those in need of a pick-me-up. Hot and cold drinks, wraps, prepared salads and a selection of homemade soups and quiche are available all day. The marketplace offers a range of local products.
"If Whole Foods [Market] was going to have a convenience store, that's what we're going for [with the marketplace]," said Cormier. "All of the merchandise and novelty items are related to what we do."
The most tempting part of the space, however, is the pastry case. Oversized scones liberally dusted with powdered sugar, glazed cronuts cloaked in icing and homemade fruit pies bursting with color are just a few of the sugar-fueled delights. Just be sure not to leave without a cookie. Nearly a dozen varieties are offered ranging from chocolate-dipped peanut butter to molasses spice to traditional English shortbread.
The motto at Black Forest is "Comfort Food with a Creative Twist." Cormier and his team are encompassing this theme every day and have continued the legacy first brought forth by Bruce and Martha Walters thirty years ago.