Between soaking up rays and relaxing on the beach, the SNHU baseball team competed in five non-conference games during their spring break trip to Florida.
Expectations were high for the Penmen, and they were predicted to win many, if not all, of their games. Competition, however, was much stronger and more tactical than most teams in the Northeast-10 (NE10) They also faced a few alterations that affected their performance on the field such as the use of metal bats. In the NE10, teams play with wooden bats, while southern states like Florida play with metal bats. They posted a 2-3 win-loss record against some of the toughest teams in the south.
The Penmen started their Florida quest strong, capturing big wins in their opening two games over Bloomfield and Wilmington (Delaware).
The Penmen posted a 4-1 victory over Bloomfield Friday, March 9, where, graduate student Andrew Lalonde recorded a career high 11 strikeouts. He allowed just one run, which was unearned, on five hits while punching out 11. He did not allow any earned runs over seven innings, which was his second longest outing of his career.
The offense also shined in Saturday's game. Graduate student Thomas Buonopane knocked in a pair of runs while delivering an RBI double. Kyle Pangallo ('18) reached with a two-out single and stole second base. Wesley Tobin ('20) struck out one in a perfect inning of work, while ('19) Hayden Manning notched his first save with a perfect ninth.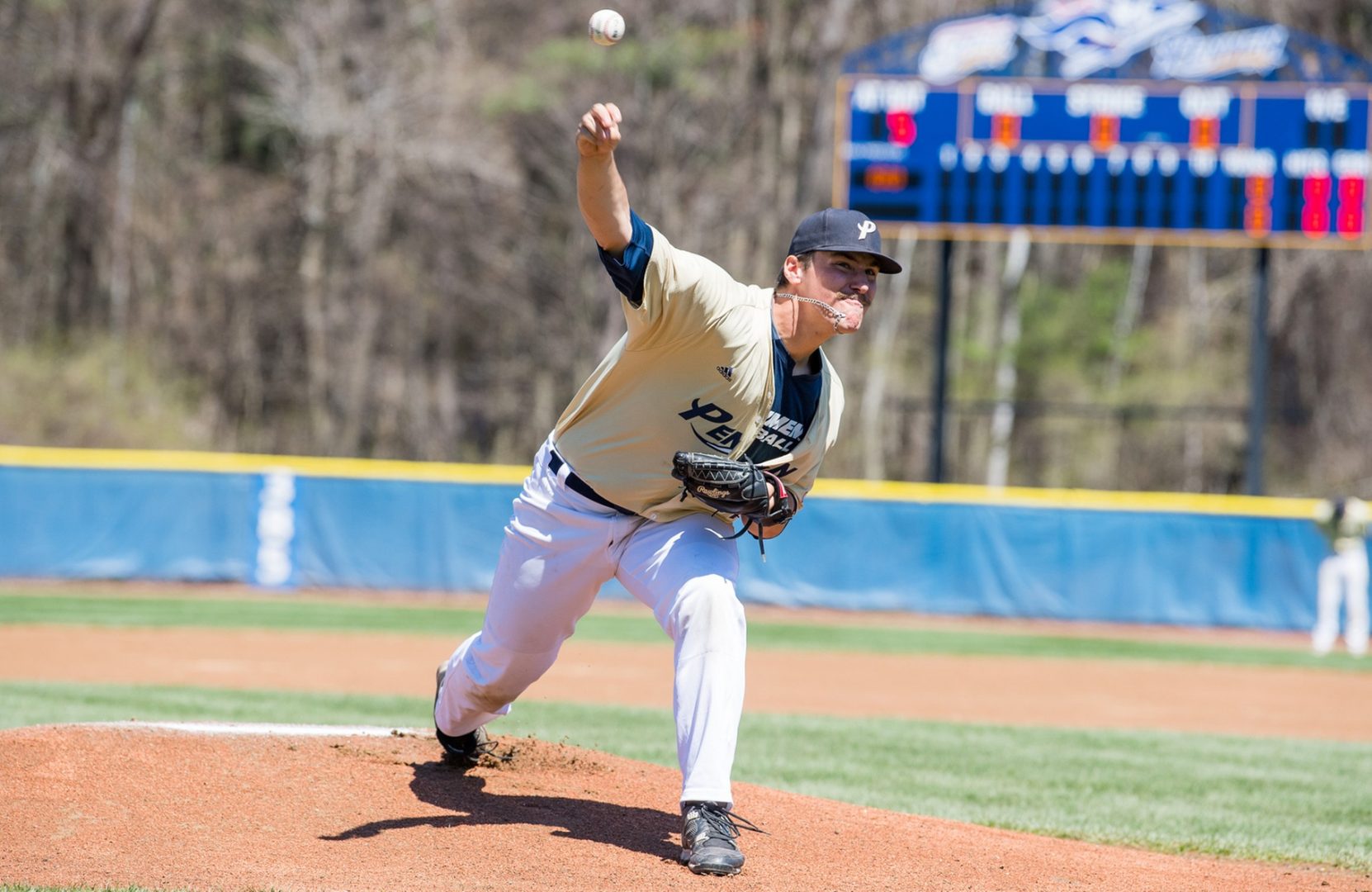 The Penmen then went on to face Wilmington (Delaware) and captured an 8-0 shutout. Graduate student Shane McDonald hurled eight shutout innings, and Pangallo and Tom Blandini ('20) each drove in two runs. The Penmen went ahead, 1-0, in the bottom of the first when Blandini tripled to right and then scored on a grounder to the right side by redshirt John Stanton ('19). The score stayed that way until the fifth inning when the Penmen hung a four-spot. Blandini delivered a two-run triple to right for the first runs of the inning before eventually scoring on a passed ball. A run-scoring double down the third base line by Caleb Potter ('18) capped the scoring in the frame and made it 5-0.
The SNHU offense came alive again in the eighth with a two-run double down the third base line from Pangallo making it 7-0 and a bases loaded walk to redshirt Ryan Sullivan ('18) closing the scoring. McDonald scattered five hits, struck out seven and did not issue a walk over his eight-scoreless innings. Blandini finished 3-for-5 with two RBI and a pair of runs scored, while Pangallo was 2-for-4 with two RBI and a run. Sullivan went 2-for-3 with a walk, an RBI and run. Redshirt Joshua Goldstein ('20) was 1-for-2 and scored twice.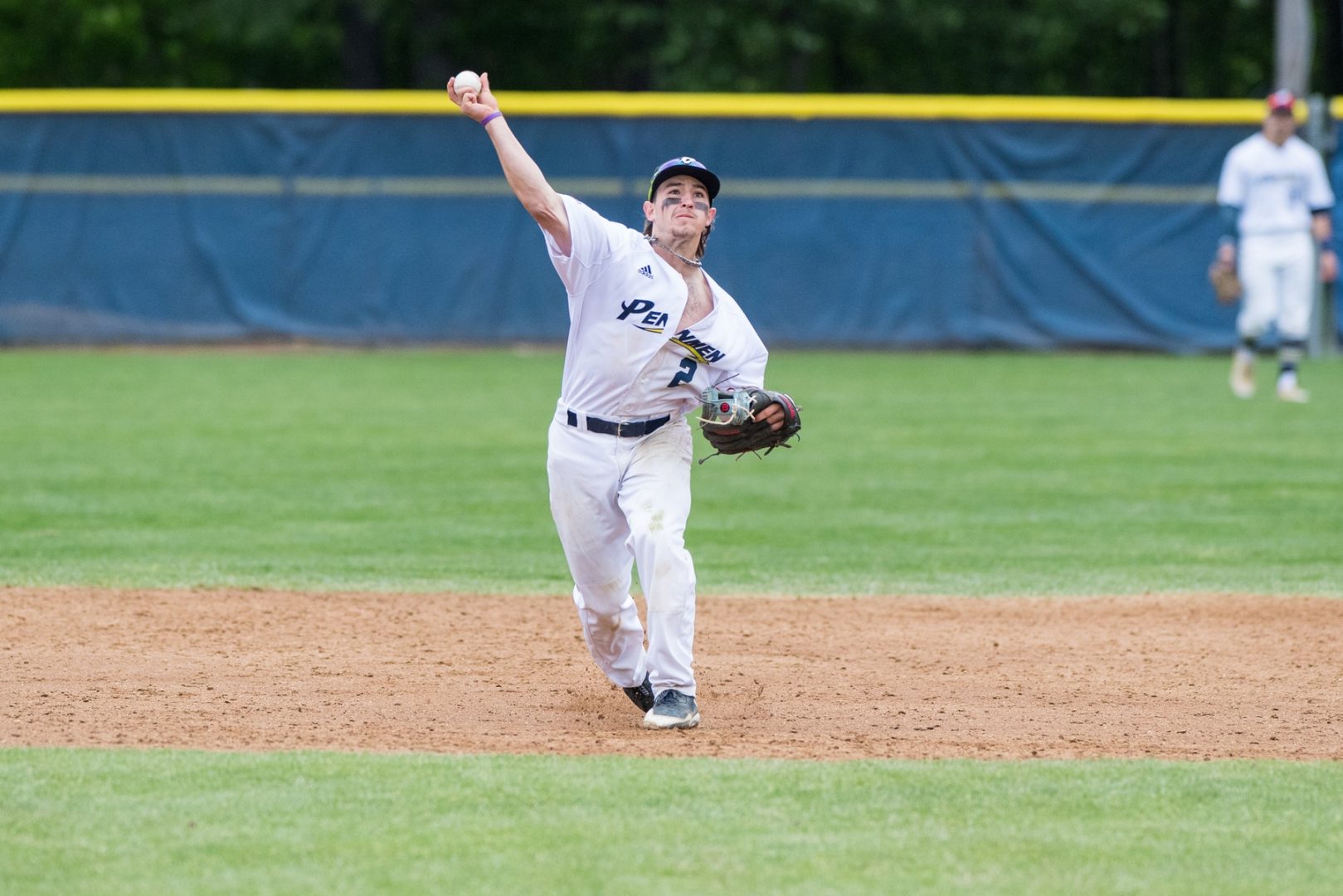 The Penmen received their first of three consecutive losses when they faced the University of New Haven on Monday, March 11. The Penmen had a strong opening when Sullivan staked the team to a 2-0 lead in the first inning, but New Haven scored 10 unanswered runs to capture a 10-2 victory. Buonopane led off the bottom of the first inning with a single and moved up to second when Blandini reached on an error and advanced to third on a walk to Stanton that loaded the bases. Sullivan came through with a base hit that plated a pair to give the Penmen an early 2-0 advantage. Mitchell Powers ('18) started and lasted for four-plus innings, allowing three runs, two of which were earned, on three hits, while striking out three and walking one.
Redshirt Jake Stearns ('18) made his first appearance of the season during the game, and relinquished two runs on two hits and a walk in an inning-and-a-third. Redshirt Zachary Merchant ('21) was charged with three runs, while not allowing a hit, striking out two and walking two in two-thirds of an inning. Redshirt Brendan Welch ('20) fanned a pair in a scoreless frame, though he did walk in an inherited runner. Jordan Allard ('21) allowed two runs – one earned – on one hit over two innings, striking out two and walking a pair. SNHU had a run of scoreless innings from its starting pitching snapped at 19, while the pitching staff, as a whole, had not given up an earned run in 27-and-two-thirds frames when New Haven jumped on the board in the fifth.
Following the 10-2 loss to the University of New Haven, the Penmen lost their remaining two games to Eckerd College and Nova Southeastern.
In the loss to Eckerd on March 12, the Penmen were unable to find their way onto the scoreboard until the sixth inning when Potter reached on an infield single and moved up to second on a throwing error, before scoring when Ethan Harris ('20) hit a two-out fly ball that was dropped by the right fielder. Eckerd would tack on two more in the seventh on RBI singles. Blandini went 1-for-2 with a pair of walks, while Goldstein was 1-for-3.
Potter finished 1-for-4 with a run scored. Wesley Tobin ('20) came on in relief and worked three-and-a-third innings, giving up one run, which was unearned, on two hits, while striking out four and not issuing a walk. Hayden Manning ('19) tossed two innings and allowed a run on one hit and a pair of walks, punching out one. Welch was charged with two runs on a hit and two walks as he struck out the only batter he retired. Redshirt Cameron Scotia ('19) struck out two and allowed one hit in an inning-and-a-third of scoreless ball, while Sam Henrie ('21) fanned the only batter he faced.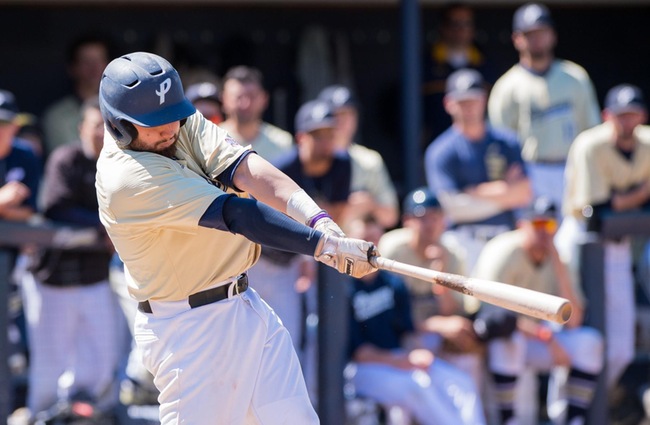 The Penmen concluded their Florida trip with a 10-2 loss to Nova Southeastern on Tuesday, March 13. Joshua Zbierski ('19) drove in the game-tying run during a two-run second inning that gave the Penmen the lead, but Nova Southeastern University scored nine answered runs to hand the Penmen a loss in their Florida trip finale. Morales allowed six runs, four of which were earned, on eight hits, while striking out four and not walking a batter over five-and-a-third innings. Nick Artymowicz ('20) relinquished three runs on five hits, striking out one, in two-thirds of an inning. Jeffrey Praml ('21) struck out one and walked one in a hitless inning of work, while Xavier Czepiel ('19) tossed an inning and gave up one run on two hits and a pair of walks, while fanning a batter. This loss marks the first time SNHU has lost five of seven games since May 1-16, 2015, while it is the first time the Penmen have dropped three straight since May 2-14 of that same season.
The Penmen return to action Saturday, March 17, when they travel to Northborough, Massachusetts where they will face off against Saint Thomas Aquinas at 11 a.m. Their home opener will take place Wednesday, March 24, at 3 p.m. against Merrimack.
"The season's been good so far, but in terms of the team's play and success, I believe the best has yet to come," said McDonald, reflecting on the trip. "We believe that we're good enough to beat anybody we play against, so our expectation coming down here was to win every game. As a team we just have to keep working hard and stay positive, as the talent we have on our roster is as good as any team in the country."