Moving onto campus for the first time and preparing for the first semester of college can be a stressful and exciting experience. That's what Arielys Liriano felt as she walked into her first-year student seminar, but it wasn't because of who she didn't know; it was because of who she recognized.
"When I walked in, I saw one of the staff members from the Boys and Girls Club of Manchester and then I saw people wearing Boston Celtics shirts and I was like, what's going on?" Liriano said.
Last year, Liriano was the recipient of the Boys and Girls Club Opportunity Undergraduate Scholarship, the four-year full scholarship to SNHU was made possible through a partnership between SNHU and the Boston Celtics.
As a special surprise, Celtics rookie and former Southern Methodist University (SMU) standout player, Semi Ojeleye came out during the seminar to invite Liriano on stage to talk in front of over 700 incoming SNHU students and later presented her with an autographed Celtics' jersey customized with her name.
"I was a little scared and a little nervous," Liriano said. "I don't know all of these people. It was a little shocking, but it was exciting getting to meet a Celtics player."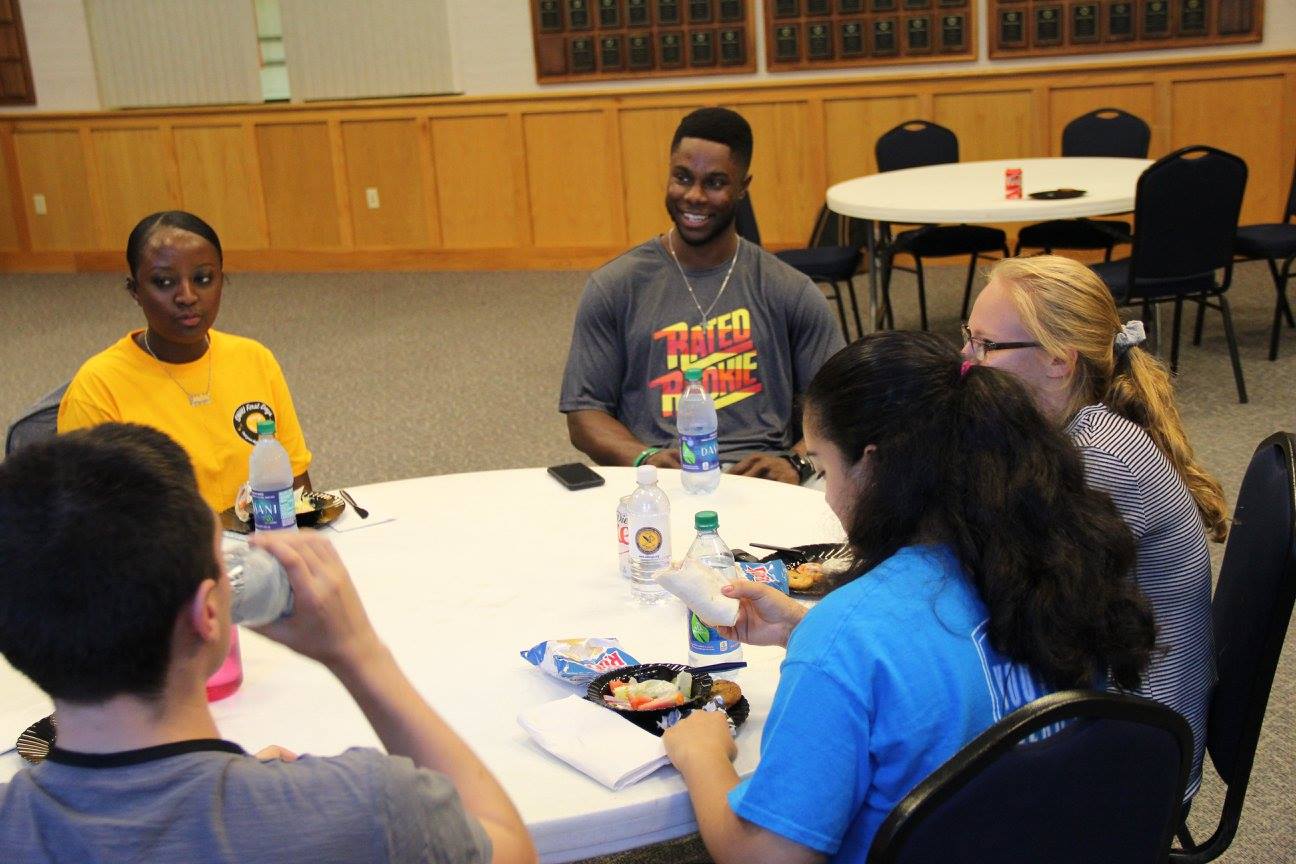 On stage, Ojeleye was interviewed by Dave Hoffman, the Celtics' senior director of community engagement about his own college experience and how his transition to the NBA mirrored the students' own transition to college.
"[These students] are moving into the dorms and i'm trying to find a new apartment," Ojeleye said. "You adjust to a new place, try to meet new people, learn a whole lot of different names, but it can be overwhelming. I just told them to try and take it one day at a time, be humble, take what advice you can and it will all work out."
Liriano echoed Ojeleye's sentiments saying, "I would say meet new people, you're trying to build up your network. Go to events and try to participate and be involved. Try to meet new people because everyone on campus is both excited and nervous at the same time, if you're able to just break through that you'll be able to have a better college experience."
Both Liriano and Ojeleye have their goals set high for their first year in a new environment. Liriano said she was already looking at organizations to join at SNHU. "I'm interested in the Multicultural Student Union, and I heard about Cousins which is the international student [partner program], and then I want to go to the Involvement Fair to see what catches my eye."
Ojeleye also spoke about his goals for the upcoming year. "I'm working to learn as much as I can from everyone around me. That'll help me improve daily. If I can improve a little bit each day, then I'll eventually reach my potential."
Had he not declared for the NBA draft, Ojeleye would be entering his final year of college eligibility and he's going to celebrate the start of the new NBA season much like college students at SNHU and around the country. With the new edition of NBA 2K. "I used to play 2K in high school but then I was like, 'This is too much basketball,' so all [I] played was FIFA, but now I gotta get the new 2K; I gotta play as myself. I'm gonna play as the Celtics a lot, so I have to give it a spin."
Liriano and Ojeleye are both working hard and already making a meaningful impact in their new communities.