The SNHU Women's Basketball team saw their 2017-2018 season come to a close on Saturday, February 25, after Southern Connecticut State University posted a 75-64 win over the Penmen in the quarterfinals of the Northeast-10 championship. The Penmen's appearance in the quarterfinals was their first since 2011.
The Penmen's loss to Southern Connecticut brought their overall record to 17-12, with a 12-9 Northeast-10 conference record.
Now that their college basketball careers are behind them and graduation is on the horizon, seniors Olivia Conrad, Jennifer Shelp, Cat Stinson and Mimi MacLeod reflect on their season, their overall careers with the Penmen and what the future holds for them.
OLIVIA CONRAD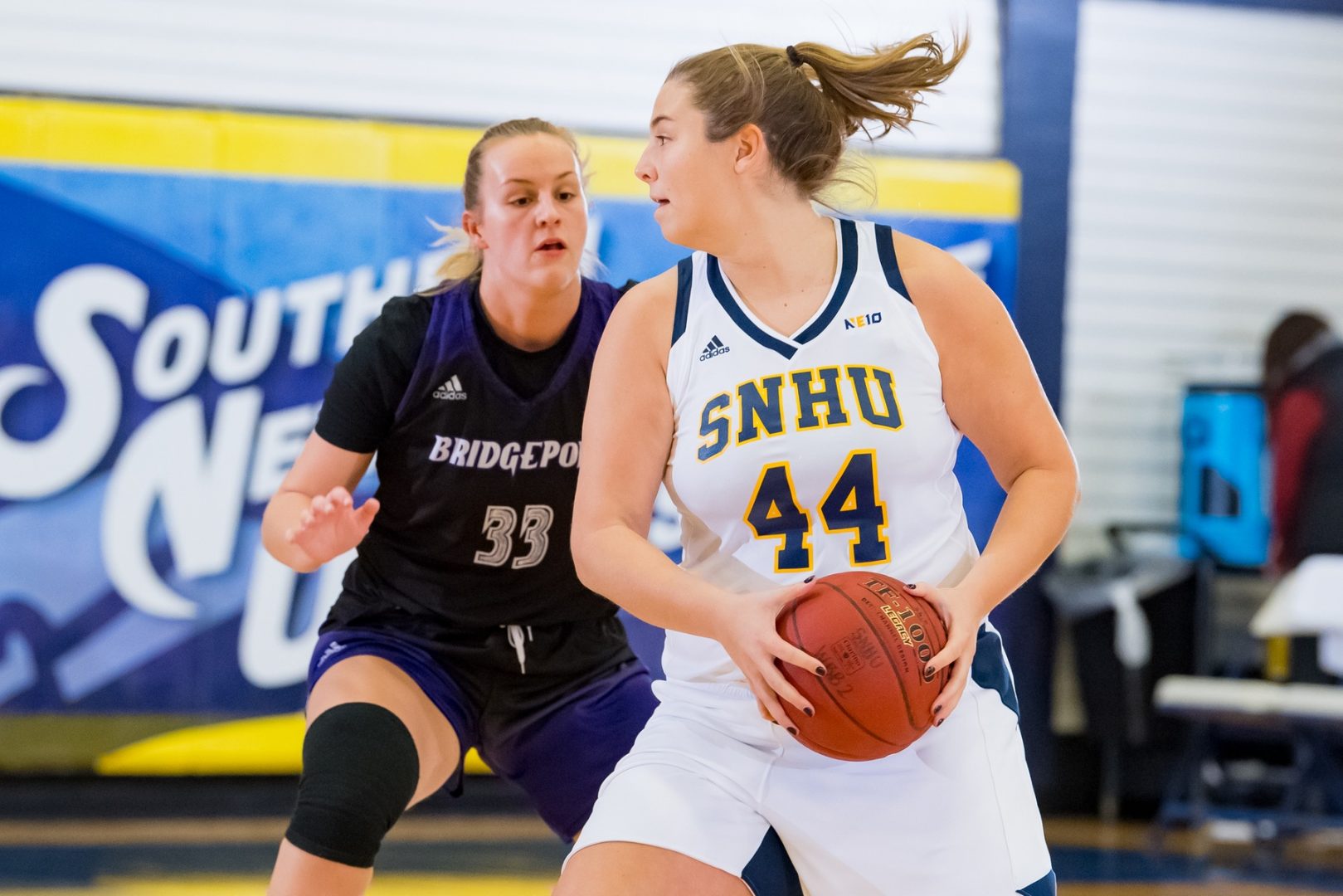 Olivia Conrad of Hanover, Massachusetts, was a forward for the Penmen. She averaged 1.3 points per game and averaged 0.4-1.5 field goals this season.
Last spring, Conrad graduated from SNHU's Bradley Three Year Honor program but chose to attend SNHU again this year to receive a master's degree in business. She plans on seeking a job in sales or marketing once she graduates and hopes to find a part-time job coaching basketball.
Because of her experience at SNHU, Conrad feels prepared for her future business endeavors. She learned a lot at SNHU, taking away time management and personal responsibility skills, which she says are the two most important things that will help her after college.
"It is absolutely bittersweet that my college basketball career is coming to an end," said Conrad. "It was a dream of mine to play college basketball since the fifth grade, and I could not have asked for a better experience. I have enjoyed every moment traveling with my teammates and making memories that will last forever. I will definitely miss basketball. It will always be a huge part of my life and has shaped me into the person I am today. Everything I learned from basketball will help tremendously in my future endeavors."
CAT STINSON
Cat Stinson of Lynn, Massachusetts was a guard for the Penmen. She started in all 29 games played this season and averaged 3.2-9.9 field goals and 8.7 points per game.
"The experience being on the team these past four years was a rollercoaster," said Stinson. "Each season we had our ups and downs, but this year was a special season. It's a bittersweet feeling that the season came to an end."
She is graduating with a bachelor's degree in criminal justice and is unsure about her professional career plans.
JENNIFER SHELP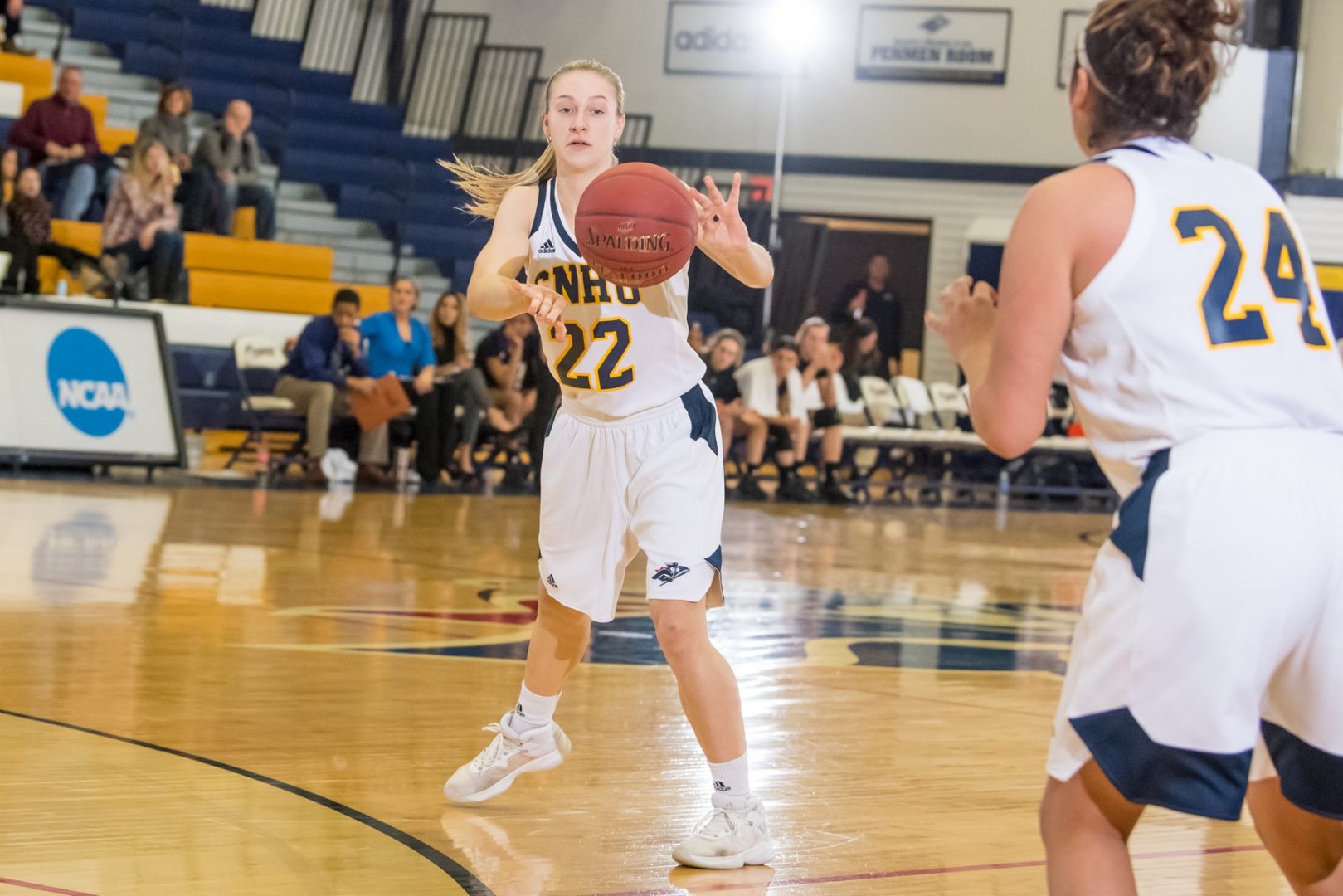 Jennifer Shelp was a guard for the Penmen. She started in all 29 games and averaged 5 points per game and 2.2-5.1 field goals per game. She is graduating with a bachelor's degree in mathematics and plans on moving back to her hometown of Binghampton, New York, where she will coach an AAU team alongside her dad.
In addition to basketball, Shelp is a tutor and a volunteer on campus, all of which provide her with a solid foundation of skills to benefit her future career path. She has learned various skills such as time management, cooperation, determination, organization, work ethic and communication through her experience at SNHU.
"My experience at SNHU has been one that I will never forget," said Shelp. "I have gotten to travel and meet new people while playing the sport that I love with my best friends. It is bittersweet knowing that my basketball career is coming to an end because I have put so much time and passion into it and this team; however, I am ready to use everything I learned in my future."
MIMI MACLEOD
Mimi MacLeod of Hampton Falls, New Hampshire was a forward for the Penmen. She averaged 0.6-1.8 field goals and 1.7 points per game this season. She is graduating with a bachelor's degree in communications.
"I've had the opportunity to meet some of my best friends and travel the world, all while playing the game I've loved since the second grade," said MacLeod. "I'm so thankful Coach Pinkos gave me the opportunity to come to SNHU and pursue my dreams in my home state. It's bittersweet it's coming to an end, but I'm so appreciative of all the opportunities playing basketball has opened up for me."
During her time at SNHU, MacLeod learned a lot of skills such as time management and prioritization that she plans on incorporating into her future career. Thanks to basketball, classes, work and extra-curricular activities, she said she is a much more well-rounded person and more well-prepared than she ever was before.
MacLeod does not have any concrete plans for her future yet; however, she hopes to find a job in the marketing field in the Boston area. She is looking forward to traveling this summer and hopes to compete in a marathon within the next few years.
Conrad, Stinson, Shelp and MacLeod give their best wishes to their underclassmen teammates when they take over the Northeast-10 next season.