SNHU staff and alumni have been mourning the loss of Betsy Gunzelmann, a well-renowned psychology professor, who retired in 2016. She passed peacefully in her sleep on February 14, 2018 and will be remembered for her kindness and vast knowledge in the field of psychology.
Members of the SNHU faculty had nothing but positive remarks about Betsy's character.
Karen Erickson, professor and dean of arts and sciences emerita, spoke on Betsy's demeanor  stating she "had the wisdom of a mother, the insight of a teacher, the creative capacity of a research scholar and the compassion of a true friend."
"She had this great energy and a really dry sense of humor that she brought to everything," Steve Johnson, dean of arts and sciences added. "She was famous for saying, 'I am not bias if I am right,' which was kind of one of her big jokes. She had lots of one-liners like that and people remember her for that kind of wit." He along with others who had the pleasure of knowing Betsy believed that her can-do spirit was what kept everyone thriving on and off campus.
Patty Lynott, university college president, also spoke on behalf of Betsy's amazing qualities saying, "She was a really warm and inviting person. You would really have to look hard to find somebody who couldn't get along with Betsy Gunzelmann. She was just one of those people. We would not have the psychology department if it was not for Betsy Gunzelmann."
Associate Professor of Psychology, Michael Hendery, recalled Betsy's welcoming and friendly nature. "Betsy hosted our annual fall department meeting at her house in Hampton, New Hampshire. She lived near the beach, on the same street as the house she grew up in. She was so proud to open her home up to us and always insisted that we take a walk down to the beach after our meetings."
Betsy's achievements exceeded beyond her teaching career and into her writing career. "Her heartfelt concern for teaching in our schools today drove the uncanny publication of seven books in as many years by an eminent publisher in the field. She was ahead of her time in illuminating questionable memes of American education," said Erickson.
Betsy was not only beloved by faculty and staff, students also expressed their heartfelt appreciation for the work she did and the time she dedicated to their education.
"I remember that she always went the extra mile to help students really understand the different theories in personality psych," Stephanie Anderson ('18) said. "I also remember that she made it fun to learn and had us do a fun project of picking a movie character and figuring out how all the different theories may have shaped who they are." The memories Betsy left are embedded in her teaching methods and her approach to each and every individual student.

 Emily Rocca ('18) also commented on Betsy's approach to psychology courses and shared the power of that energy in the classroom.  "She was such a sweet and fiery woman… I don't know if I could choose just one word to describe her because she was best viewed as a whole package. She was honest, fiery, uplifting, and bright. If it weren't for her looks, you would think she was a young soul trapped in an older woman's body."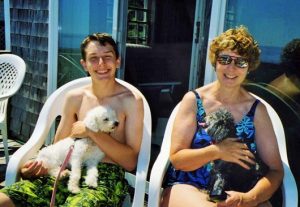 Dr. Peter Frost summed up Betsy's legacy simply. "What I will forever take from Betsy is how she was a genuine and supportive person for her colleagues-an honest voice in the department when we needed it. If she felt we needed to improve some aspect of our program, she would let us know and offer-as well as hear-solutions."
Lynott also highlighted her endearing personal qualities, stating,  "She was so sweet and funny. I think for me that is the part that I will miss most. She really was a kind person utterly devoted to students."
Karen Erickson's final remark about Betsy Gunzelmann was, "Beyond the standards of excellence Betsy attained professionally, her personal legacy will remain forever with family, colleagues and students."