Two SNHU athletes made history when they reached the final of the Intercollegiate Tennis Association (ITA) Championships at the Billie Jean King Tennis Center in New York.
Bas and Willem van Biezen met in the ITA championship match on September 16 in what was the biggest match of their ever-growing careers.
The brothers have been playing tennis together since they were five and six years old.
They were born in the Netherlands with supportive parents, who cheered along as they competed in matches across the country.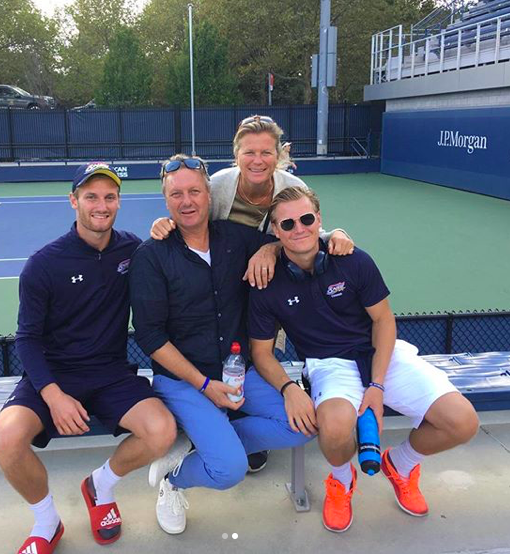 "[Our parents] have both been such a big part of our careers," said Willem. "Now, we want to show them what we've learned and what we've accomplished."
And they did. Their parents flew to New York and watched their sons accomplish what no other SNHU tennis player has done before.
Bas and Willem, both seniors, fought through a handful of matches before ultimately facing each other in the final, and one of whom would be the first SNHU tennis player to win the title.
Bas had a rockier tournament compared to his elder brother. He started as a qualifier and was nearly knocked out in the quarterfinals against the number six seed, Tom Jarry, from Le Moyne College. He lost the first set 6-1 before roaring back to capture the second set 6-2. He hung on in the third set tie-breaker to clinch the match 12-10 after being down 8-2.
"I had to live in the moment," said Bas of his grueling match. "I was positive and didn't get down."
Willem, who was the number four seed, had a BYE in the opening round. He cruised through his next three matches and did not drop a set. He did not face any significant difficulty until he met Jay Godfrey Seno from Concordia in the semifinals.
Willem came up short in the first set, 6-7, dropping the first set tiebreaker 6-8. He then came charging from behind to capture the second set 7-5 and continued that momentum into the third set tie-breaker to clinch the match with a 10-7 tie-breaker victory.
"Momentum is important," said Willem, reflecting on his trajectory at the ITA's. "If momentum is on your side, you will have positive vibes."
Bas and Willem then met in the final championship, a feat Bas describes as "extra motivation."
"[Playing Willem] motivated me more," he said. "We joked about seeing each other in final, but didn't know we'd actually make it. It was in the back of mind that I might play my brother and that gave me extra motivation."
Several of Bas and Willem's teammates and coaches, as well as their parents, gathered in the bleachers surrounding match court on the day of the final.
The atmosphere was odd, as Willem describes, as the crowd was unsure of who to root for.
"A lot of emotion usually goes on during a match, but it was an awkward silence in this match," explained Willem. "We're brothers on the same team, so they are not going to cheer if one of us makes a mistake, but only when we hit a good shot or break serve."
The crowd didn't erupt until match point when Willem came out victorious. He captured the 2019 ITA East Regional crown with a 6-4 6-4 straight-set win over his brother.
Willem was ecstatic. He was thrilled when he hoisted the trophy, but at the same time, he wishes two people could hold the trophy.
"There should be a winner of the top and bottom flights," said Willem. "That way Bas and I could have both won. And even if Bas did win the final, I would still be happy. All I could think of was playing him."
Willem will now travel with SNHU Head Tennis Coach, Greg Coache, to Georgia for the ITA National Championships. Bas and their parents will also be by his side cheering him on.
"I'm just going to go down there and enjoy the moment and go from there," Willem said. "It's already a huge accomplishment winning regionals.
"It's an honor to represent SNHU in Georgia. We're making history."