Hooksett native and recent SNHU graduate, Chris Moquin, has always dreamed of playing professional hockey. Ever since he took his first steps on the ice at the age of three, he aspired to become one of hockey's greatest players.
Now, 20 years later, his dream is becoming a reality. He recently signed a season-long contract with the semi-professional Sydney Bears of the Australian Ice Hockey League. His journey begins Tuesday, May 21.
Moquin has achieved much since his initial steps on the ice. In his youth, he excelled with the New Hampshire Avalanche and the Seacoast Spartans teams. At Trinity High School, he played at the varsity level for his first two years, ultimately leading the Trinity Pioneers to a New Hampshire state title in his second year.
His success with the Pioneers led to him joining the New Hampshire Junior Monarchs in his junior year of high school. In his first season with the Monarchs, the team won the 2012 Tier III National Hockey Championship Title. He continued to play for the Monarchs for two more years, including a post-graduate year after graduating from Trinity. In his final year, Moquin was recognized for his skills by the United States Premier Hockey League.
His experience with the Monarchs "developed [him] into a more mature hockey player", amplifying his talents and skills so much so that, a year after leaving the Monarchs, he earned a starting position on SNHU's Division II hockey team.
Moquin, a forward, played in 11 games during his inaugural season with the Penmen. Throughout those 11 games, he scored three goals and made four assists. He played in 89 games throughout his Penmen career and scored a total of 38 goals and made 39 assists. He was also Head Captain for the past two years as a senior and as a graduate student.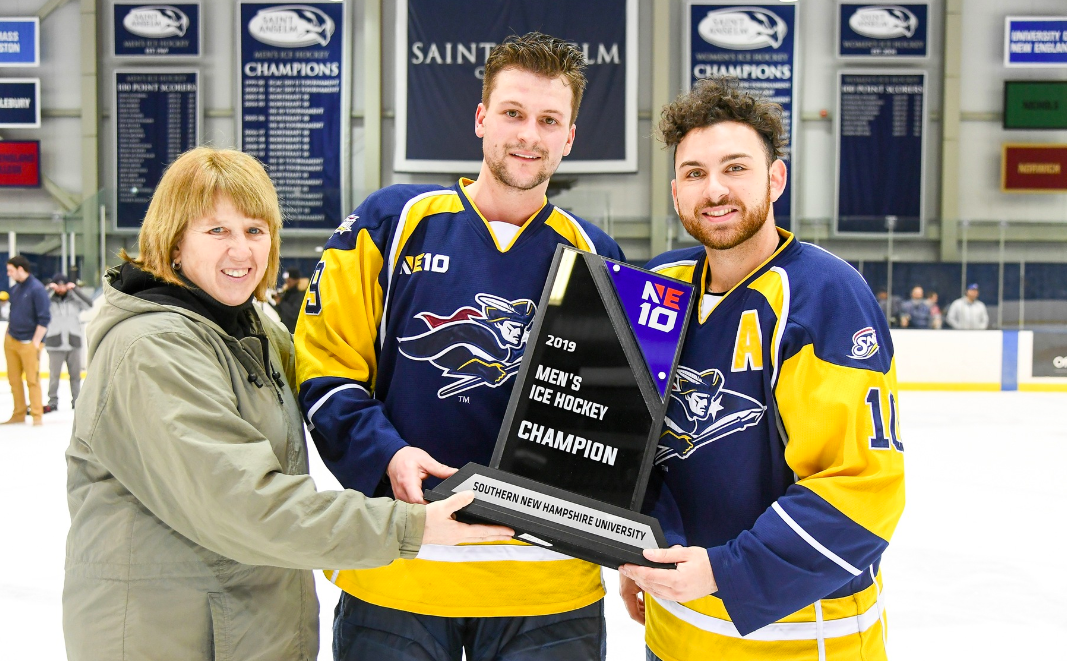 During the 2019 season as a graduate student, he started in 27 games, scoring nine goals and making 12 assists. He ended his collegiate career by scoring a crucial goal in the Northeast-10 (NE10) Championship Final against Saint Anselm to lift the Penmen to a 4-3 win. The win earned the Penmen its second NE10 Championship Title in program history and the first title since 2012.
"[Winning the NE10 Title] was a great ending to my college career," said Moquin. "I really want to keep playing hockey following the win and I want to take advantage of any opportunity given to me."
To keep him on the ice, Head SNHU Hockey Coach Sean Walsh connected Moquin and Sports Agent Chris O'Donnell soon after SNHU's 2019 season closed. O'Donnell reached out to several professional and semi-professional teams across the globe in hopes of finding a team for Moquin.
O'Donnell heard from many of the teams, but the Sydney Bears stood out to Moquin.
"They're a phenomenal team," said Moquin of the Sydney Bears. "I'm pumped to join them. I've had great communication with the [Coach Ron Kuprowski]. We've talked every day for the past couple weeks. I wouldn't know where to go without him."
The Sydney Bears is already in the midst of its season as it is nearly winter in Australia. The team has played five games thus far and hold a winning 3-2 record. Moquin will play in this weekend's two games in the forward position and is gearing up for them by "skating a bunch and staying in the gym."
Moquin will return to New Hampshire in early September after completing his first season with the Bears. He is unsure of whether he will return to Australia next season or await another opportunity.
Playing for the Sydney Bears is a critical stepping stone in Moquin's hockey career. Depending on his performance in Australia, we may see him playing in the NHL in a few years.
"I can't wait to play," Moquin said. "I can't wait to advance in my hockey career. This is just what I wanted."