Whether it's a person, a sport or an activity, everyone has a first love. Young or old, we all experience that compelling, unforgettable sensation of falling in love for the first time. It fills the heart with passion and endearment.s. It makes the sun shine brighter, the grass grow greener and the ocean shimmer bluer. It leaves one's heart feeling ten times bigger than it was before.
Senior and Hooksett native Chris Moquin experienced his first love when he was just a young boy. At age three, he stepped onto the ice for his first hockey practice. He watched all the other boys in his class pass pucks back and forth in an organized fashion while he skated around the rink by himself, and the more he skated, he said, the more he "loved the sport."
"While all the other boys were participating in an organized practice, I was skating around doing my own thing," Moquin said. "At the time, I didn't really want to participate in any drills or anything like the other kids were; I just wanted to skate around by myself. And I can't tell you at what moment I was like, 'Ok, I want to do this.' But that was when I fell in love with hockey."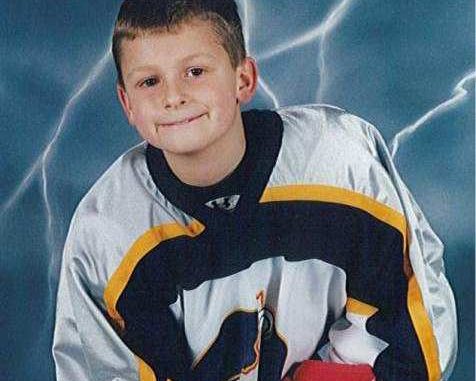 After taking his first steps on the ice, Moquin's hockey career developed at an astonishing pace before ultimately earning him a key forward position on the SNHU hockey team. When he joined his first team, the New Hampshire Avalanche in Hooksett at age four, he grasped the importance that drills and organized activities have on his playing ability, while learning to greatly appreciate them. Following the Avalanche, he finished his youth career with the Seacoast Spartans in Exeter. Then, at age 14, he played two years of varsity hockey for Trinity High School in Manchester. During his second year, he helped lead the Trinity Pioneers to a New Hampshire state title.
The following year, he caught the attention of the New Hampshire Monarchs, a Tier III premier junior hockey team out of Hooksett. The Monarchs are part of the U.S. Premier Hockey League (USPHL) in the North Premier Region. In Moquin's first season with the league, the Monarchs captured the Tier III National Hockey Championship with a win over the Mass Maple Leaves in 2012. This is a moment he describes as his "greatest achievement" as a hockey player. He continued to play for the Monarchs for two years, including a post-grad year after graduating from Trinity.
As one of the most well recognized teams in the country, the Monarchs have a positive reputation for preparing athletes like Moquin for college level and professional hockey through proper coaching and physical training. Without the Monarchs, he said, playing collegiate hockey at the NCAA Division II level would have been a challenge, but through his three years training with the Monarchs, he became abundantly cultured in the sport of hockey.
"Playing for the Monarchs was really fun and just a really great program to play for," he said. "It developed me into a more mature hockey player. I also had the best coaches. They just really knew how to connect with the players. I started working out for the first time with them, getting in the gym and connecting hockey with the physical training, so that was a big start."
When Moquin left the Monarchs in 2014, he started school at Saint Anselm College in Manchester. Saint Anselm, however, did not offer what he was looking for in terms of academics. He was looking for a school that offered classes directly related to business and accounting, so, Moquin looked across town at Southern New Hampshire University, l known for their superior business program. Moquin transferred to SNHU after his first semester at Saint A's to receive the education he sought.
Moquin did not play hockey with Saint Anselm, but was looking to play at SNHU. In addition to having one of the best business programs in the north, SNHU is also credited with having a stellar hockey team. Two of his childhood best friends, seniors Ryan Slatky and Kyle Valliere, play on the hockey team, which attracted him more to the school. He has been playing hockey with Slatky, the starting goalie, and Valliere, a forward, since he joined the New Hampshire Avalanche as a young boy. The three played together all throughout their youth and into high school. Being able to continue his hockey career with Slatky and Valliere, Moquin said, was a "major attraction to attend SNHU."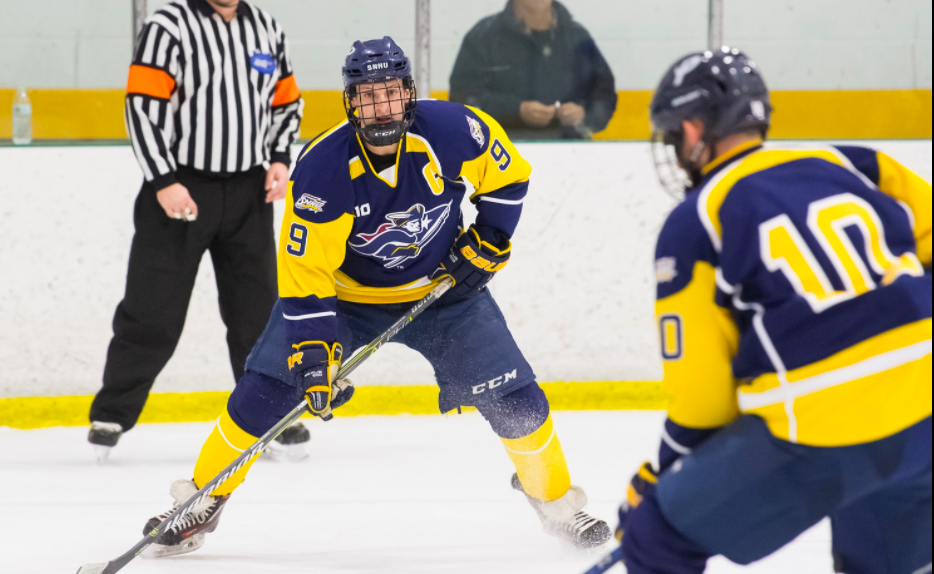 When Moquin transferred, the coaching staff had never seen him play, as he did not play at Saint Anselm. Despite this, they chose to give him a chance and watch him play. When they did, they were blown away with his talent. They were so blown away, in fact, that they gave him a starting position.
Unfortunately, however, he was forced to sit out his first year. Because he transferred mid-conference, the NCAA would not allow him to play until the following season, even though he did not play for Saint Anselm. He went a whole year without hockey, which he describes as "the longest year of [my] life." He didn't start playing again until his second semester of his sophomore year.
Moquin is now in his final semester at SNHU. Throughout his career as a SNHU Penmen, he has scored 19 goals, 11 Power Play goals, and made 22 assists and 1 hat trick. This season alone, he has scored 10 goals, made 3 assists, and made 7 Power Play goals, the most of any Penmen. He is ranked third in the country by the NCAA in Divisions II and III for most power play goals in a single season.
"I'd always been in a position where I was dependent on putting up points," he said in reference to scoring goals. "That's my role. Some guys have roles to throw a big hit or something, or the goalie keeping the puck out of the net, and mine was to put the puck in the net. I just enjoyed doing my job and not worrying about the other things because they were my teammates' jobs."
In addition to being the most successful, counted-upon forward on the team, Moquin stands as the current head captain. Not only does he score the most goals, he sets an example of what a leader looks like both on and off the ice.
"I think leadership has been big," he said. "I'm setting an example. I keep things light; I do not get too stressed out, but I also don't let things get out of hand. There's a time to joke around and there's a time where you gotta reel it in and be focused. Or whether its nightlife on the weekends, you gotta be responsible. I think guys have seen me set that example. Since I've got this leadership role, we've been doing well on the ice, contributing to the community and staying out of trouble."
Leadership is Moquin's biggest priority as captain. He sets a positive example of a successful leader by making sure every player stays on task while doing the job they are required to do.
With that leadership comes the responsibility for maintaining a mutual respect for every player on the team. He believes a transparent field of communication is ideal for a team to succeed. To do so, he has a strong individual relationship with every player. These relationships will in turn result in a stronger, more well-connected team.
"One thing I like to stress is keeping a transparent communication," he said. "I like a level playing field. Just because I'm the captain, doesn't mean somebody else doesn't have a say. I'm open to hearing any suggestions. I also have an individual relationship with every single guy on the team. Whether it's Ryan and Kyle, my best friends I grew up with, or a quieter kid on the team who doesn't talk as much, I still have a special relationship with them…. SNHU is probably the tightest knit group I've ever played with. Through the three and a half years that I've been with SNHU, whether at their highest or lowest, it's always been a tight knit group."
Teammate and sophomore Brian O'Callaghan agrees with Moquin's mentality as a leader and believes that he has successfully demonstrated such in his behavior.
"It's been a real honor to be able to play with a guy like Chris," Callaghan said of Moquin. "Not only does he bring a great skill set to our team but he also demonstrates remarkable leadership skills on and off the ice, a real locker-room guy. He has a calm and cool demeanor when he steps into the rink. He doesn't get negative or uptight when things are not going our way. He's a real mentor-like figure for some of the younger guys on the team, and its important to have a teammate like that so the guys feel like a part of the team."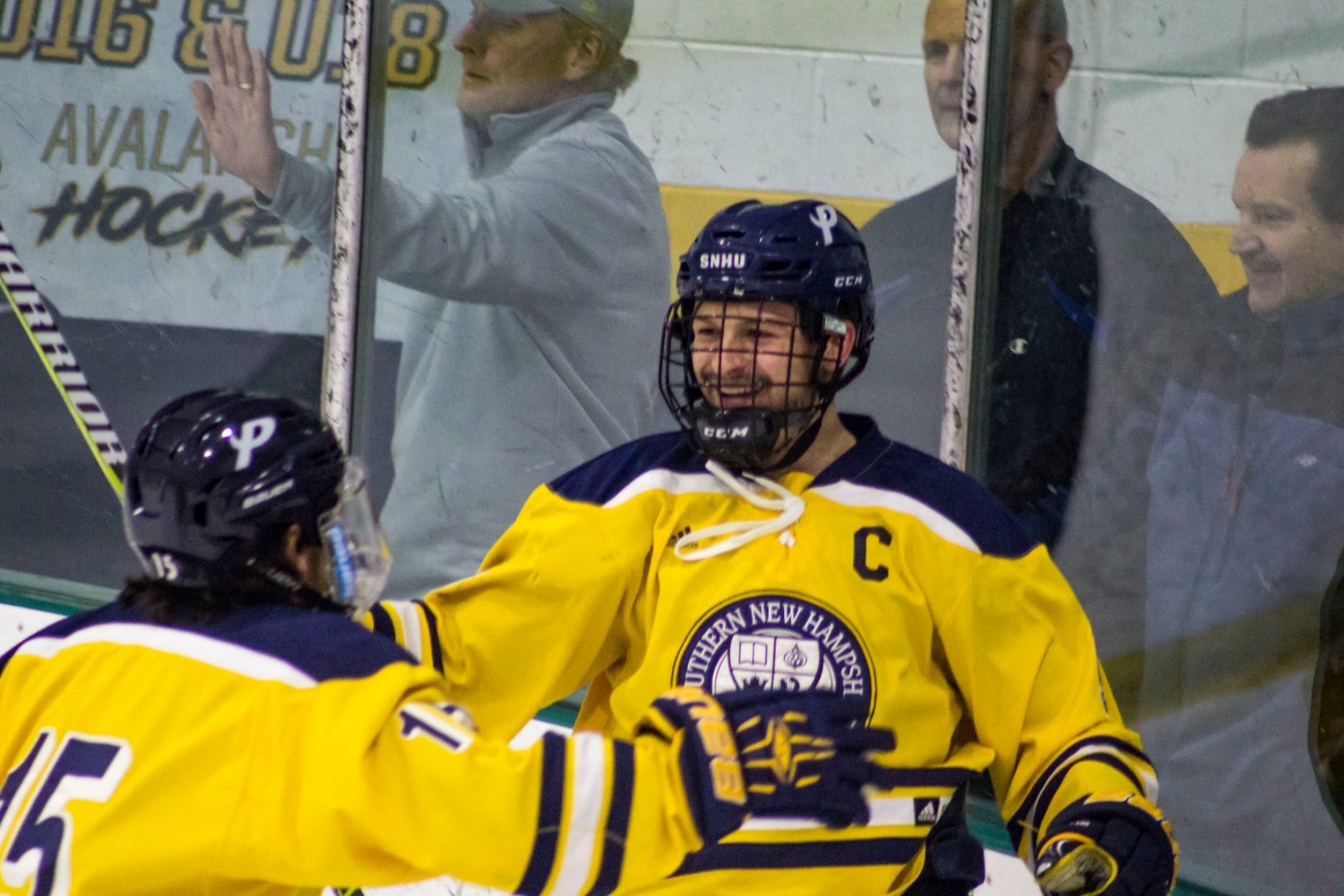 Much of Moquin's success on the ice and his passion for hockey come from his father, Craig Moquin. Growing up, Craig was always a hockey lover, but was unable to play. Due to monetary restraints, Craig's mother did not allow him or any of his brothers to play organized hockey as children. So instead, they picked up the game by themselves with some of their friends. They frequently played street hockey or headed to the pond for pond hockey.
When they got older and started having children, Craig and his brothers were ready to have a hockey player in the family. When Chris was born, they pushed him into playing the sport at a competitive level. Chris is thankful they did; he fell in love with the sport and never looked back.
Moquin looks at his father as an inspiration and a warrior. When Chris was a young boy, his father was diagnosed with cancer. Doctors said he'd be cancer free after the first bout, but it came back seven times. He was in and out of the hospital countless times before the doctors confirmed the cancer would never come back, and has now been cancer free for three years. Despite this hardship, he kept a positive attitude and never gave up, and that is a quality Chris has admired and obtained.
"My dad and I have a special relationship," Chris said. "He has gone through a lot. But throughout all of it, he was never complaining, never depressed about it. It was like you never would've known. It was like he wasn't sick at all. My dad's sickness has taught me a lot about obstacles life will throw your way. He taught me to never give up and keep pushing no matter how difficult times may seem."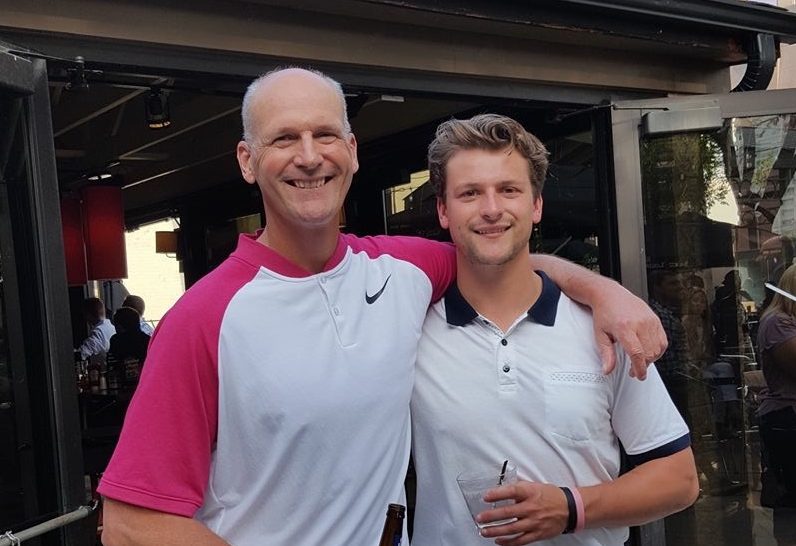 Chris now looks to the next chapter of his hockey career. Now that he's graduating, he is looking at options to continue playing hockey, as it is something he never wants to give up. Because he has another year of NCAA eligibility left, he is considering staying at SNHU for grad school in the fall. He is also looking into men's leagues in the area as well as professional teams in Europe.
"There's a lot of pro leagues and a lot of European teams out there, so there could be a spot for me," Moquin said, contemplating his future. "I would love to go overseas and play over there. Coming to the end of my college career is definitely sad. But I want to drag this thing out as long as possible. I've always loved hockey. I can't really put it into words. It has never done anything wrong to me, and I'd say until that happens, I'm going to love it forever."