Graduate student Jake Walkinshaw's dreams of becoming a professional baseball player have become a reality. On June 5, he was selected by Oakland Athletics in the 36th round of the 2019 MLB First-Year Player Draft as the 1,094 overall pick. The six-foot-3, 200-pound right-handed pitcher received news of this just two days after being named the number one MLB prospect in the state of New Hampshire.
On June 5, Walkinshaw anxiously awaited the results of the draft.
"I was staring at the computer watching every pick, and as soon as I took my eyes away for a couple of minutes, my phone started blowing up. I immediately jumped up in the air and hugged my parents," Walkinshaw said. "A few seconds later, the scout for the A's called to congratulate me. It still really hasn't sunk in yet."
Thrilled for the opportunity to live his dream of playing professional baseball, Walkinshaw noted that his younger self would be extremely proud of his determination through the years, allowing him to break down barriers and prevail.
Walkinshaw, a native of Seymour, CT, is the fifth player from the Northeast-10 to be drafted in the 2019 draft and the first Penmen to be selected since 2016 when Tim Viehoff (Seattle Mariners), Justin Valdespina (Colorado Rockies) and Manny Cruz (Cincinnati Reds) were all drafted. Walkinshaw is the twelfth Penmen to be drafted to the MLB and the eleventh under head coach, Scott Loiseau.
Walkinshaw found immense success on the field during his final season as a Penmen. He allowed just 78 hits over nearly 99 innings in 15 appearances, striking out a career-high 102 batters with a 2.01 ERA – the seventh best in the NE10 – and tied for second place in the NE10 for total wins with seven. He was only second to teammate Wesley Tobin who earned eight wins.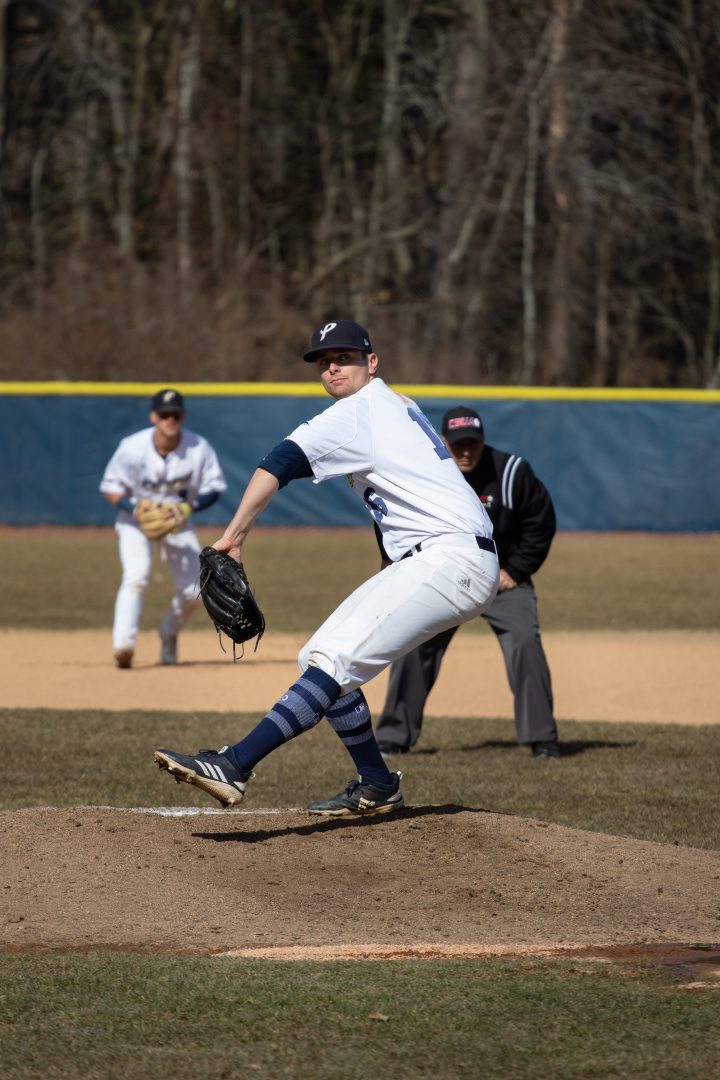 These results from the 2019 season earned Walkinshaw many distinguished honors from several organizations. He earned a spot on the Division II Commissioners Association East All-Region First Team, the American Baseball Coaches Association East All-Region Second Team honors, the National Collegiate Baseball Writers Association East All-Region Second Team, and the NE10 All-Conference First Team. He also racked up four NE10 Pitcher of the Week nods, the most of any pitcher in a single season. Walkinshaw is also ranked second for innings pitched and fifth for total strikeouts in SNHU's single-season record book.
Throughout his four year career pitching for SNHU, Walkinshaw made 16 saves and earned a 1.93 ERA over 76 appearances, including 22 starts. In 233 total innings, he struck out 234 and walked just 62, while giving up only 168 hits. In SNHU's career record book, Walkinshaw is second in wins and ERA, fourth in strikeouts and fifth in innings pitched.
He made 11 saves during the 2016 campaign, which rank as the second most in a single-season at SNHU, as he went on to earn ABCA East All-Region Second Team and NE10 All-Conference Second Team honors that year. He was also an NE10 Second Teamer in 2018, as well as a member of the All-Rookie Team in 2015.
Walkinshaw will join the Oakland, California Athletics in the coming months. Oakland Athletics are nine-time World Series champions and are ranked third in the MLB American League West Division for the 2019 season with a 31-31 record.