Who else almost didn't notice that SNHUStock happened? The concert left just as quickly as it came this year. CAPE hosted Groove Boston, a DJ group catered to college students. This was their second consecutive year as the headliner for SNHUStock.
The event saw 700 students, according to CAPE, and around 500 students according to SGA's Penmen Pride system, the organization's platform to track event engagement and attendance. It was a rather impressive turnout considering the event only garnered attention the week prior to showtime (and the week right after Spring Break).
Despite this, this year's two concerts left many students feeling dissatisfied.
"A rock concert wouldn't be too bad once in a while," said Levi Johnson ('21), who still thought the show was good. Johnson suggested more variety would help engage the "less involved."
"I'm sick of EDM shows, we need more variety," said Allison Rapoza ('21). Rapoza suggested that CAPE "put it up to a vote."
Many students surveyed expressed they only stayed for fifteen minutes or less. Some, expecting to enjoy a show full of remixes, were disappointed with music that didn't sound too different from their party playlists. Others did not go at all. In total,1,000 tickets to the free concert were booked, but 300 were not redeemed. For comparison, 2017's Major Concert with Fetty Wap sold out of its 1,500 $10 ($6.79 during the promotional period) tickets in less than 24 hours.
CAPE needs to understand students' expectations. They need to ask students what they think.
Other universities, such as Keene State College (KSC), have utilized this approach and garnered promising results.
KSC's Social Activities Council is a recognized student organization with a mission to plan regular student events as well as one concert in the spring. Depending on the year, they also plan a small concert for the fall.
"Every fall, one of the primary things they do to inform [the concert] selection process is to create a survey that gets sent from the vice president of student affairs to every student on campus," said Britany M. Gallagher, coordinator of student activities and organizations at KSC.
This survey asks students what genres they're into. It also provides an opportunity for open-ended feedback. This year, the organization took it one step further. They gave their booking agent a budget ahead of time and asked for some artist they could book in each of the five or six genres. Students had three or four choices in each genre. Plymouth State Univerisity executes a similar survey.
This year, KSC is bringing A Boogie Wit Da Hoodie for their Spring concert. In the past, they have booked Tinashe, Mac Miller and Big Sean.
KSC's Student Activities Council has an operating budget of $140,000, which is similar to CAPE's 2018-2019 budget of $142,135. Both organizations have a separate allocation for concerts. CAPE allocates $70,000 for the show and can request an additional $30,000 from the Student Activities Fee Advisory Board.
"I decided not to survey when I became vice president based on how successful Fetty Wap and SNHUstock 2018 was," said Shannon Gayron, vice president of CAPE.
Based on the 2018 analytics from BuzzAngle Music, the top three music genres in the U.S. were Hip-Hop/Rap (24%), Pop (19%) and Rock (11%). Of the last four concerts (major concerts and SNHUstocks), three have been EDM shows, a genre ranking at number seven with a share of about 4% of total listening.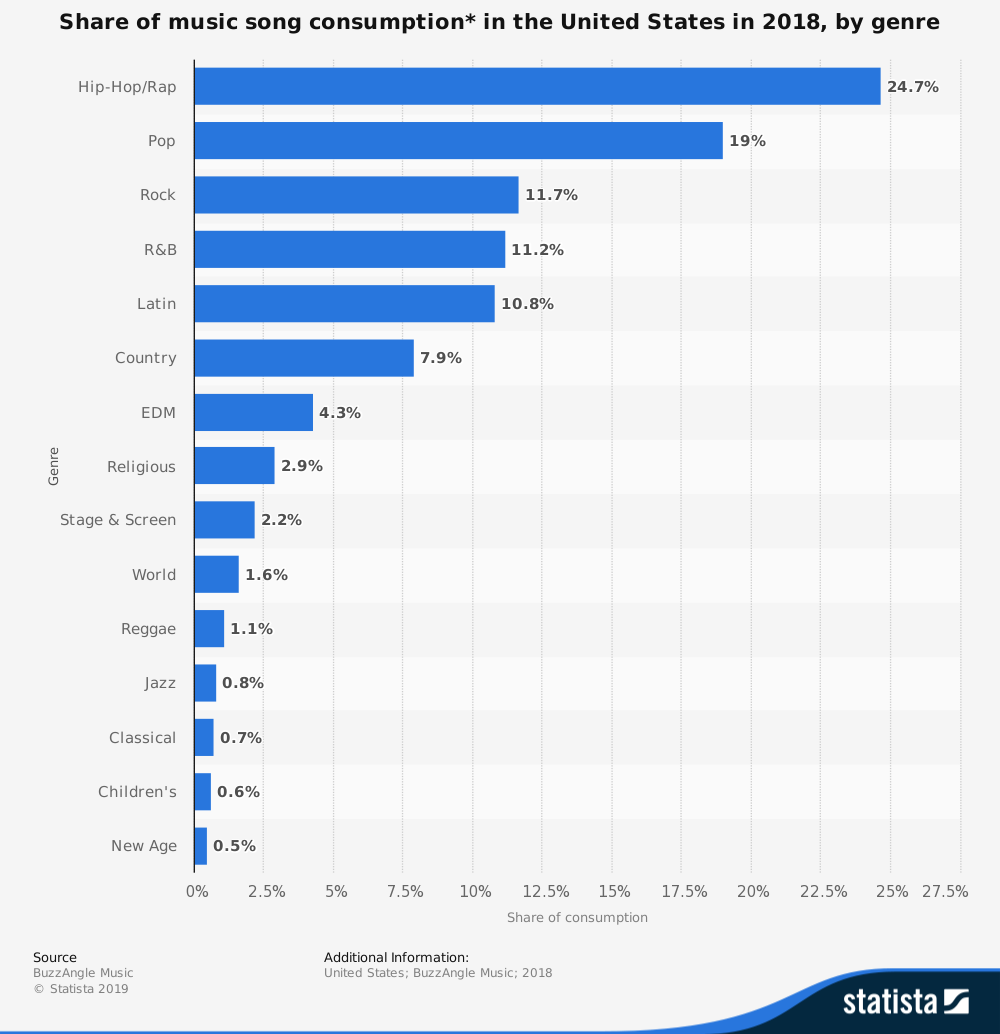 CAPE already has the execution down. They have made safety a number one priority, and the community is thankful for that (the students less so, as it meant the outdoor show was indoors this year). CAPE should be putting more forethought into the acts, and that includes regularly asking for feedback.
The survey could be sent independently by CAPE, through Student Affairs or it could even be included in the Spring SGA ballot. The synergy would mean both organizations would see a healthy set of data, and the survey would get twice the promotion on campus.
Concert planning with outside acts is not a small task, and unpredictability means an artist's price could jump before a final bid is made. This happened last year with Cheat Codes, who were CAPE's second choice. The same thing nearly happened this year at KSC, but they planned ahead. It is likely that, by using survey data, they had a reasonable second choice lined up.
If CAPE sent a survey to students regarding their concerts, students would feel more engaged in the selection process. It's hard to be upset when someone cares about what you think.