It was a memorable night for freshman forward and Alpharetta, Georgia native Cole Stewart. As he and the SNHU men's ice hockey team faced off against Franklin Pierce University on January 18, Stewart, with two goals under his belt, unveiled a performance of excellence that exhilarated fans and dumbfounded teammates.
Stewart took control of the puck just over seven minutes into the second period. He skated around the net and came up alongside Franklin Pierce goalie Ian Wallace. With a flick of the wrist, Stewart flipped the puck over Wallace's shoulder into the right-hand side of the net for a power play goal. When Stewart heard the puck ricochet off the side bar into the back of the net, he leaned on one knee and threw his hands in the air while his amazed teammates rushed towards him in utter disbelief.
"They were looking at me like I was insane," Stewart said. "I was pumped up; I was so excited."
Stewart said he performed that goal last year when he played junior hockey for Yellowstone Quake in Cody, Wyoming. It was a play he practiced frequently and scored nine out of 10 times. When the opportunity to try the goal again at the collegiate level arose, he seized it.
"I was feeling confident. I was thinking, 'why didn't I just do that goal from the beginning?' And when the opportunity came and I had the puck right there, I just went for it."
Footage of Stewart's goal was uploaded to Twitter by Penmen Productions. The video has more than 36,000 views and over 100 retweets.
The goal caught the attention of the ESPN's SportsCenter. During its nightly countdown, SportsCenter ranked Stewart's goal as the number one athletic play of the day.
Stewart was one of five Penmen to score goals that night. They defeated Franklin Pierce 5-1. Stewart now has a season total of three goals and five assists.
😱 Cole Stewart with the #SCTop10 goal in @PenmenIceHockey's win over Franklin Pierce tonight @Buccigross @spittinchiclets @ESPNAssignDesk #CawlidgeHawkey #NotABigDeal pic.twitter.com/NEpZ0PPut5

— Penmen Productions (@SNHUVideo) January 19, 2019
Stewart remains humble amidst the positive publicity surrounding his impressive goal. He credits his teammates for standing by him and believing in him as a player and says the most important aspect of the sport is knowing how to be a team player.
"Team accomplishments are way more important than individual accomplishments," Stewart said. "The goal was great, but it's not going to win us a championship. This is a team game. Without any of [my teammates], that goal couldn't have happened."
Stewart's admiration for team sports dates back to childhood. He played on baseball and football teams, and played varsity ice hockey and lacrosse at Trinity Pawling High School in Pawling, New York. He also played varsity lacrosse at Riverwood Charter School in Atlanta, Georgia.
Although he was a multisport athlete, he gravitated towards hockey. Hockey became his passion in fifth grade after years of playing travel hockey at the youth level.
"I've always loved hockey more than any other sport," he said. "Being on the ice, getting away from everything; it's the best escape. When I'm on the ice, nothing else matters."
Stewart knew he wanted to pursue a career in collegiate hockey in high school. After graduation, he put down the books and traveled to Wyoming to play junior hockey for the Quakes for two years to prepare for collegiate hockey at SNHU.
Athletics have taught Stewart that the bonds formed with teammates are one of the most rewarding aspects of playing sports. He identifies his teammates as one of the driving forces behind why he loves playing hockey and that the relationships he forms with them are "priceless."
"I just want to stress the importance of hockey being a team game and that one goal isn't going to define my career," he said. "These bonds with my teammates will last a lifetime, and money can't buy that."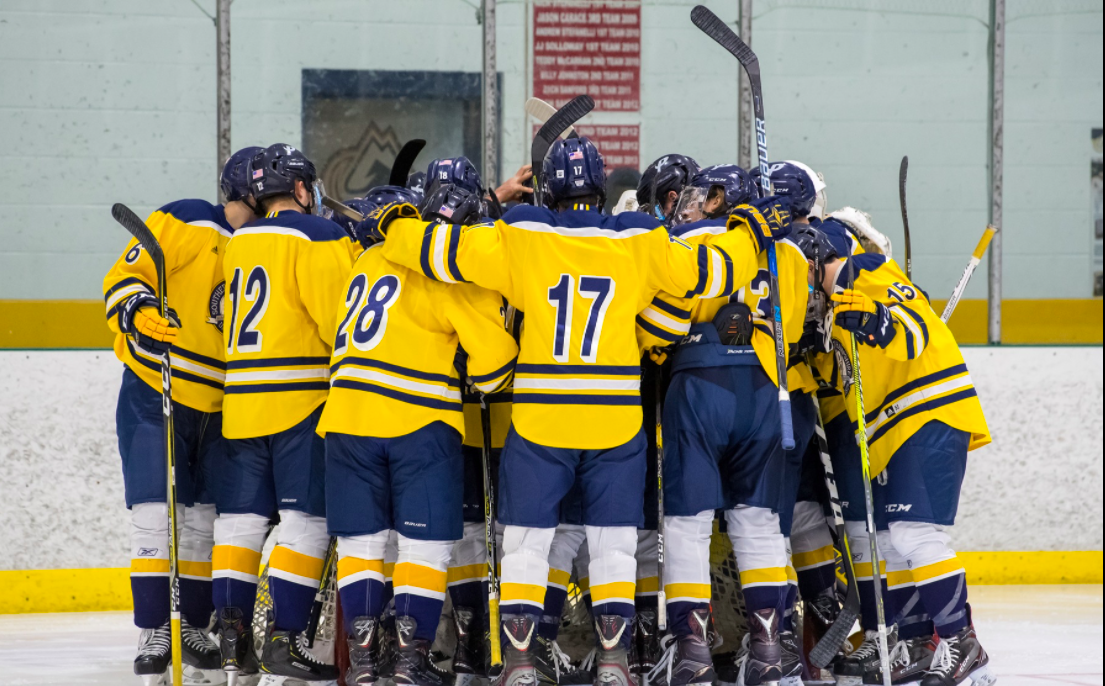 Stewart also learned to financially support himself in order to further his career. Hockey is not an "all-expense-paid" sport. It is actually quite expensive. There's equipment costs, travel costs and membership expenses that must be paid in order to have a successful hockey career.
Stewart's father funded his career at the youth and high school levels. However, when he started junior hockey in Wyoming, he had to pay his own way.
He worked at Verizon Wireless his first year of junior hockey, racking up 30 plus hours a week to earn a steady paycheck. The following year, he found a job splitting wood. Stewart said he enjoyed this position. He had a wood splitter on site and sold cords of wood equal to a truck bed for over $200.
"I would go to practice, go to the gym, then split logs for the rest of the day," said Stewart. "It was fun, and it was great because I knew I was getting money to pay for what I love to do."
Hockey has taught Stewart many life lessons throughout his career including being a team player and working hard to earn a paycheck. But the number one thing he learned as a hockey player is to never give up on aspirations.
"Hockey's taught me to never give up no matter what. No matter what," he said. "And that's very important. If you love something and you have the passion for it, even if everyone is telling you you're trash, or you're garbage, or you're not getting playing time, get better, work on it yourself."
For the remainder of the season, Stewart hopes to improve his already stellar offensive and defensive skills to earn more points. He also plans to take one shift at a time and use his speed to create openings for his teammates and himself.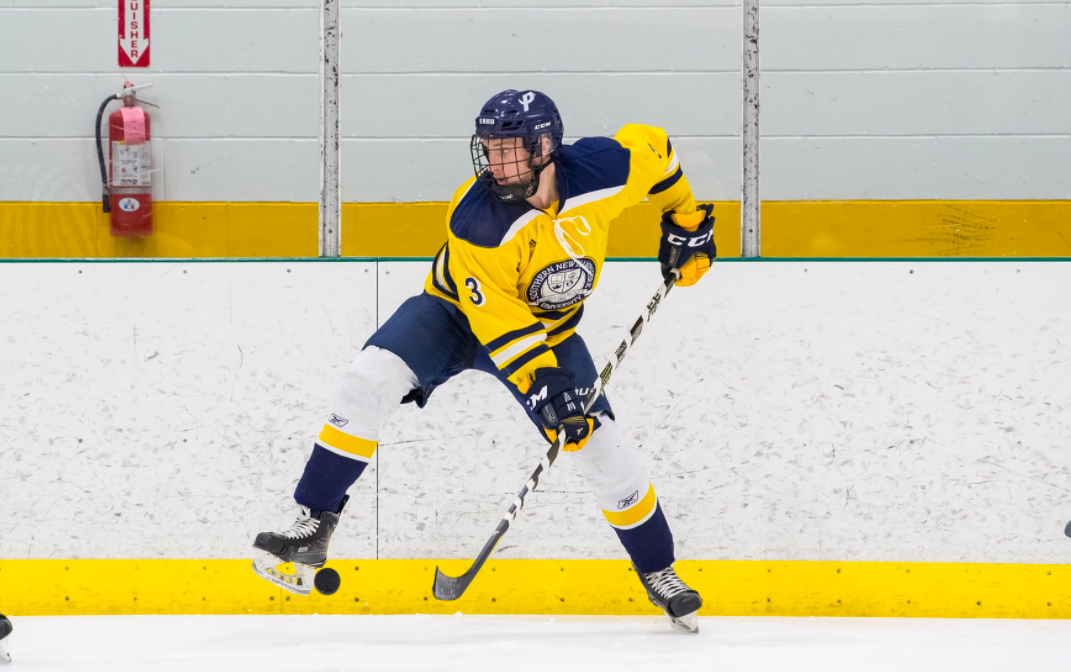 Stewart emphasizes hockey as his biggest passion. Although, he is also enthusiastic for music. In fact, he is a budding hip-hop/rap artist who already has a following on SoundCloud and Spotify under the name, "Yung Stuw."
Stewart is active on both SoundCloud and Spotify. He has 12 songs uploaded to his SoundCloud page and one single on his Spotify. All his songs were uploaded within the past eight months.
Stewart writes all his songs. When he took those two years off school to play junior hockey, he wrote lyrics and produced music as a way to express himself.
His most popular song, "These Days," is on all platforms, including Spotify. The catchy rap single is a lighthearted, inspiring song about living each moment as if it were the last without worrying about judgment from other people. The song has nearly 1,000 listens on Spotify.
"[These Days] is about leaving a good legacy in regards that you should do what makes you happy," he said. "Be who you are. Don't be afraid to be who you are."
Stewart recorded "These Days" at a professional record label in Atlanta, Georgia. His other songs were recorded in his room using software such as Logic Pro and Garage Band. He even designs his own cover images and is considering minoring in graphic design.
In the near future, he hopes to earn the funds to produce a full album. He is even considering collaborating with hockey teammate and part-time DJ Brett Strawn. Ideally, they would like to fuse electronic beats with lyrics like EDM or get "These Days" thrown into a mix.
To listen to his songs, click here for his Spotify and here for his SoundCloud.

For now, Stewart wants to continue writing songs for fun while focusing primarily on his hockey career and academics.
"I want to create as much as I can, while having as much fun as I can. Right now, ice hockey and getting a degree is my priority. Music is just something I do on the side."
Catch Stewart tonight, January 25, on Livestream when the Penmen take on St. Michael's at 7 p.m. in Vermont. The next home game is Tuesday, January 29, at 7 p.m. against Assumption College at the Ice Den in Hooksett.