Whether he's wowing fans on the ice or entertaining crowds on the dance floor, Brett Strawn is assured to provide an upbeat performance.
Strawn, a senior at Southern New Hampshire University (SNHU), is the alternate captain of the hockey team and a part-time DJ.
Strawn embarked on his hockey career when he was just two and a half years old when he would roller skate around his home in Wareham, Massachusetts. At age four, he began skating at ice rinks.
When Strawn turned six, his father enrolled him in an organized youth hockey program. He began as a mite, the entry-level player, then climbed the ladder to reach the pee wee, bantam and midget levels, going through three rankings of youth hockey as a midget.
Strawn attended Winchendon Boarding School in Winchendon, Massachusetts where he studied through his senior year. He chose to relocate to Wareham High School halfway through his senior year for the opportunity to play junior hockey.
Strawn earned a position on the Boston Bruins Premier Team after displaying a tremendous performance his senior year. After notching 35 points during his senior season, Strawn joined the junior team for the 2014-2015 season.
Peter Masters, Strawn's junior hockey coach, prepared him for the collegiate level, which was always a longtime goal of Strawn's. He pushed him day in and day out and encouraged him to be a threat on the ice.
"(Masters) did everything he could do for me as far as getting to the next level… I can't thank him enough for that," Strawn said.
Strawn joined the SNHU Penmen in the fall of 2015 as a forward. Prior to his junior year, he was given the title of alternative capitan, which he still holds today. Strawn didn't begin playing games with the Penmen until his sophomore season due to redshirting his freshman year. Since his game debut sophomore season, he has played in 61 games, scored 16 goals and made 31 assists, for a total of 47 career points.
"It's a grind," Strawn said about playing with the Penmen. "It's a lot on the body. We practice everyday for a few hours for about 10-20 hours each week."
Frequent practices and rigorous training regimes motivate Strawn and prepare him to accomplish difficult plays and techniques in games.
Captain Chris Moquin and Strawn are credited for a specific, highly effective play they created during practices. They penned it, the "Ooo Baby."
"I go behind the net and I give him a behind the back pass and 9 times out of 10 he scores… that's definitely the most fun and crazy play because not a lot of teams are expecting it," Strawn said.
Whether it's with Moquin or any of the guys on the team, Strawn said the team chemistry this year is the best he has ever seen. The team was unsure about the plethora of incoming freshman, but Strawn noted they gelled with the upperclassmen better than expected.
"Our team looks like a well oiled machine," Strawn said. "Our team is very strong this year; we have a great group of guys that are willing to go the extra mile for one another."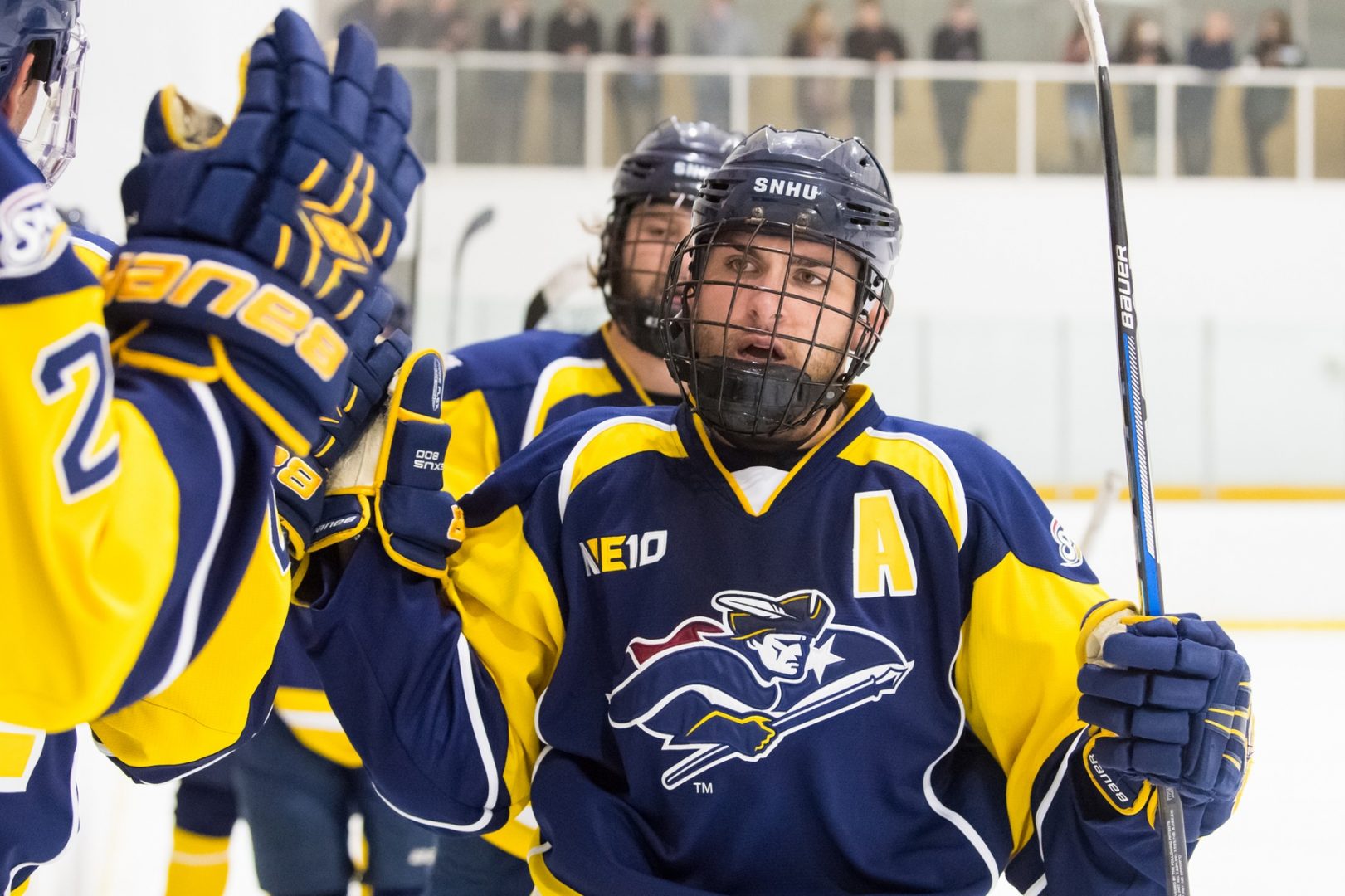 While Strawn continues to dominate the ice with his team, he is pursuing another passion of his, DJ-ing.
The hockey team circled in support of Strawn's interest and even helped him construct his stage name.
When it came time to brainstorm a stage name, Strawn looked to his teammates for ideas. He messaged them in a team group chat and received many suggestions, but there was one that stuck: DJ Sterno. The name "Sterno" comes from a previous hockey coach who could not pronounce Strawn's name. He instead would call him "Sterno."  They thought of it as a joke, but it stuck.
Strawn has always had a passion for DJ-ing. He would make mixes in high school, but only viewed DJ-ing as a side hobby. This viewpoint changed when he got to college. He got his big break junior year when he opened for GrooveBoston at last year's SNHU Stock. It was in that moment when an activity he previously viewed as a fun hobby transformed into an exhilarating, life-changing gig.
"I have always had a passion for music and DJ-ing, and that just put all of my perspectives together,' Strawn said. "That was by far the most crazy adrenaline rush, best moment of my life."
Opening for GrooveBoston sparked Strawn's DJ-ing career. He landed a part-time gig headlining at Whiskey's 20 on Thursday nights.
Strawn likes to play mixes based off a crowd's energy. He plays various genres of music ranging from EDM to country.
"I like playing everything," Strawn said.
Strawn expressed how DJ-ing is difficult to master. It takes time, but he dedicates it to producing enthusiastic, high energy music crowds will love.
"I'm still learning," Strawn said. "It's a lot of long hours [and] difficult work, but it's super fun."
Whether he's scoring goals at the rink or spinning mixes at the club, Strawn never fails to provide fans with a fun, energetic performance they won't forget. Catch Strawn Friday, December 1 at 6:40 p.m. when he takes the rink at the Ice Den with the Penmen and Thursday nights as DJ Sterno at Whiskey's.