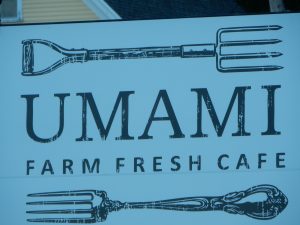 The farm to table movement has gained considerable momentum during the past decade. This trend is visible in restaurants across the country, including here in New Hampshire. Consumers are becoming increasingly concerned with where their food was grown, raised and processed, which has resulted in many restauranteurs utilizing New Hampshire's surprisingly extensive bounty. Although farm-to table restaurants have proliferated, Umami Farm Fresh Café in Northwood, New Hampshire stands out among the rest.
Umami specializes in casual, Asian-inspired farm-to-table fare in the form of burgers, sandwiches, rice bowls and ramen. The restaurant prides itself on supporting New Hampshire farmers and providing a comfortable, inviting space for the local community.
Finding this humble little eatery may take a bit of effort. It's located in the charming, 4,000 person-strong town of Northwood, about 15 minutes from University of New Hampshire and 40 minutes from SNHU. While trekking out to an obscure town for a burger may seem unreasonable, Umami has served as a destination restaurant for numerous diners who are on the lookout for something different. There really is nowhere else like it in the area.
Owner Jesika Belair became interested in farming upon moving to Deerfield eight years ago. This inspired her to open a cooperative (co-op) market featuring local products.
"Before this was a restaurant, for about four years, it was a local co-op market. We had 47 different farms here and it was all friends we met at the farmers market…I wasn't making enough money to really keep it going so we decided to flip it, and we turned it into a restaurant," said Belair.
The folks at Umami are not afraid to experiment with bold flavor combinations. Popular sandwiches include the Ganjang Chick, which features a chicken thigh that is doused in cornstarch, fried Korean-style and coated in a sweet and spicy sauce along with pickled daikon and pepper relish and gochujang mayo. The unique frying technique creates an audibly-crisp coating.
The ultra original Chicken n' Dumplings includes that same crispy chicken thigh with smashed pork dumplings, scallion mayo, hot pepper relish and cheese.
For something completely over-the top, get the mac burger, which includes everything anyone could want in one package.
"The Mac Burger is probably one of the most popular [items]. It's macaroni and cheese, short rib and a burger, so you get the best of everything," said Belair.
Every burger at Umami starts out as a sphere of Paradis Farm beef that gets smashed as it hits the flat top grill, resulting in a seared crust on each side.
Even the French fries are given special treatment. The potatoes come from The Root Seller in nearby Nottingham, New Hampshire. They are hand-cut and tempura-fried in a mixture of vegetable oil and duck fat, giving them a distinct flavor and satisfying crunch.
The fries can be ordered simply with sea salt and pepper or paired with funky sauces. The hot fries include Korean ketchup, sriracha aioli, pickled fresno chilies and Korean red pepper flakes. Fans of curry may prefer the Niji, which contain curry mayo, scallion mayo and chives.
The Asian-fusion eats continue during Sunday Brunch, with options such as Korean-style bulgogi steak and eggs and crispy chicken and waffles with hot honey and a fried egg. Live bluegrass music is a given. Specialty lattes, wine and beer are always available for those looking for a buzz.
The menu is not the only unique aspect of Umami. The naturally-rustic atmosphere is derived from the building itself, parts of which pre-date the Lincoln administration. "The building [was built in] 1804. It was originally a farmhouse," said Belair. "The timber frame got rebuilt…but all of the ceilings and floorboards were used in here to decorate."
Umami is exemplifying what it means to be a farm to table restaurant without pretension. The environment may be laid-back, but Belair and her team are passionate using New Hampshire products in unique ways. It is a must for any foodie looking for a destination restaurant.