Each year, modifications are made to the SNHU dining hall to improve efficiency, increase options and meet student needs. Last year brought the arrival of the pasta station at La Trattoria, which has been hugely successful. This year has brought a handful of new innovations to serve the SNHU community.
Some of the more obvious changes include the expansion of the salad bar. "That expanded by 35% more offerings, including more vegan and vegetarian options in that particular area," said Dan VanAvery, general manager of SNHU Dining Services.
The other major change is the shift of the omelet station from the Global Cuisine station to the pasta station in the early hours of the day. More students can be served at once, thus limiting long lines and reducing wait times.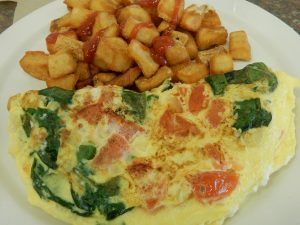 One of the lesser-known additions is the implementation of an avocado cart. A variety of flavors of fresh guacamole is available to avocado enthusiasts a couple times a month. The cart recently made its debut appearance and it was well-received.
The grab and go options have also been given a face-lift. The previous product was prepared in-house under the name simply to go. "This year, we made a decision to change based on volume…it was becoming a point where it was cost-negative, it wasn't even cost neutral," said VanAvery. "The nice thing about this new product is the variety in which they can offer…there's a lot more items available to us that we can take advantage of over what we could produce previously."
The new products are sold under the company York Street. Options include an array of vegan and gluten free sandwiches, overnight oatmeal, yogurt parfaits and specialty salads. These products can be found in the dining hall as well as the several cafes across campus.
Many new initiatives are to be put in place later in the semester. One particularly exciting effort is to install a pre-ordering system for the omelet, pasta and Mill City Grill stations. A kiosk-style set-up will be established where students can punch in what they want to ensure accuracy and efficiency. VanAvery is also considering implementing an app for the station kiosks next semester.
"It should make it a little bit easier to order and less time [will be spent] in lines. You just take your slip, pay for it at the register and away you go," said VanAvery.
Another program that is in the works is a "make your own bread" program. All the sub rolls will be baked in-house in a newly-acquired proof and bake oven. The bread will be baked behind daily dish, in full view of the everyone. These freshly-baked loaves will be available at Ultimate Deli, Mill City Grill and the pasta station.
Constant expansion and innovation to benefit students and faculty is a focus of SNHU. This mentality can also be found in the dining hall.