You walk onto the mound and hear the roar of 2,200 baseball fans chanting your name. They're on their feet with their hands in the air — this is the moment you've been waiting for. It's the moment you get to play in front of your home crowd. It's the moment you get to show them everything you've been training for. After each inning, the cheers grow louder and louder and when you strike out your final batter, the whole crowd erupts with ecstatic emotion. They jump to their feet as they chant your name as you finally show your family and neighbors what you can accomplish on the mound.
SNHU's Endy Morales ('19) experienced this moment during game one of the New England Collegiate Baseball League (NECBL) summer championships when he struck out seven batters over seven innings for the Valley Blue Sox in front of his home crowd at McKenzie Stadium in Holyoke, Massachusetts on August 8.
"We were up 2-0, and I struck out the guy with a fast ball, and I froze him up. I just turn around, double fist pump and say 'let's go.' I felt like I was at Fenway," reflected Morales on playing in front of his home crowd. "Everyone stood up and my whole family was in the same section they sit [in] every game. It was cool because they were cheering for me that time. For the first time, I got to showcase my skills to my home crowd."
Morales led the Blue Sox to a 5-3 win that night, before helping the team capture their second straight NECBL championship title. At the end of the summer, Morales was honored with the Robin Roberts award, a title given to the best starting pitcher in the NECBL. Morales finished the season with a 1.13 ERA.
"I knew that result at the beginning of the season," said Morales on receiving the Robin Roberts award. "In order for me to pitch that well, I needed to know I was the best pitcher in the league. I set weekly goals, checked the stats, and when I saw my ERA, I was like 'let's go keep it up.' I didn't change the way I acted; I just changed the way I approached my game plan. For the first time, I focused on a baseball plan."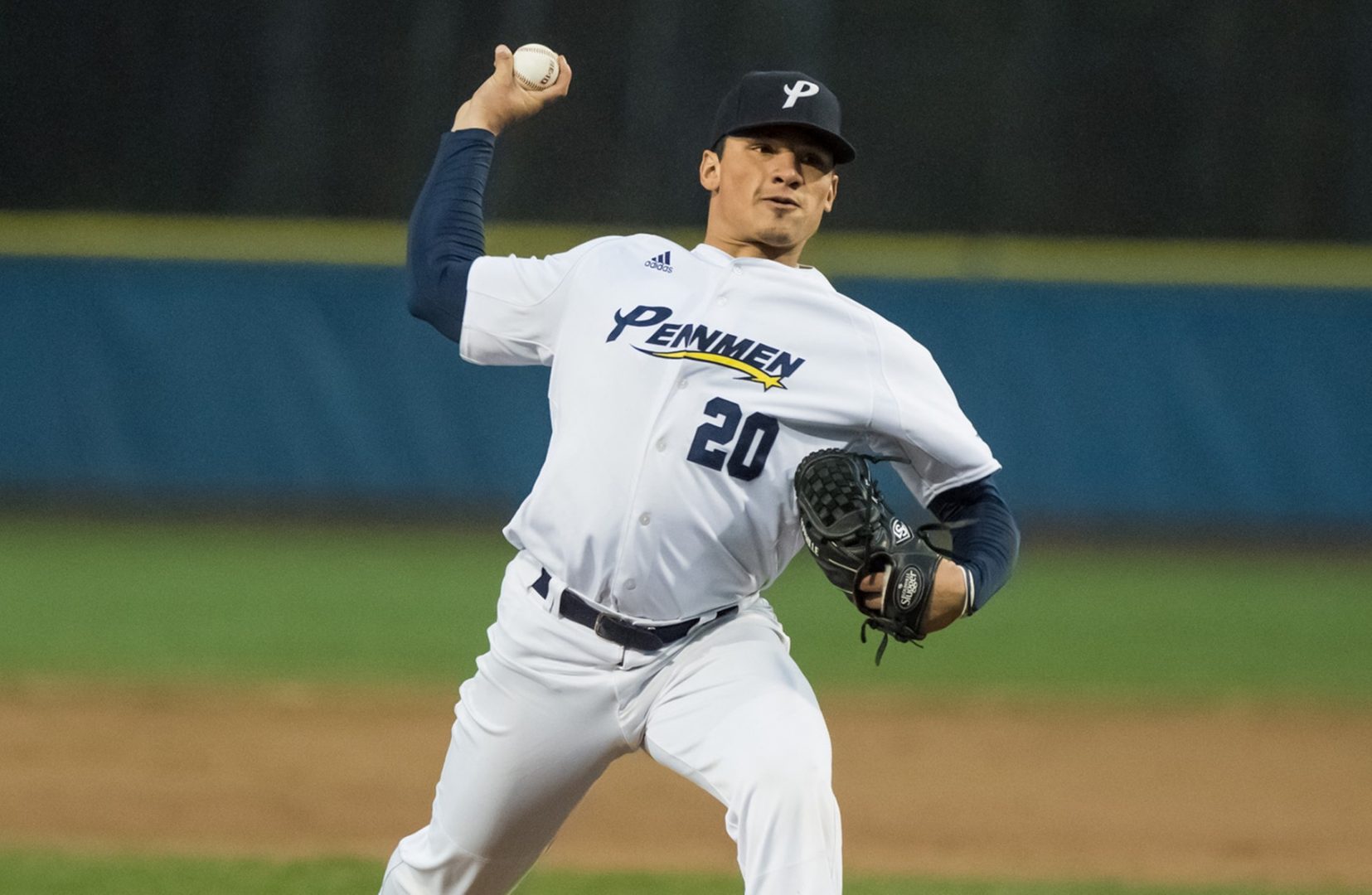 Morales had been gearing up for his moment to show his home crowd his talents all year. It's something he felt he deserved, and the practice and hard work he put in every day paid off in the fashion he dreamed of. Not only did he put his best foot forward, he did so in front of the people who mean most to him: the Holyoke community.
"I'm a product of Holyoke," Morales said. "I hope I can say I'm the epitome of what Holyoke is. It's such a tight community. My back bone is all because of Holyoke and everything else is stuff that I just added. So, for [Holyoke] to see me [play] well is exactly what I've always dreamed of, and I did it in a playoff game too."
Morales' trek to earning the Robin Roberts award wasn't all that easy. Injuries and financial difficulties plagued Morales' career after graduating high school, a time in his life when he was at peak performance. He was ranked the number one pitcher in Massachusetts and 146 in the nation. He transferred twice, once from UMass Lowell to West Virginia and then from West Virginia to SNHU. He faced multiple injuries including a severe ACL tear which prevented him from playing at West Virginia, a DI institution he attended on a baseball scholarship. He was never able to live up to his full potential and was never completely satisfied with his on-the-mound performance. He has no regrets, however. It still hurts that he faced these injuries and setbacks, but his summer success helped him heal.
"I had everything I wanted," he continued, referring to his high school days. "But at the end of the day, that didn't mean anything because I didn't get to play (at West Virginia). Baseball was really tough at that point in my life. I went through multiple ACL surgeries. I went into West Virginia with a tear."
"Baseball has reentered my life," he continued. "All that hype I had in high school is here [with the Blue Sox]. I have one more year left [of NCAA eligibility], maybe two, and I'm taking the very same approach to succeed."
Additionally, baseball is the reason why Morales is the first person in his family to go to college. Baseball gave him the drive to do well in the classroom, so even if he chose not to play baseball at the collegiate level, he still believes he would've gone to college, because he would have still matured in the classroom as a result. You can't just be an amazing baseball player and not have academics to back it up.
"Baseball gives me my routine," said Morales. "It gives me responsibility, it gives me something to be proud about. It gives me an escape. There's a lot of kids whose dream is to play professional baseball, and I'm at an opportunity where I can do that."
After the summer he had with the Blue Sox, Morales expects to earn a starting position for the 2019 spring season with SNHU. Afterwards, he plans to get drafted during the 2019 MLB draft. If that doesn't work out, however, he says he will be happy as long as he focuses on a strong career path. Ideally, he would like a position as a border control officer in Puerto Rico so he can get involved with the island's baseball scene.
Whether he ends up in the MLB or in Puerto Rico protecting our borders, he hopes to inspire others the way his friends, family and neighbors of Holyoke did for him. They have his back and he wants to have the backs of others. He may not be able to reach 100 people, but if he can reach just one, that would be more than enough. All it takes is one to get the ball rolling.