With the conclusion of winter and the arrival of warm weather comes a shift in cravings for many people. The bright and spicy flavors of Mexican cuisine are irresistible in the spring and summer. Well-made tacos, burritos and quesadillas have the ability to transport us to tropical Mexican beaches.
Many SNHU students may be familiar with Mexican chains such as Margarita's and La Carreta, but for a more authentic taste of Mexico, the eats at Consuelo's Taqueria in downtown Manchester cannot be beat.
Located on Amherst Street, Consuelo's is a diminutive eatery specializing in genuine Mexican cooking.
Owner Martίn Delgadillo opened Consuelo's in 2007. Delgadillo has always enjoyed cooking and had a strong desire to open his own place. The name of the restaurant is a tribute to his mother, Consuelo, who heavily influenced his love of cooking.
"I honestly like to cook… I wanted to open because my mom was the one who really got me into cooking, [ever] since I was a little child," said Delgadillo. "When I opened the restaurant, I put my mother's name onto it."
The menu at Consuelo's contains all the Mexican classics, including tacos on soft corn tortillas, burritos, enchiladas and quesadillas. They can be filled with an array of proteins such as pastor (spiced pork), carne asada (grilled steak), chorizo (spicy pork sausage), beer-battered cod and chicken.
Although chicken is the most popular option, those wanting to try something different can opt for carnitas. This traditional Mexican protein consist of pork cooked slowly with spices and oranges until very tender.
"What gives the flavor and a little bit of sweetness should be the orange. We put orange into it," said Delgadillo.
Although the meats are quite popular, there is also a grilled vegetable option featuring fresh zucchini, summer squash, onion and carrots cooked to order with Mexican spices.
Consuelo's also makes a traditional Mexican sandwich known as a torta. Grilled French bread is layered with re-fried beans, tomato, lettuce, onion, cheese, avocado and a protein. Chilies in vinegar are served on the side.
Delgadillo prepares three varieties of salsa. The first is a mild salsa consisting of tomato, onion and cilantro. Their green salsa, which has a medium level of spiciness, consists of roasted tomatillos, jalapeno and cilantro. Tomatillos are a sweet and acidic variety of tomato popular in Mexican cooking.
The final salsa contains chile de arbol, tomatillo, onion, cilantro, jalapeno, oil and vinegar. This is the hottest of the three.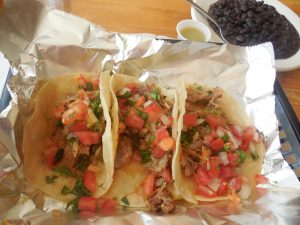 "What makes the salsa is the roasted chiles. We roast all the chiles…then we grind them with the [other] ingredients," said Delgadillo.
Diners can devour their meal in the comfortable and festive dining room or take it to-go. Not only is Consuelo's authentic, but it is also no-nonsense cheap. Only a handful of items cost more than ten dollars.
It only takes one visit to understand the passion that Delgadillo and his staff put into their food, although repeat visits are inevitable.