"There's not a classier person in college basketball. He's a true legend. He's much more than a hall of fame coach; he's a hall of fame husband, father, grandfather, community leader and a mentor to all of our coaches and our staff." – Anthony Fallacaro, director of athletics.
During a press conference Wednesday, February 28, tears could be seen rolling down the cheeks of emotional SNHU students and faculty as head men's basketball coach Stan Spirou announced his retirement from his 33 year-long coaching career that included over 640 wins, eight conference championships, five Elite Eight births and a pair of Final Four appearances. He steps down in an effort to spend more time with his family.
Spirou will step away from the game of basketball with a 640-341 cumulative record during his 33 years with the Penmen. He has a .652 winning percentage over a total of 981 games. He is currently the 11th longest tenured active head coach in NCAA Division II, with only three others having been at the helm of their current team for longer than Spirou and only one of those featuring a higher winning percentage. His 640 victories rank 25th against active NCAA coaches at all three divisions, while they place him fourth amongst active Division II (DII) coaches and seventh all-time in DII. Spirou is the coach with the most wins in New Hampshire basketball history, regardless of division, while he ranks fourth all-time in New England, including first for DII.
"It's been a great ride, a great journey," said Spirou at the conference. "I'm not sad… I'm happy those 33 years happened and to happen at a place that I can consider one of the best academic stories, and to be part of it, and to be given this opportunity, I couldn't be happier. Being a part of that story for the past 33 years and watching it evolve has brought me great joy and given me an immense amount of pride for Southern New Hampshire University. The support I have had from the administration and campus community over the years has made it easy for us to enjoy our success. But, in terms of me, it's time to turn a new chapter in my life."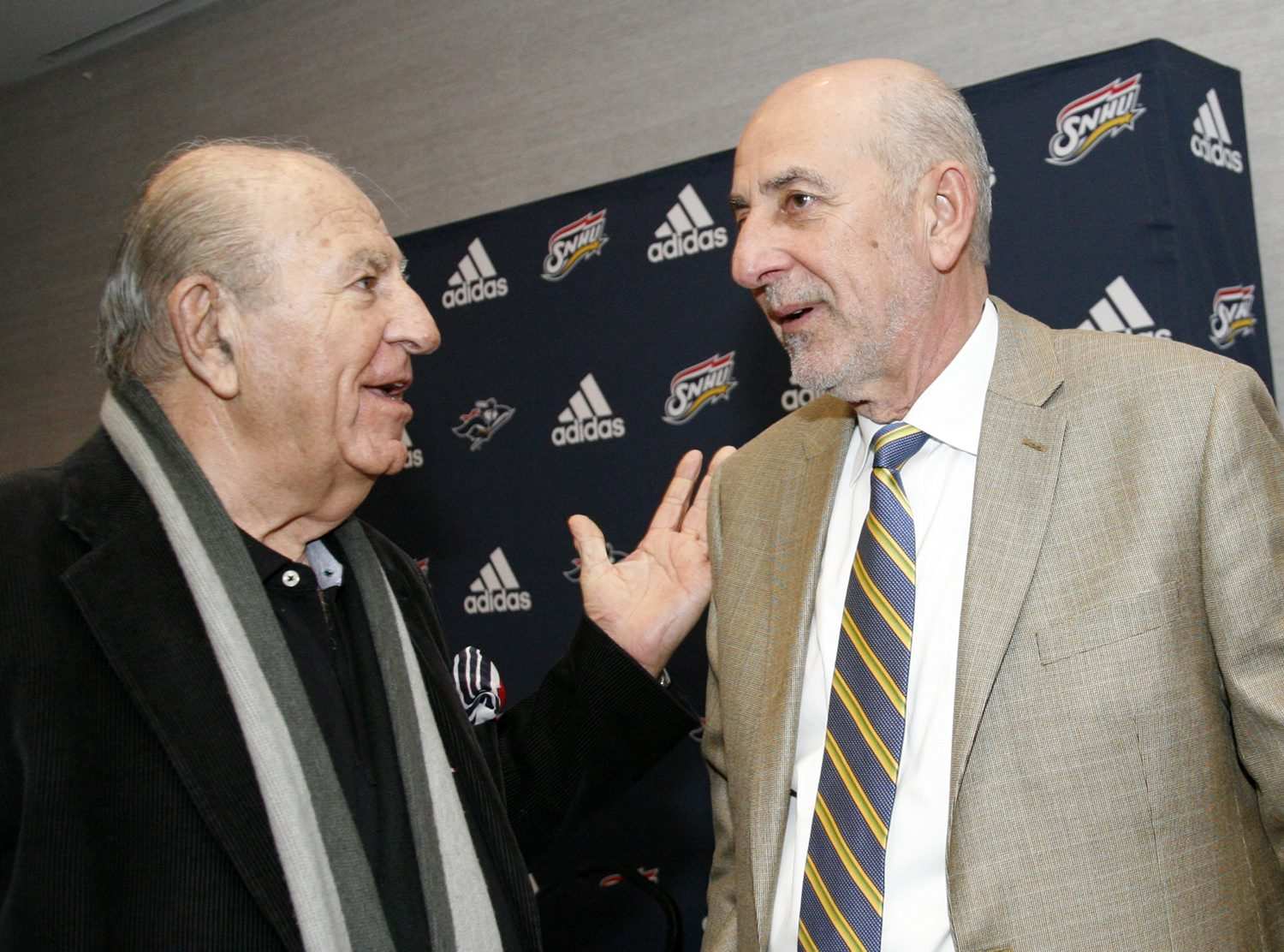 Spirou, who averaged an impressive 19.4 victories per season over the length of his career, recorded 17 20-win campaigns and finished at .500 or better 27 times in 33 seasons. He produced a record of 43-22 (.662) in conference tournament games, capturing NECC championships in 1990, 1993, 1994, 1995, 1998 and 1999, as well as Northeast-10 titles in 2013 and 2016. Spirou qualified for 18 NCAA Tournaments, going 23-18 (.561) against the best of the best. Five times he won regional crowns to advance to the Elite Eight (1987, 1993, 1994, 1995, 2015) and twice his teams earned a spot in the Final Four (1993, 1994).
"It is hard to put into a few words what Stan means to the men's basketball program and to SNHU," said SNHU Director of Athletics Anthony Fallacaro, who sat alongside Spirou at Wednesday's press conference. "He is one of the all-time greats, both on the court and off it. He is so much more than a hall of fame coach; he is a hall of fame family man and someone I consider a good friend, now and forever."
Spirou was inducted into the Queen City Athletic Hall of Fame in 1995. He was also named to the New England Basketball Hall of Fame in October 2009, inducted into the AHEPA Hellenic Athletic Hall of Fame in July 2011 and enshrined in the Boys & Girls Club of Manchester Hall of Fame in November 2015.
Spirou was a four-time NECC Coach of the Year (1993, 1994, 1995, 1999), the 2015 NE10 Coach of the Year, a three-time National Association of Basketball Coaches (NABC) Northeast Coach of the Year (1990, 1994, 1995) and the 1994 Division II Bulletin National Coach of the Year.
Spirou has coached five All-Americans, 15 All-Region selections, 27 All-Conference honorees and more than 150 total student-athletes during his Penmen career, but says all his athletes, whether they became All-Americans or not, were all individuals who wore the same jersey.
"When I look back, it doesn't matter if they made all American or all-league," said Spirou. "When I look back, all I remember is the relationships that we developed during that journey. I don't remember a lot of the wins or the championships, although some really stand out, but I do remember the kids who wore this shirt for this program, all of them. They have been loyal, have stayed close friends with both myself and each other. To see these kids succeed after they come here… To see them evolve and interact and remain friends for a lifetime… Kids interacting and working and fighting and sweating and traveling together is something that I take pride in. That's what I'm going to miss the most."
Spirou was named the head coach at Southern New Hampshire University, then known as New Hampshire College, on July 2, 1985, and led the Penmen to a 24-7 mark, as well as a spot in the conference finals, in his rookie season. A year later, he would earn New England Division II Coach of the Year honors after piloting his team to a 24-8 record and its first NCAA Regional title. Spirou's first league title would come in 1990 with a team that finished 26-6.
From 1992 to 1995 Spirou guided the program to an impressive 84-15 (.848) record and three straight Elite Eight appearances in the NCAA Tournament, as well as back-to-back Final Fours. The Penmen also became the first team in the history of the NECC to capture three consecutive league tournament titles during that span.
Spirou and the Penmen again repeated as NECC champions in 1998 and 1999, before making the jump to the NE10 for the 2000-01 season. SNHU reached the conference finals in both 2003 and 2004, before capturing its first NE10 crown in 2013.
"It's hard to think of SNHU without Stan," said Paul LeBlanc, university president of SNHU. "His larger-than-life personality filled any room he walked into; his steadfast dedication to our student-athletes is unmatched, and he's overall just an amazing person who will be truly missed. As Stan steps aside from basketball to spend more time with his family, he leaves behind a lasting legacy that will continue to inspire student athletes for years to come."
In 2013-14, Spirou passed longtime University of Bridgeport head coach Bruce Webster (549-405 from 1965-99) for the most victories among New England Division II head coaches. He then returned the Penmen to regional and national prominence in 2014-15, posting a 24-8 record, capturing the NCAA East Region title and advancing to the Elite Eight for the fifth time in Spirou's tenure and seventh time in program history.
Spirou guided the Penmen to their second NE10 title in 2015-16, as the team went 23-11 and earned its 19th NCAA Tournament berth. The Penmen made some history along the way, becoming the first team in the division-era ever to knock both No. 1 seeds out of the Northeast-10 Championship, in addition to being the second team to win four games in a single NE10 postseason, with three of those coming on the road. SNHU then became the first 8-seed ever to topple a No. 1 seed in the East Regional, giving it four straight road wins in the postseason – all coming against top-five teams in the region. Spirou collected win No. 600 of his career with an 88-82 Northeast-10 Championship first-round win against American International College on Feb. 26.
The 2016-17 Penmen reached the conference title game for the third time in five years and earned NCAA Tournament appearance No. 20, as well as the 18th and final for Spirou.
"This place is so special because of the heterogeneous group that we have on campus," said Spirou, reflecting on the SNHU community. "You go to many other campuses. Everybody looks alike, everybody dresses alike, everybody thinks alike. This school has never been about homogenous, and I think that learning [and] experiencing with kids is something I take pride in."
Before Spirou coached at SNHU, he acted as an assistant coach at Central High School in downtown Manchester. He built Central into a state power, compiling a four-year record of 80-22 during his career there and led the Little Green to a pair of Class L state titles in 1979 and 1981. He was inducted into the Central High School Hall of Fame on Sept. 25, 1998. He then joined the coaching staff at SNHU as an assistant coach before ultimately landing the head coach position in 1985.
Before coaching, Spirou earned a basketball scholarship to Keene State College, where he lettered two years for the Owls. He received his bachelor's degree in history from KSC in 1974 and later earned a master's degree in school administration from Antioch University in 1979.
Spirou, who is a resident of Manchester, is well known for his work within the Manchester community, in addition to being a legendary basketball coach. Spirou would often aid former players with internships and job searches after their Penmen careers came to a close. He was also the ultimate advocate for student-athletes, staying diligent in his efforts for them to complete their education.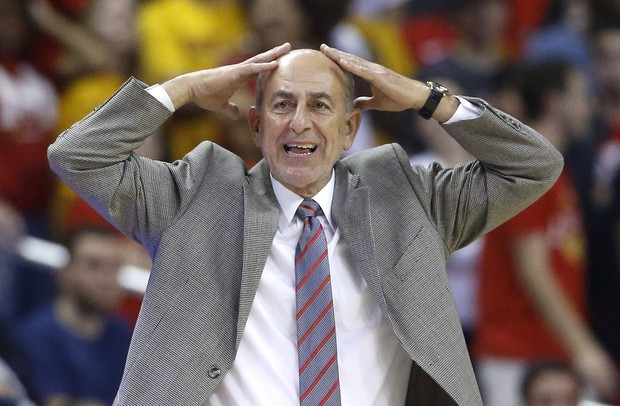 Spirou is also involved in numerous activities in the Manchester community. He is the director of the popular New Hampshire All-Star Basketball Camp, which runs every summer at SNHU, and has also served as an honorary coach of the New Hampshire Special Olympics team. He is also an avid golfer and trivia whiz. In addition, he held free basketball clinics in his native country of Greece every summer for a long period of time.
He and his wife Patricia, a marketing professor in SNHU's School of Business, have three children and six grandchildren. Twin daughters Kelly and Christina are graduates of the University of New Hampshire, while Chuck is a graduate of SNHU, all of whom he plans to spend tremendous amounts of time with in retirement.
"I think it's time for me to get back to reality and get back to my family," Spirou said.
SNHU is now conducting a national search for a new head men's basketball coach. Until the university finds a replacement, Spirou agreed to stay in the position, but they look to find someone as soon as this summer.
"Fight on; you're gonna get the right person, and you're gonna do the right thing," said Spirou, addressing SNHU athletics regarding the process of finding a new coach. "Whatever you do, do it with class. The advice I always give when I speak to new coaches: 'Don't try to be Stan Spirou.' The best advice I can give to the next coach is coach to your personality, teach to your personality, parent to your personality. Don't compare your coaching skills to anyone else's."
Spirou's legendary Penmen career will be recognized Friday, May 4 at the SNHU Fieldhouse. More information will follow once plans have been finalized.