The SNHU Ice Hockey team honored eight graduating seniors in a memorable ceremony before facing off against the Stonehill Skyhawks on February 12. Each senior was given flowers from family and friends and posed for pictures in front of an enthusiastic crowd at the Ice Den Arena. They were each given a proper introduction emphasizing their strengths and contributions to the team.
With the end of their college hockey career edging closer, seniors Chris Moquin, Matt McLelland, Ryan Slatky, Sam Jenkins, Griffin Rogers, Alec Cochran, Timothy Baylis and Kyle Valliere look to the future and what it holds for them.
CHRIS MOQUIN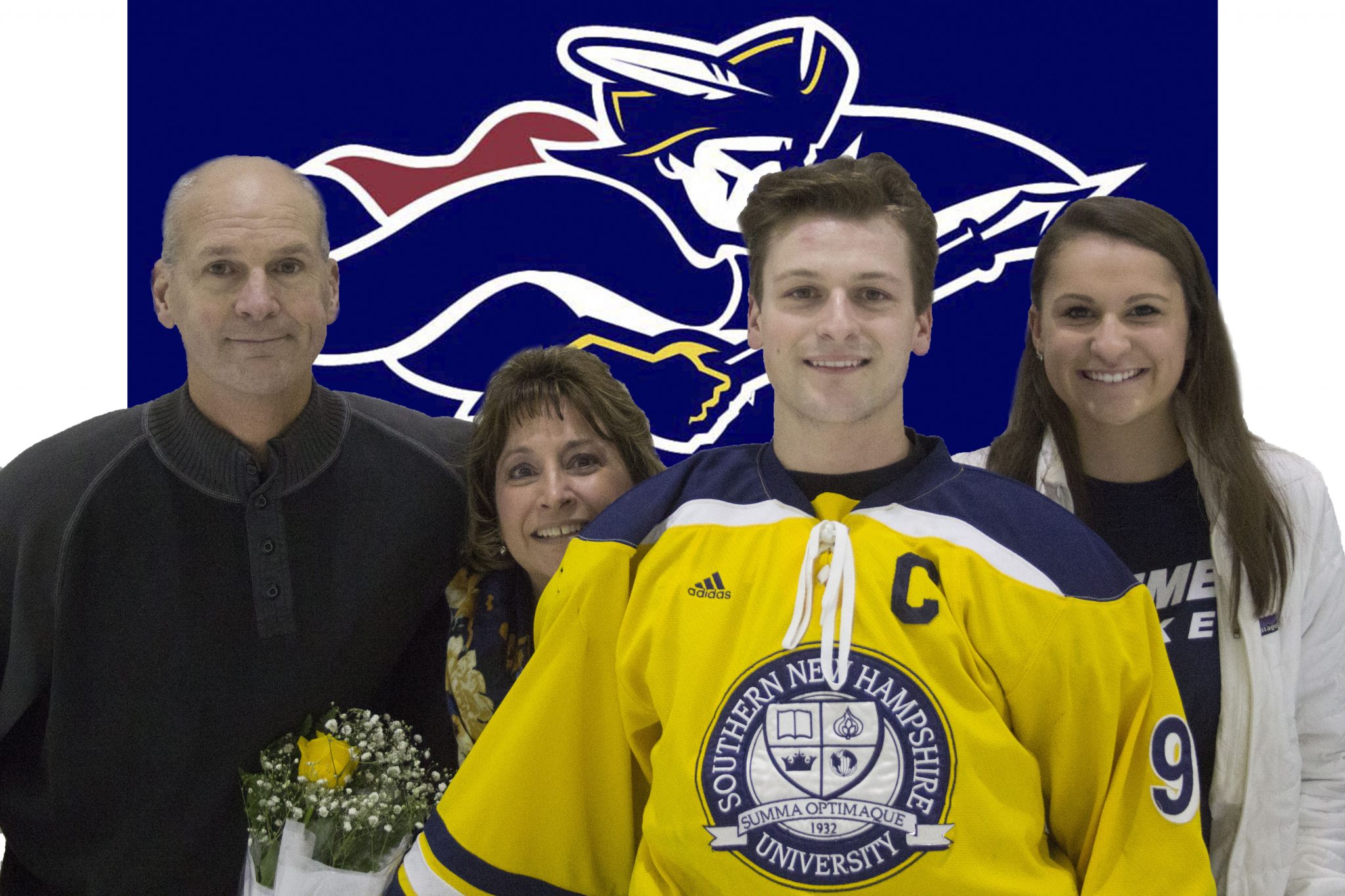 Chris Moquin of Hooksett, New Hampshire is the head caption of the ice hockey team. He is a dedicated leader and the most reliable and successful forward Penmen. He leads the Northeast-10 in goals this season, scoring an impressive 19, including a hat trick in the matchup against Stonehill, which was the second of his career. Moquin's 19 goals is the highest a Penman has scored in a single season in nearly 10 years. He also made eight assists. Overall, he scored 28 goals and made 27 assists.
Because he wants to further his education by receiving a graduate degree for business administration, Moquin will be returning to SNHU in the fall. He also has another year of NCAA eligibility left, as he transferred to SNHU mid-season his freshman year, which allows him to continue playing hockey as a Penman.
Senior night had a special meaning to Moquin. Because he will be returning next season, he's not officially putting a cap on his college career; however, he will no longer be playing with his best friends, Valliere and Slatky, wh0 he has been playing with since he was a child.
"Senior night was a little different for me because of my opportunity to come back next year," said Moquin. "But it had a pretty significant effect. While I wasn't officially putting a bow on my college career yet, I was getting closer to the last time I would play with my best friends from my graduating class. It was a tough pill to swallow, but I tried to make sure not to let it be a distraction because this team is still far from finished."
MATT MCLELLAND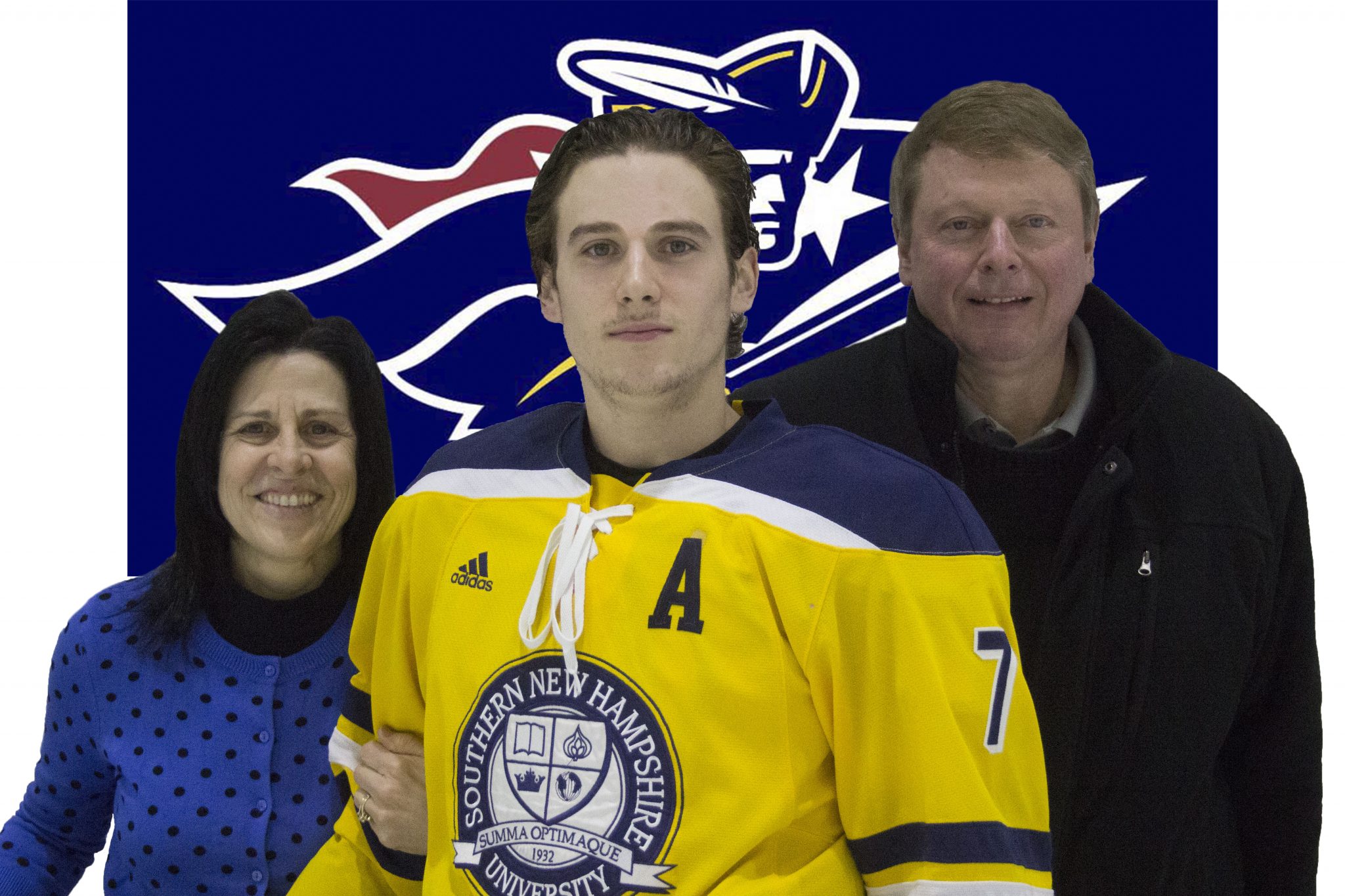 Matt McLelland of Reading, Massachusetts has been the Penmen's best defenseman during his time as a Penman. He has scored five goals, including one this season, and wracked up 24 assists, 13 of which were made this season.
McLelland will graduate with a degree in business administration. He will continue his studies at Northeastern University where he plans to earn a masters degree in project management. He will play club hockey for the university.
SNHU has prepared McLelland for his further studies at Northeastern by teaching him a variety of skills including "problem solving, responsibility, goal-orientation, accountability and being able to learn and adapt from mistakes both inside and outside the classroom."
Senior night was an important emblem of McLelland's hockey career. It reminded him of the hours and hard work he put into hockey and the significant people who have allowed him to reach this milestone.
"When I think of senior day, I think of the amazing people who brought me here," said McLelland. "It is truly a blessing to have the parents I do that will put my hockey career first before theirs. Without the support of my parents, my experience both on the ice and in the classroom would not be possible and for that I am truly grateful."
RYAN SLATKY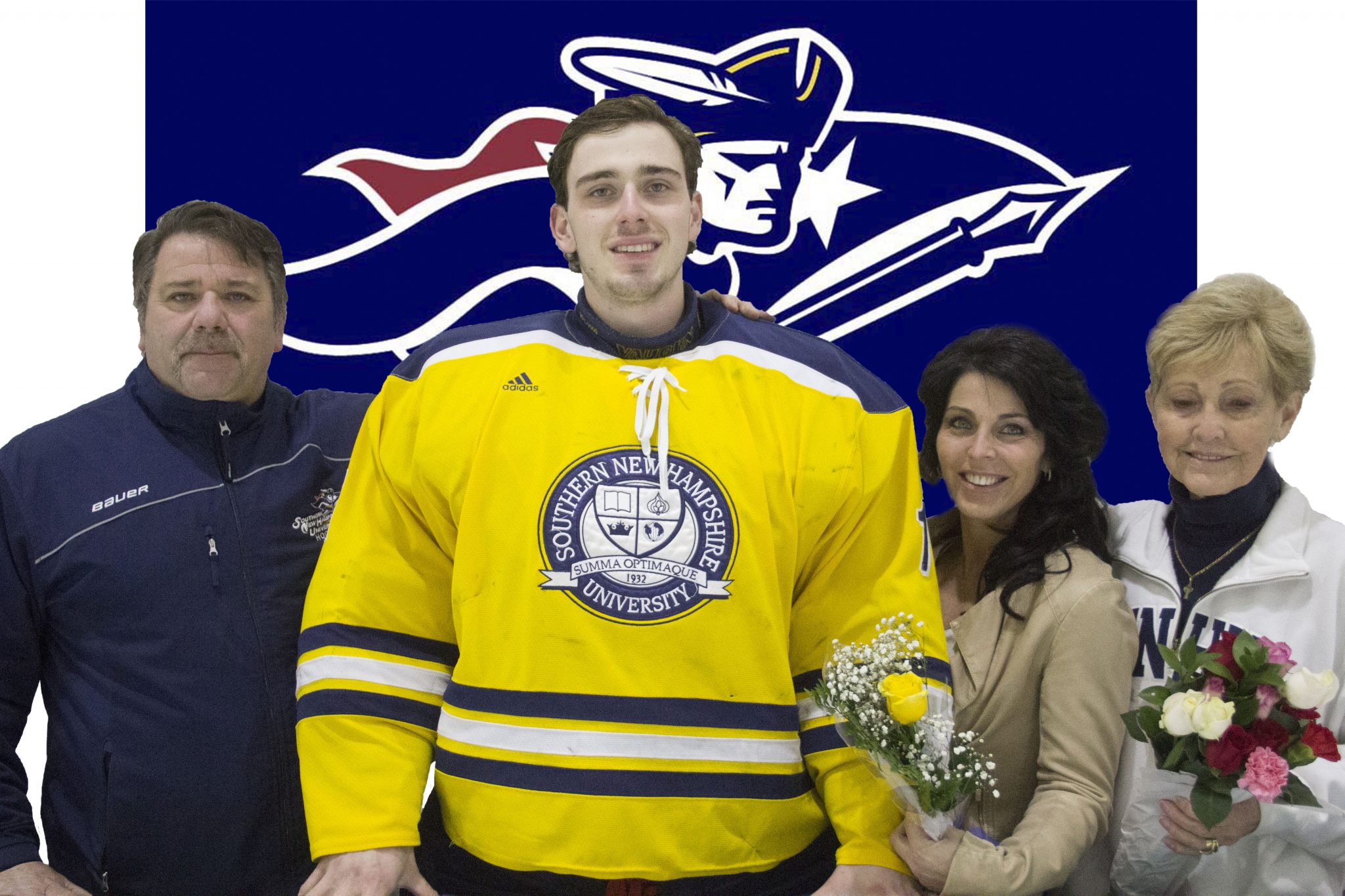 Ryan Slatky, a Manchester native, had a phenomenal career as a Penmen. As one of the best goaltenders in the Northeast-10, he has a .919 save percent average while blocking 2,033 shots. Slatky broke over 2,000 goals-saved during senior night's matchup against Stonehill, making him just the fourth Penmen goaltender to do so. At the end of his final season, he has saved 413 shots.
Slatky will be earning a business administration degree in May. Though he has internship experience under his belt, he is unsure of where his future is headed, but he is certain of finishing playoffs strong.
When asked about his overall experience on the team, Slatky said, "The past four years has definitely been a journey. Senior night was a chance to look back and see all the hard work and hours we've put in pay off. I couldn't be happier for my team and the other seniors because they have been amazing to me ever since I met them."
As an individual who has played hockey for over 20 years, Slatky knows how much time and effort must go into a hockey career, not just for him, but for his family as well.
"Anyone who has played hockey for 20 plus years knows the level of sacrifice that their families put in. Senior night was really for them, and not us," said Slatky. "You learn a lot about yourself. You grow up and realize you are representing more than just yourself, but also your family."
SAM JENKINS
Sam Jenkins of Dartmouth, Massachusetts has had quite a ride getting to where he is now. He had a roller coaster of health-related issues that forced him to sit out the majority of this season. In fact, his first game of the season was senior day. Therefore, senior day meant a lot to him. Before he was bedridden, Jenkins was a strong defenseman. He demonstrated strong defensive skills on the ice, and scored two goals during his first two seasons.
"It was such a good feeling being able to play on the ice with all of my teammates again," said Jenkins. "It made it upsetting at the same time because I realized that I won't be around the guys any more after the season ends. We are each other's biggest supporters."
After an internship with P.J. Keating, Jenkins has solidified a post-graduation position as a Construction Superintendent at Aggregate Industries in Massachusetts.
"I am excited to get into the real world, said Jenkins. "I do plan on continuing playing in a men's hockey league at night and balance hockey and work. I have been playing hockey since I was 7 years old. I don't plan on giving up the sport anytime soon."
GRIFFIN ROGERS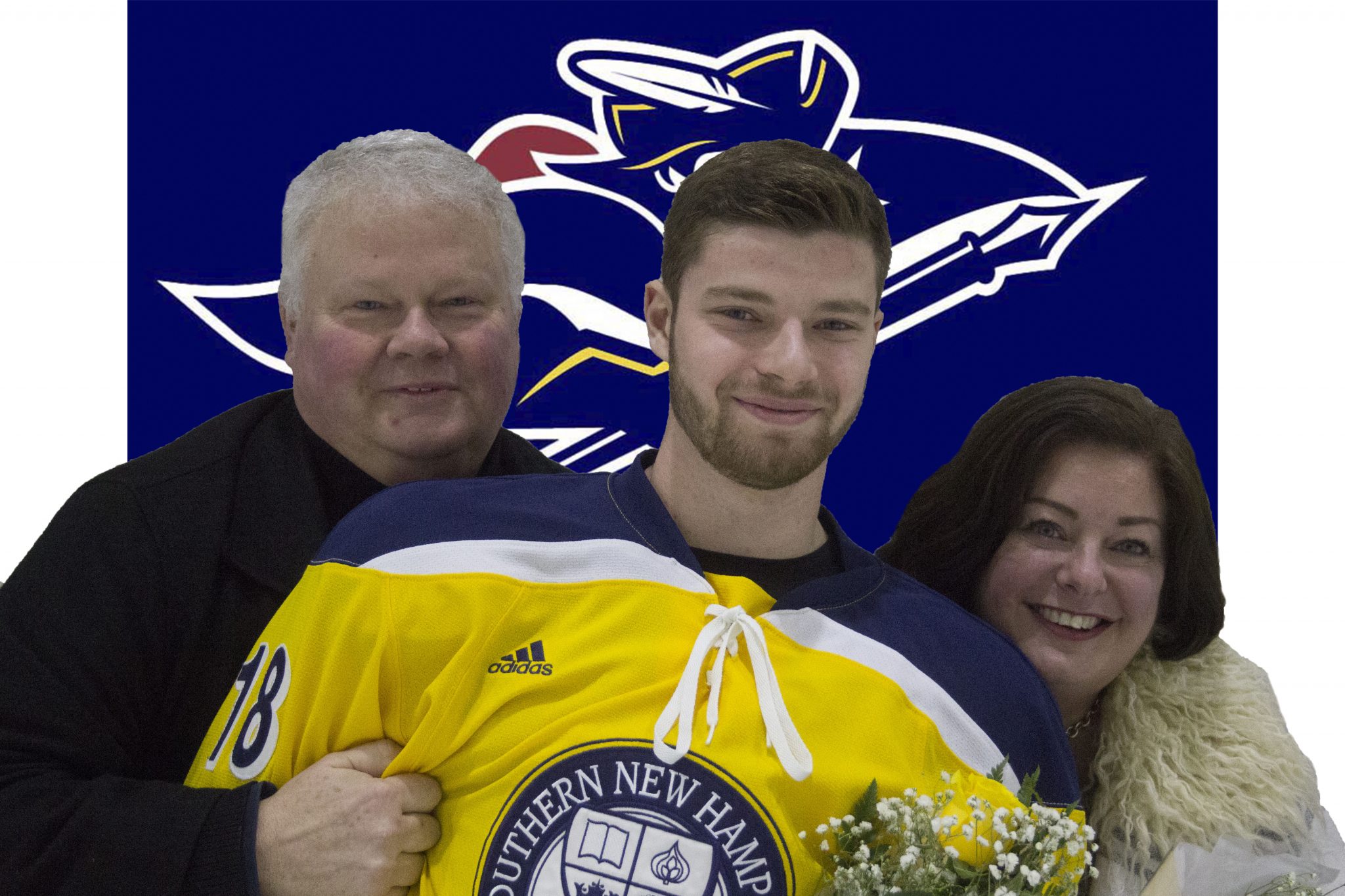 Griffin Rogers of Sanbornton, New Hampshire has been a key forward in the success of the 2017-2018 season. He scored two goals and made two assists this season, while making eight goals and nine assists overall. He is earning a degree in business administration with hopes of finding a job in sales or marketing. He will continue playing hockey in men's leagues or clubs because "hockey will always be a part of [my] life."
SNHU has been a major resource for Rogers, both on and off the ice. He has made many connections at SNHU and feels very prepared for life after graduation.
Although, senior day was a disheartening realization to Rogers that his hockey career is coming to an end, he enjoyed some of his last hours on the ice. He wishes he could play for the Penmen longer but understands it can't last forever.
"Senior day was sort of a realization for me that college hockey is coming to an end," said Rogers. "It didn't really hit me until after my first shift that the coming games were the last I'd play as a college hockey player. Thankfully it was a great game where we played well and came out on top, securing our spot in the playoffs."
ALEC COCHRAN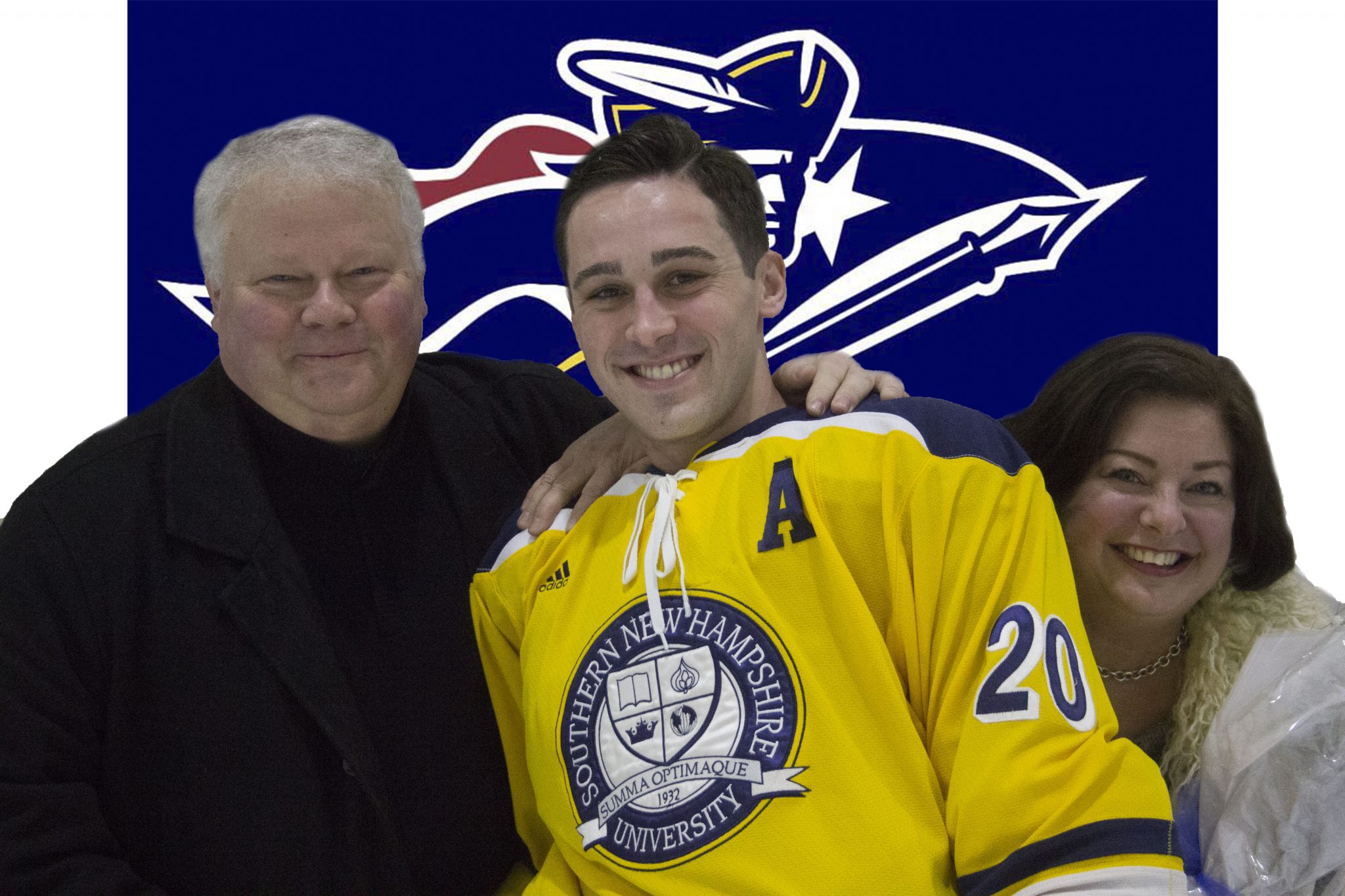 Alec Cochran of Orlando, Florida has been a stellar contributor to the defense line. He scored two goals, including one this season, and made 11 assists his career, including seven this season. Cochran is double-majoring in economics and mathematics and plans on attending medical school after graduation, but is unsure of where. During medical school, he will join a club team or men's league to keep his passion for hockey afloat.
Cochran describes his experience playing for the Penmen as "awesome." He says it "got even better this year with the new coaching staff and new addition in freshman; [I'm] surrounded by a great group of guys, and that's what [I'll] miss most."
Senior day was "unbelievable" to Cochran. He says it was "a good cap on a long career, but it was also a spark for the post-season to come. I only have a few games left and I'm confident in the direction we are moving."
TIMOTHY BAYLIS
Timothy Baylis of West Haven, Connecticut has had a strong performance throughout his final season of his college career. Baylis scored 29 goals his entire SNHU career and 12 goals this season. In addition, he mounted 19 overall assists and 7 this season.
Baylis plans on moving back to his home state of Connecticut after graduation in hopes of receiving a position at a private school with his business administration degree.
Hockey has been a part of Baylis' life for 22 years. When asked about his experience on the SNHU team, Baylis said, "The coaching change has been a big difference on and off the ice but it has been a positive experience, and I believe the team is moving in the right direction. It has been a great ride."
Though bittersweet, the end of Baylis' competitive career is catching up with him as he notices more aches and pains within his body.
"It will be good to finally give my body a break;" said Baylis, "however, I will always play hockey. I am looking forward to a few months off the ice once the season is over, but I will start playing again once summer arrives. It never really ends."
KYLE VALLIERE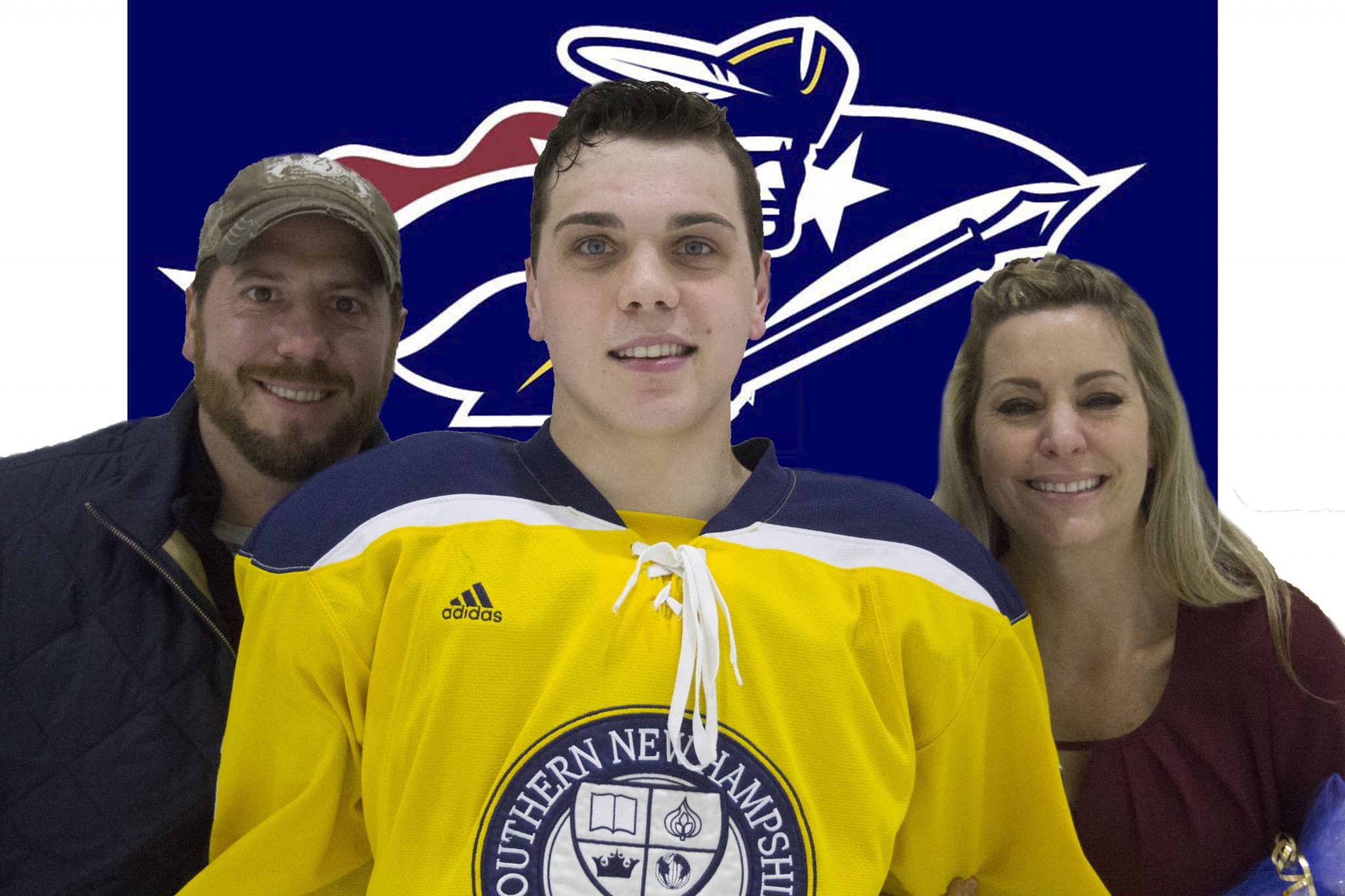 Kyle Valliere of Goffstown, New Hampshire has made a major contribution to the team as a forward. He has a total of six goals and seven assists this season, and 29 goals and seven assists over the course of his college career.
With graduation on the horizon, Valliere is on the fence about what his next step is. "I am going back and forth between wanting to move somewhere warm or staying in New Hampshire to work," said Valliere. He is graduating with a degree in business administration and a minor in accounting.
Although hockey has been a big part of his life, Valliere is not sure if he plans on hopping on the ice anytime soon after college. Instead, he wants to take up some new hobbies such as the video game, Fortnite, as well as dirt biking.
When asked about his overall experience on the team, Valliere said, "You have to make the most of what you have here. Senior night was a thank you to my family and friends who have always pushed me and have given me the tools to make it to the end."
The Penmen wrapped up their 2017-2018 season Saturday, February, 17 with a 4-1 loss to Saint Anselm College at the SNHU Arena. This loss brings the Penmen's seasonal record to 12-7-3, which earns them the final spot in the Northeast-10 conference playoffs. They will face off against the Hawks in semifinal action at the Sullivan Arena at the Saint Anselm campus.