The Student Center was transformed to the Glow Center on Friday, January 19 for the fourth Welcome Back Bash. Organized by the Coordinators of Activities and Programming Events (CAPE) and co-sponsored by 10 other clubs and organizations, the glow-themed event was a part of 2018's Welcome Back Weekend.
"[This] event is mainly geared toward giving students an alternative program to go to rather than partying," CAPE's Late-Night Chair and event coordinator, Matt Montminy, said. "There is data that indicates that the first weekend of the semester is a high-risk weekend for drinking."
All co-sponsoring clubs and organizations tabled their own activities. Gaming Club played Guitar Hero while the Peer Advising Leaders (PALs) made slime beside them. The Cake Decorating Club distributed Oreo cake pops made by their club members as well as a lemonade-seltzer refreshment, and the Drama Club made masks with bright decorations.
CAPE Signature Events Chair Shannon Gayron said, "I feel like it's a great way to kick off the semester, bringing all the clubs and organizations together."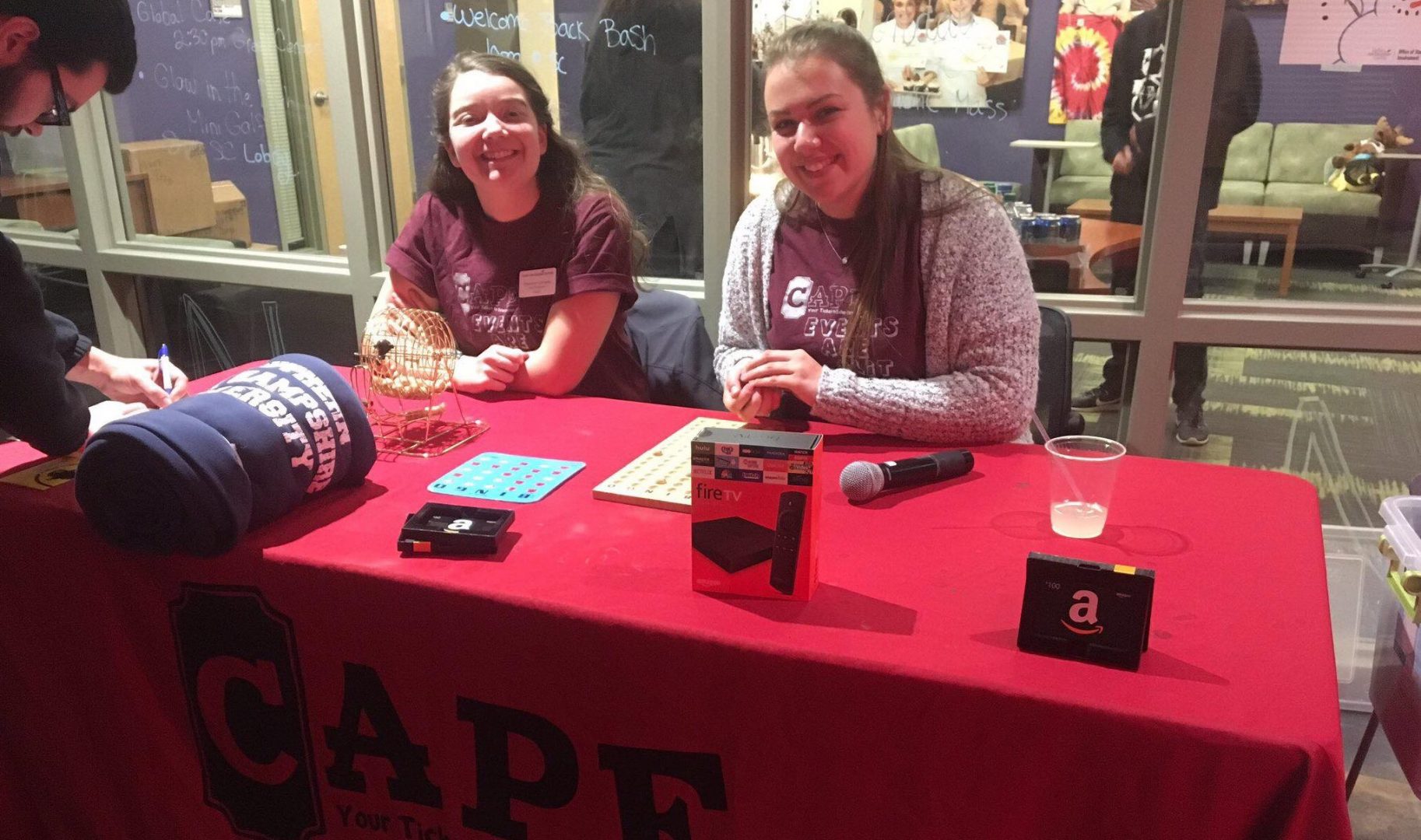 CAPE hosted a game of Bingo that saw no disputes or dance-offs over a tied round. The prizes included a Buffalo Wild Wings Gift Card, a SNHU Blanket, an Amazon Fire and two Amazon Gift Cards.
Also tabling at the event, Phi Delta Theta wanted their participation to help bring more awareness to SNHU's Greek Life, highlighting its community service basis and anti-hazing policy. "What we're doing here is pretty much exemplifying ourselves and showing that we're not just here as an organization," first year Ricky Pulisciano, the fraternity's recruiter and treasurer said. "We're here because we care about our community."
Live Action Role Play (LARP) Club had a game at their table where students would throw candy at a can pyramid. When they knocked down the cans, they got the candy. "Luckily, nobody's got hit yet," sophomore Emmett Christian, LARP Club's president said. "Only one person's managed to hit all six down."
After three weeks away from SNHU, the Welcome Back Bash brought clubs and students together for a night of activities on the first weekend back. "It's good to see everyone coming together as a community," Pulisciano said.