Alabama may not always be the place that comes to mind when thinking about defining political moments in contemporary times; however, for better or worse, the special election taking place in the Yellowhammer State has put it in the national spotlight.
For anyone that's been out of the loop, a special election for Attorney General Jeff Session's former Senate seat is scheduled for December 12 of this year. The two candidates battling it out for the position are Roy Moore, the Republican candidate, and Doug Jones, the Democrat's candidate.
Normally, elections in Alabama receive little to no national coverage as the state traditionally votes Republican. This special election is unique though.
While in an ideal world, the special election would possess unique characteristics due to policy initiatives proposed by both candidates, the Alabama special election is special due to controversy.
Roy Moore is the main target of the controversy. Whether or not one believes the rumors, the allegations concerning Roy Moore warrant caution from the general American public.
The allegations concerning Roy Moore are those of sexual misconduct.
Alana Abramson, a reporter for TIME Magazine, gave some essential details towards the exact nature of Moore's rumored sexual misconduct.
"Moore, who denies the allegations viewed by senior members of his party as 'credible,' has to date been accused of sexual misconduct by eight women. Among the allegations are several accounts by women that he made sexual advances toward them while they were teenagers, and he was in his 30s. According to the New Yorker, one Alabama shopping mall even banned the former chief justice of the Alabama Supreme Court for serially harassing teen girls."
Some may be tempted to simply label the allegations as a witch hunt, but given the fact that Minnesota Democratic Sen. Al Franken is not only facing allegations of touching numerous women inappropriately but faced calls to step down by colleagues from his own party, Moore requires the same amount of attention and treatment. The push for Franken's resignation was also a success as he announced he'd step down from the Senate yesterday.
Moore's favorite response is juvenile at best.
"I don't remember dating any girl without the permission of her mother."
It's a safe bet that his favorite statement is a lie. If the Republican party cares about its own future, then refusing to support Roy Moore is in their best interest, for both the sake of politics and ethics.
One doesn't need to be a Democrat to oppose Moore and approve of the Democrats push for Franken's resignation. Like the allegations facing Moore, Franken is also facing condemnation for his behavior towards women.
Eli Watkins, a reporter for CNN, shed some light on allegations specific to Franken.
"Last month, Leeann Tweeden, a morning news anchor on the AM radio station KABC in Los Angeles, posted her story on the station's website, saying Franken forcibly kissed her and groped her in 2006 during a USO tour."
Watkins also had more details of Franken's deviant behavior to share.
"A woman came forward to CNN to say Franken, as a senator, grabbed her buttocks while taking a photo at the Minnesota State Fair in 2010. An Army veteran told CNN later that Franken groped her on a USO tour as well as before he was a senator. The woman, Stephanie Kemplin, said Franken cupped her breast while she was deployed in the Middle East during the Iraq War."
Calling on Franken to step down was the right move, as his conduct can not be reasonably defended by anyone with a sense of right and wrong. The same is true for Moore.
Originally, the RNC had cut all ties with Moore following the launch of the allegations; however, following President Trump's move to endorse Moore as a last resort strategy to save Moore's campaign, the RNC as well as the pro-Trump Super PAC, America First Action, decided to follow Trump and endorse Moore.
America First Action will attempt to spend $1.1 million to try to push Moore to victory. Amassing massive amounts of money is pretty much the only option available for Moore at this moment. Unsurprisingly, Trump is quick to criticize Franken while praising Moore.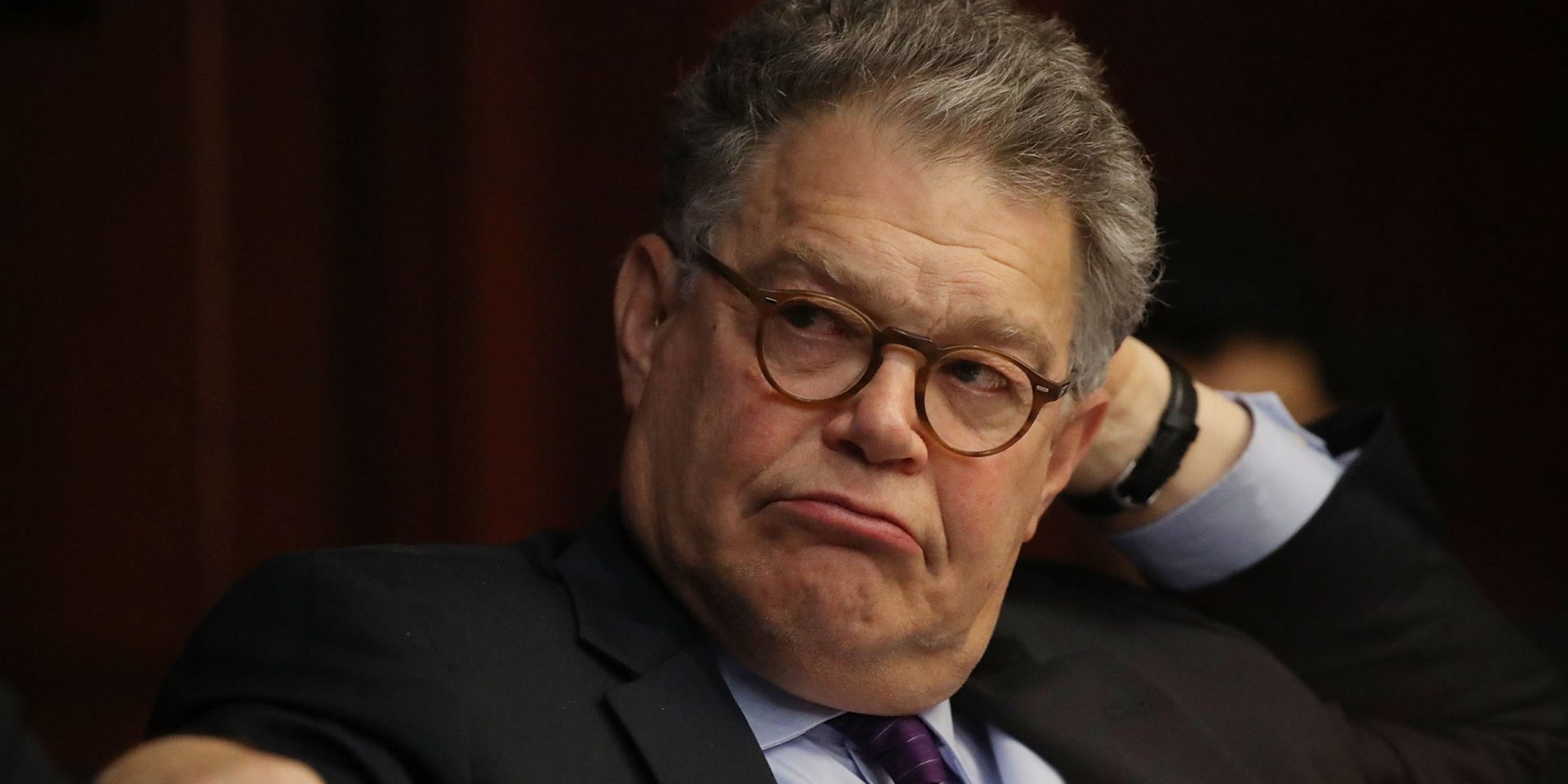 "The Al Franken picture is really bad, speaks a thousand words. Where do his hands go in pictures 2, 3, 4, 5, & 6 while she sleeps? And to think that just last week he was lecturing about sexual harassment and respect for women," tweeted Trump on his twitter @realDonaldTrump.
While the President is right to call out Franken's hypocrisy, the President is playing a dangerous game of partisan politics by not giving Moore the same treatment. Once again, the president himself chooses to abandon the idea of becoming a deal maker and instead continues the trend of staying absolutist in party ideology for the sake of victories on paper.
Not every conservative figure is choosing to stay in Trump's shadow though. 2012 presidential candidate Mitt Romney, as well as GOP Sen. Jeff Flake from Arizona have remained firm in their criticism of Moore.
In the case of Sen. Flake, he wrote out a $100 check to Doug Jones as a response to President Trump's declared endorsement of Moore.
"Country before Party," tweeted Flake.
GOP party figures that are too afraid to step out of Trump's shadow and say what they really think have been quick to dismiss Flake's check to Jones as a bad idea. Flake's move was necessary though if the GOP wishes to claim it cares about ethical conduct to the same degree it cares about the party's desire to get an entire conservative agenda passed through congress.
For Mitt Romney, he chose not to spare any kind words when revealing his personal thoughts on the prospects of Moore's candidacy.
"Roy Moore in the US Senate would be a stain on the GOP and on the nation. Leigh Corfman and other victims are courageous heroes. No vote, no majority is worth losing our honor, our integrity," tweeted Romney.
Instead of making this moment one of division, it has the chance to become one based on unity. If the Democrats were successful in getting Franken to resign, then Republicans can be successful in weakening Moore's chances of victory. Ultimately, it will be the people of Alabama who decide which road to take, but only one path can lead to a state of the union where both liberals and conservatives alike agree that the American people deserve a Senate that holds itself to a higher standard of conduct.
In the meantime, we'll just have to wait and see what the people of Alabama decide as no election is truly decided before election day.
Looking for more political or pop culture opinion pieces? Reporter and columnist Thomas Cahalan uses his history major and passion for politics to bring you the scoop on all the hottest topics. For more pieces like this, check out his piece on the importance of bipartisanship or his assessment of the current status of the DNC.
If there's a topic or issue you think Thomas should look into, email us at penmenpress@snhu.edu or contact us HERE.