Fall 2017 has been the best season Southern New Hampshire University's women's soccer team has seen in all its program history. They wrapped up the season with an overall record of 15-3-5, earning them the number 2 seed in the Northeast-10 Conference, which was the highest ranking they have ever received. They went on to capture the Northeast-10 title in postseason action in an exciting match against the Franklin Peirce Ravens.
This was the first time they captured the title since 2012, which was the only other year they were able to do so. The Northeast-10 also recognized seniors Trisha Luis (Lowell, Massachusetts) and Rianna Fassanello (East Bridgewater, Massachusetts) by awarding them with the Most Valuable Player Award and Defensive Player of the Year, respectively.
In addition, the Penmen made history in the NCAA East Regional Tournament by winning their first ever game. They have qualified for the tournament five times, but were never able to get past the first round. This year, they beat undefeated Georgian Court 3-0 to advance to the second round where they faced tournament host Mercy College.
The Penmen beat Mercy in regular season action, but fell three goals short to be upended 3-1 to end their first-ever run in the NCAA tournament.
Coach Elie Moneiro, who is in his fourth year with the Penmen, says he is amazed with the quality of play the girls have produced on the field this season. He says the girls have improved tremendously, and a lot of that has to do with different training techniques and the approach other teams took when facing the Penmen.
He believes that by adjusting to the different approaches of other teams, the Penmen's tactics will increase in quality on the field.
"We got better as a defensive unit, we got better as an attacking unit, we got better as a possession oriented team," said Monteiro. "The thing that helped us grow to getting those things was each and every opponent's approach to playing us."
"No two teams are the same. We had to figure out as a group how to beat better opponents because they were coming up with different game plans and sometimes their style of play would not mirror the play they played against other opponents. They would completely change their style to face us and that forced us to try and come up with solutions that were different from what we were doing earlier on in the season and I feel that helped us grow tactically as a team."
Off the field, coach Monteiro has been working with his team on leadership and team bonding. This is something he says has brought the team closer together and has allowed for more communication on the field.
Last spring, the Penmen participated in many leadership training exercises to prepare them for the current fall season. It has allowed them to grow as individuals and has taught them how to properly express themselves in terms of conflict so no tension will be present between players.
Having tension, says coach Monteiro, reduces the quality of play on the field. Therefore, actively practicing team bonding tactics and leadership responsibilities allows the girls to express themselves in healthy ways to avoid such tension.
The team, according to Monteiro, is closer than ever. He says there is a greater connection among players and their communication skills have improved tremendously. Last spring was the first time Monteiro incorporated the training and says its results have "spoken for themselves," as it allowed the team to accomplish greater things on the field.
Luis, who is the team's top scorer, recording 11 goals in the 2017 season, seconds Monteiro, saying the training has "greatly impacted the team in a positive way." She says the training has allowed for the team to become "closer than ever" and that the results can be seen on the field.
"My teammates are like my sisters," Luis said. "I love how close we have all become and how we have all been able to grow together. The training has benefited us. Our connection off the field shows in our performance on it."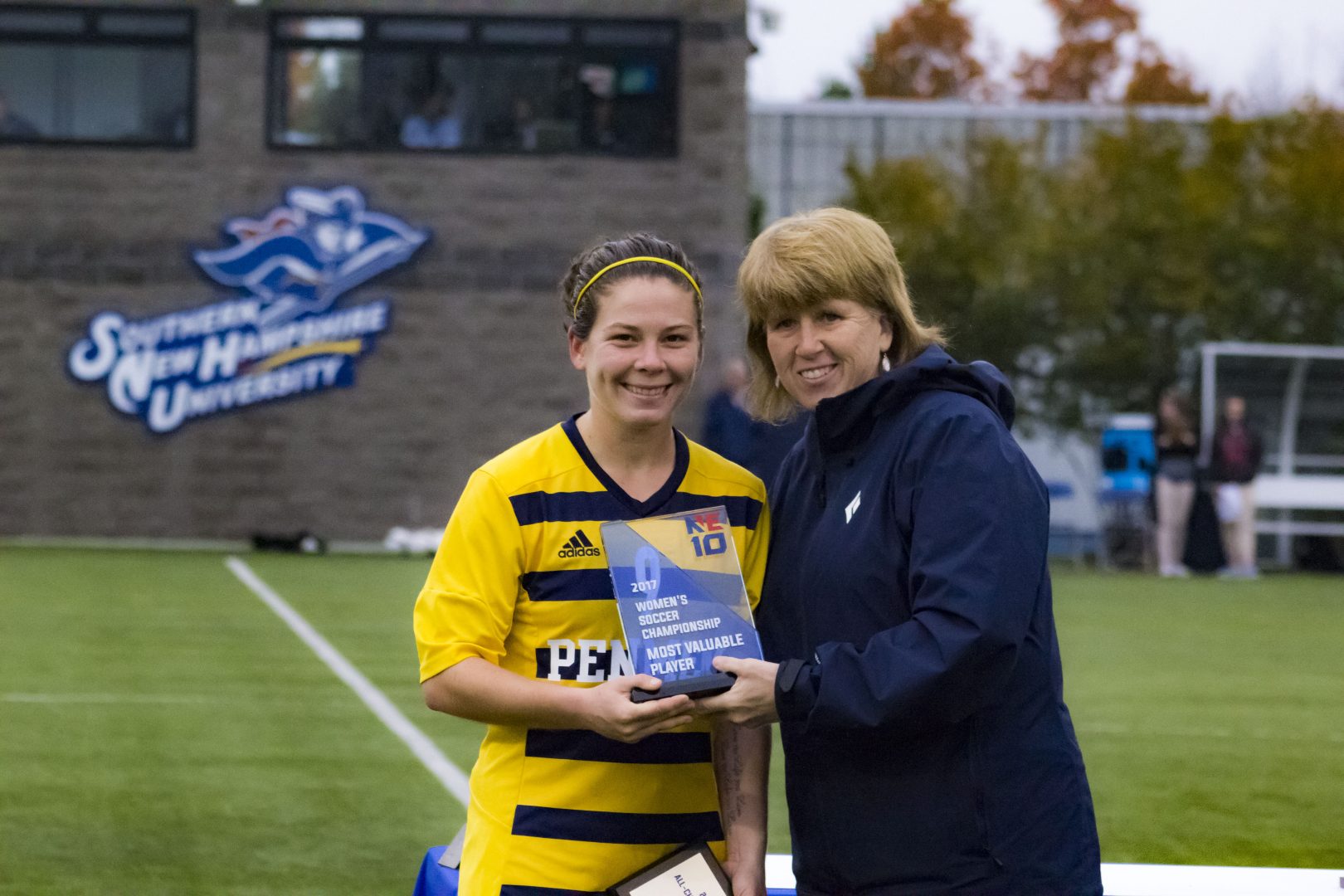 Coach Monteiro is using another common technique that allows the team to play at their best ability. He says staying in the moment is beneficial to performance. He doesn't want to compare the team to who they used to be in previous years.
"We stay in the moment and we're not necessarily comparing ourselves with anything that has happened before," he said. "It's more about where we are and where we can get to with the current group. If we come in and we feel like we're ready to compete at a certain level and we show that we are better than what we anticipated, then we gotta make the goals a little bit bigger and that's what I think happened this fall."
"We're comparing ourselves from where we started this season instead of where we were last season and basically every week, we're trying to get better."
Because this season was so successful, Monteiro hopes it will help with confidence going forward. The Penmen are losing eight seniors, including Luis and Fassanello, which coach Monteiro says will significantly impact the team. However, he is training his younger players to perform at a higher level while adding additional talented players to the roster.
"The kids are excited, we're excited, for next season," said Monteiro. "It's sad that this season has come to an end, but the highs this season were everything we had hoped for."