This year's Rhode Island Comic-Con (RICC) was invaded by the forces of the Empire.
The 501st Legion are nothing to fear, however. They are a troupe of cosplayers standing for a good cause.
"The 501st is an international costuming club that does screen-accurate Star Wars costumes," said Ivory Racine, a two-year member of the 501st. "We are completely nonprofit, and we do charity work and volunteer work for our communities. The charity work is usually for Make-A-Wish, children's hospitals and recently for many local mental health organizations."
This time, The 501st were raising money for the Narrative Therapy Initiative (NTI), an organization "based on the worldview that relationships with stories constitute our experiences in life, including experiences of problems," from their website.
The group has recently been partnering with mental health groups in memory of Carrie Fisher.
"We've done a lot of tributes, and up in Vermont we made a tribute patch and sold it all around the world, making about $2000 for mental health services in Vermont," said Racine.
The 501st Legion got their start in 1997. Twenty years later, the organization is now 11,000 members strong, with representation in over 60 countries.
"It started out as just a couple guys with stormtrooper armor. They got online and figured other people had it and started forming a group together. Then they realized there were people all over the world, and they created an online forum," said Bob Gouveia of the New England Garrison. "It started out as just a hobby, but it also has side benefits of being great for charity."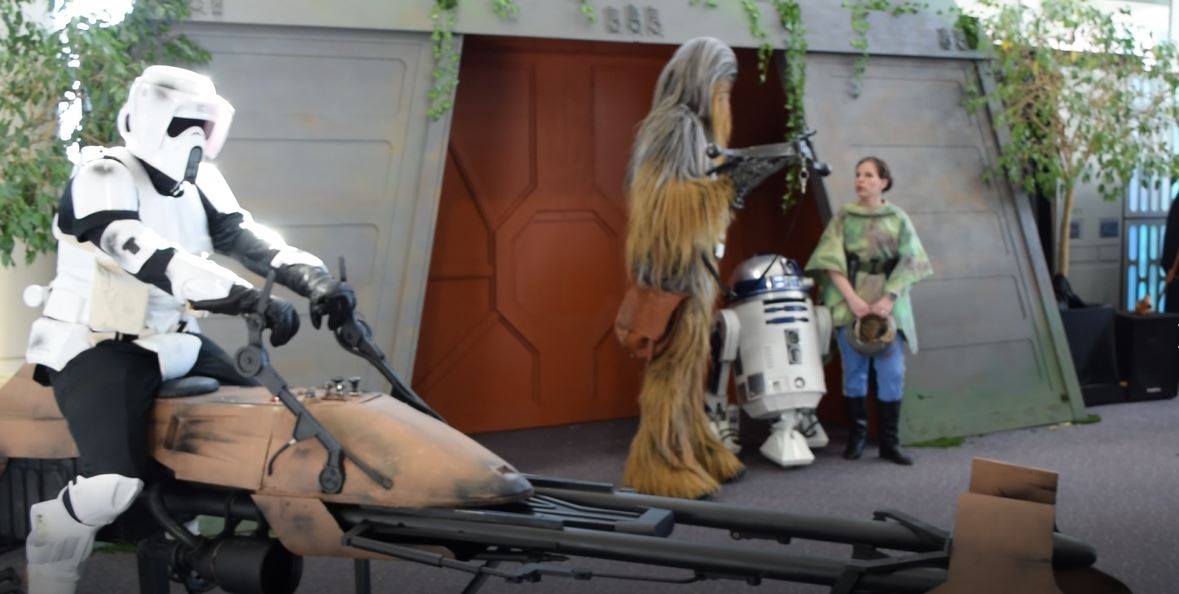 More recently, the group hit a huge milestone. A goal was set to raise $150,000 for Make-A-Wish within five years. They did it in ten months.
"I'm really impressed with all of the fundraising we were able to do through our portal; the t-shirt sales were fantastic and you can just tell there is such a love for star wars and for the legion itself to make sure we're on the right foot with the Star Wars brand but also to raise money for great charities," said Erich Shafer, commanding officer of the New England Garrison.
The great feats the group accomplish are only possible through the hard work they put into their props and costumes. They shoot for film-quality in all that they create.
At RICC, they unveiled their newest props: a set of speeder bikes and a bunker from "Return of the Jedi" as well as K2SO from "Rogue One."
"Everything we do is affiliated with Disney and Lucas[film]. We are not a part of [either] but we have to meet certain standards in order to be a part of the club and to represent [Disney and Lucasfilm]," said Racine.
Their love of Star Wars and the community its created runs deep. Each member has a story of who showed them the films, be it their father, grandfather or brothers, and a passion for bringing others into the fold.
"I really love interacting with kids, especially small girls, as Rey. It's really nice to be able to get young girls excited about Star Wars and science fiction as females have been so underrepresented in the genre."
For more information about The 501st Legion and their upcoming events, visit their website HERE.
The 501st Legion Invade Rhode Island Comic Con

This year's Rhode Island Comic Con was invaded by the forces of the Empire!

The 501st Legion are a group of Star Wars cosplayers with over 11,000 members represented in more than 60 countries. Their local chapter, The 501st New England Garrison volunteer in the community and were raising money for Narrative Therapy Initiative (NTI) when The Penmen Press' own Nick Klotz and Jaime Mailloux caught up with them.

Check out the full article below and read more news at PenmenPress.com and follow The Penmen Press on social media!

The 501st Legion Bringing Joy and Changing Lives With Star Wars

Posted by The Penmen Press on Tuesday, November 21, 2017