Penmen Corner is your chance to make your voice heard. Let us know what you think in the comments below. The top comments and poll results will be featured next week!
When students are away at college, it's only natural that missing home cooked meals or established eating routines can become a concern. At SNHU, Sodexo aims to lessen that concern.
This year, Sodexo is aiming for greater strides toward this goal with the latest changes and changes to come, to the dining hall. Renovations to Just Desserts, the station famous for ice cream, smoothies, and any dessert that comes to mind, are some of the biggest changes to the dining hall.
Whether it's the increase from sixteen flavors of ice cream to twenty four, additional seating near Just Desserts, or more healthy choices produced by the smoothie bar, Just Desserts has seen a considerable amount of changes.
Dan VanAvery, General Manager of Sodexo operations at SNHU, gave some insight into the thought process behind the decisions that made the changes get implemented in the first place.
"Everything was designed out of student feedback."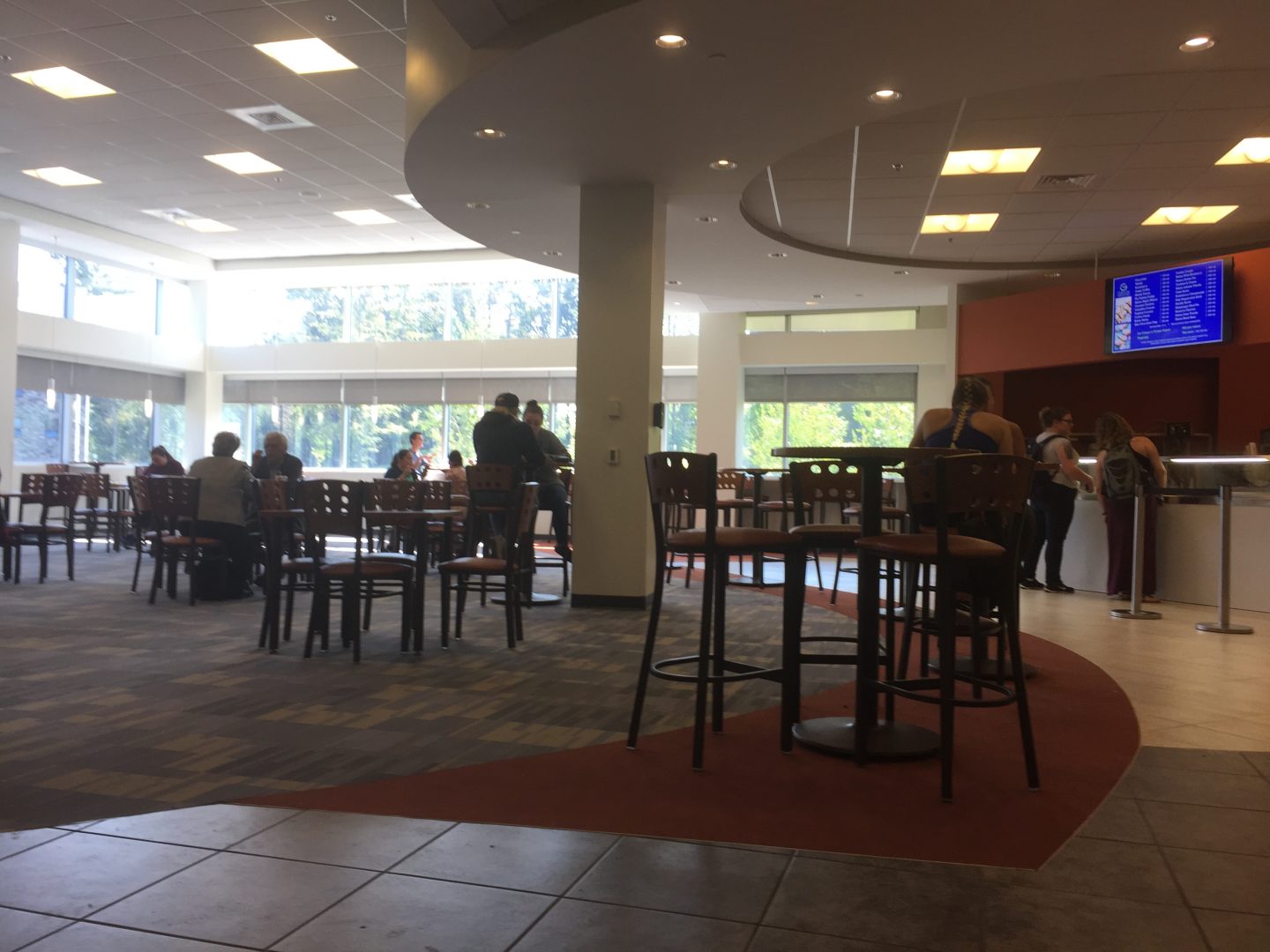 Students always have the chance to write and say suggestions to Sodexo and the latest changes show how expansion of the dining hall is a joint effort between Sodexo, the University, and the students.
The addition of a pasta station to complement La Trattoria in the dining hall has given pasta loving students a place where they can have their favorite dishes made to order. Tortellinis, for example, are now available all the time to students that want them made on the spot. Opening the separate pasta station also made room for a more varied selection at Global Cuisine.
"In the pasta station, all the meals are a dollar less than last year. Same with the pizza selection, that gives students more value in return," VanAvery mentioned.
Fiesta Zone, a popular station where people can order food in more of a Mexican style, is now a two person station. As a result, it's more efficient.
One change that's quite visible to students is the replacement of Traditions with Daily Dish. Daily Dish aims more towards providing healthier eating combined with a variety of choice, while Traditions focused more towards providing comfort food.
Kristen Chulada, the Dietician for Sodexo at the Dining Hall explained what the new station is all about.
"The new Daily Dish station is our main initiative to bring in the nutrition for students by making lighter and healthier foods for students that want to eat healthy, and still be able to have a variety of choice."
Chulada also offers free nutrition education for any students interested in learning more about healthy eating strategies and what they can do to reach their goal pertaining to nutrition.
Besides the changes to the stations, students can use to go containers if they prefer too. They can be recycled and are made of the same materials the green reusable containers are.
The decision to change traditions into the Daily Dish was a conscious effort to make a healthier zone that can cater to all the health needs across the board.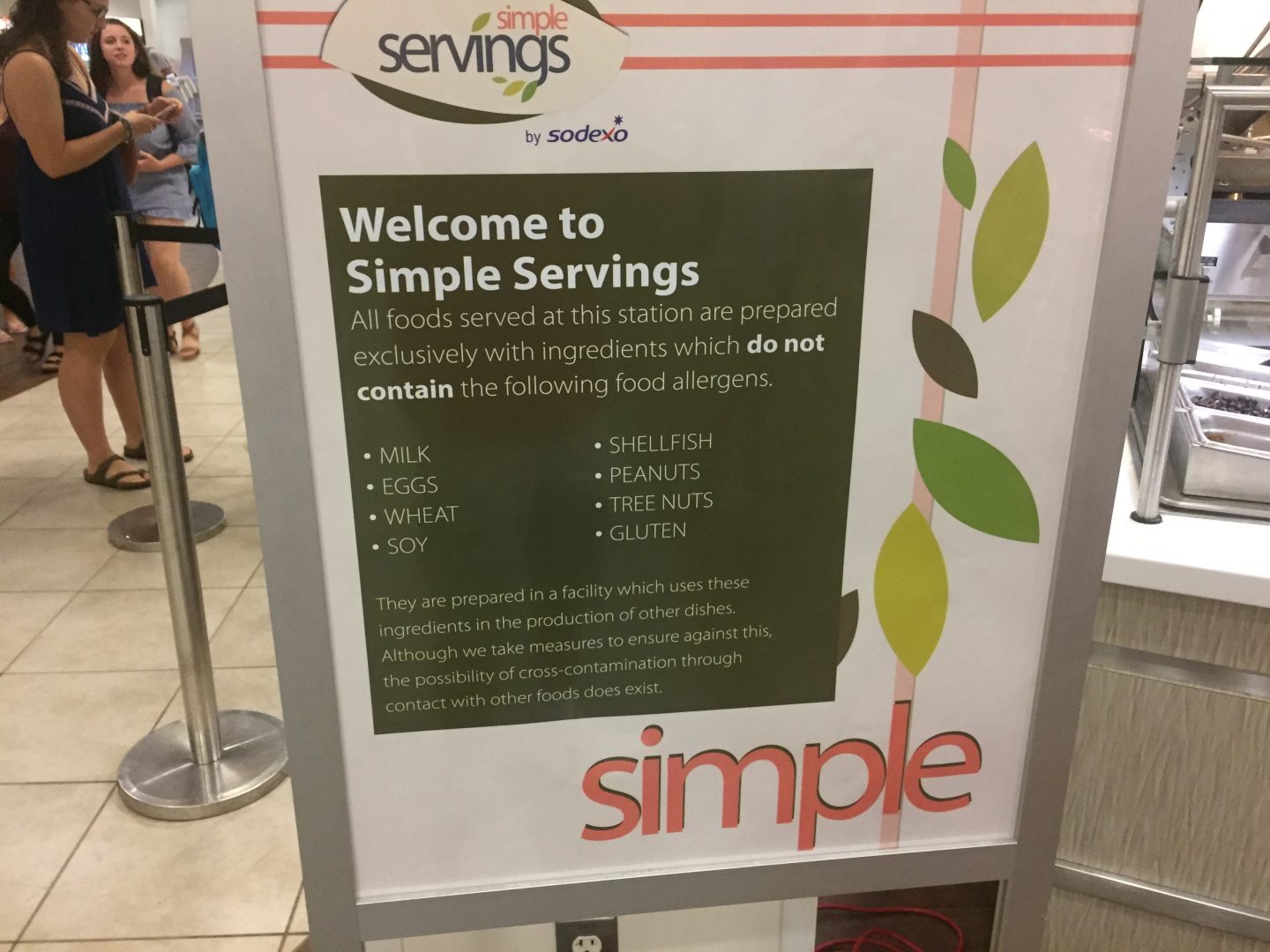 Another station that has a big nutrition focus is Simple Servings. It's an allergen friendly zone, meaning it's nut free, gluten free, no milk products and no shellfish. Furthermore, it always offers a protein, a starch, and everything is seasoned for everybody's nutritional needs.
Everything at Simple Servings is based on Sodexo's Mindful program, which emphasizes healthier eating by making sure entrees are kept under a certain number of calories. Mindful options at any station are marked with a green apple symbol on the menu.
The mindful goal goes into everything. It's not just eating healthy, it's about making a conscious effort to let students know they can eat healthy. All the stations have a mindful option available to choose from.
Sodexo is always making changes and adjustments. Efficiency, quality, and cost are all considered for these decisions. They want students to be satisfied with any changes done and to also make their voices heard when they think there's room for improvement.
Staff members of Sodexo have been putting in a lot of overtime to help make the changes successful and stay successful.
Break periods such as the summer are often the times where most changes start to be implemented as it's difficult to change these things in the middle of semester due to product availability, staff training, and equipment needs. Menu changes can happen over the semester, though, as that's more of a minor change. At the end of the day, Sodexo wants the changes it implements to be a home run for students and faculty alike.
If students have any questions comments, or concerns, for Sodexo in general, feel free to contact Dan VanAvery at daniel.vanavery@sodexo.com. For any students that want more information about nutrition and the dietician services Sodexo offers, feel free to contact Kristen Chulada at kristen.chulada@sodexo.com.
[poll id="1″]