Recently, the SNHU community lost one of its most valued members, Louisa Martin. As the director of the Diversity Initiatives office, Louisa Martin will be remembered for her wisdom, warm smile and commitment to making SNHU and the world a better place. The SNHU community shared some of their favorite memories with The Penmen Press.
"Her witty jokes, feisty atti­tude, and that contagious smile are what made her such a genu­ine and awesome person. She has taught us many life lessons about love, showing compassion, not being afraid to stand for your be­liefs and most importantly, stay­ing strong and holding on." Toneita Thomas ('17)
"I would love spending time in Louisa's office where our dis­cussions were always focused on the students. Her dedication and commitment to students was truly contagious. She had a way of mak­ing me want to be more involved and engaged in our community and for that I am truly grateful." Matthew Lowell, (Assistant Professor, Organizational Leader­ship)
"I have had the pleasure of working alongside Louisa these past two years as her graduate assistant and it has been both a pleasure and honor work­ing with her to promote diver­sity on our campus. She always came into work every day with a smile on her face and was always making everyone laugh. Better known as Mama to those who were close to her, she was always there to support her students and myself, and would go to great lengths to help anyway she could. I am grateful for having had this experience and being able to be mentored by Louisa as she has taught me things that will last a lifetime." Rachel Sharp (Graduate As­sistant, Office of Diversity Initia­tives)
"Louisa "MAMA" Martin was a person that made you smile when you did not want to and laugh harder than you thought you could. Knowing her for the past 5 years, she has impacted me in ways I can't even imagine. I thank her for believing in me and never giving up. Love you MAMA." Michele Haughton ('15)
"Louisa was an inspiration to students. She continually gave everything she could to the less fortunate. Her celebration of life consisted of attendees from all different backgrounds and showed that she touched so many people's lives in great ways." Ryan Evaul ('19)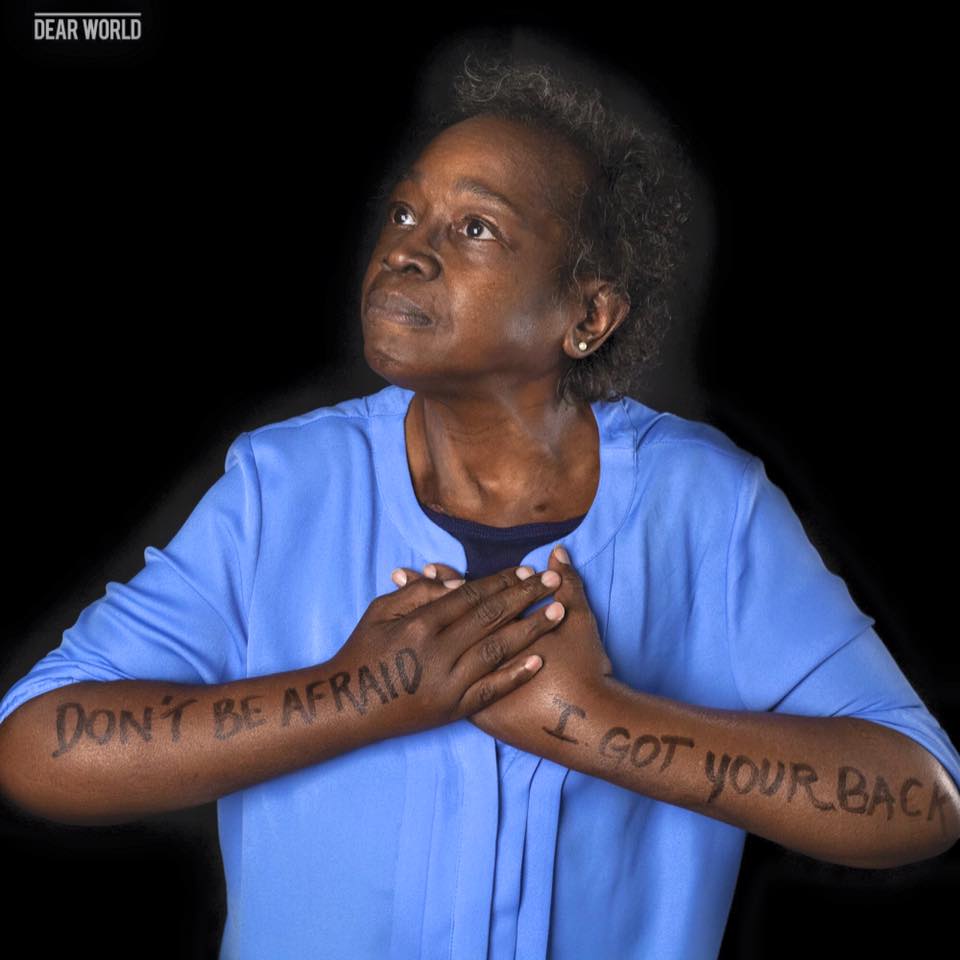 "The memorial was very powerful. The room was filled with every kind of love you can imagine." Caryssa Propfe ('18)
"I could go on for pages about Louisa, and yet all the words in the world couldn't ever describe how grateful I am to have had the privilege of being so close to her. She adopted me into her family, and once you're in, you're in for­ever. Not that anyone would ever want to get out. I've learned more from her than I could list. How­ever, the most important things I learned from her are to stand up for what I believe in, believe in myself, don't be afraid of what I don't know, and how to love. She was a once in a lifetime presence and I will miss her more than I can fathom. Thank you Louisa rest peacefully, all my love and more." Mikko Wells ('17)
"She's my mentor, friend, and mom. I know that without her by my side, I wouldn't be where I am now." Fabiola Espinal ('17)
"Calling Ms. Louisa anything besides mom just felt weird. Even if you didn't know her well it just felt like the right thing to say." "Her office offered an escape from whatever you needed in that moment. If that meant a place to think and close your eyes for mo­ment, she gave you that peace." Gabrielle Grosvenor ('17)
"Louisa made a huge impact on me during my three years here at SNHU, she made SNHU feel like my home away from home & she played the mom role for me here on campus. She was the main reason I didn't leave SNHU when I wanted to. She touched everyone's lives that she came into contact with, she bright­ened up the room with her smile, she will be dearly missed & we will con­tinue her legacy here at SNHU." Carlesa Huezo-Rosales ('17)
"It is with great sadness that we share the loss of beloved staff mem­ber Louisa Martin. Louisa will be missed in many ways and for many reasons, most notably for her innate ability to connect with students who often referred to her as "mama." It may be impossible to speak to the void that has been created as we've lost a valuable friend and colleague and many students have lost a sur­rogate mother.
"On a personal note, I know hav­ing worked with Louisa for her entire tenure at SNHU, that her smile, sense of humor, limitless candor and loving manner were a gift to us."  Heather Lorenz (Dean of Stu­dents)
"Mama was very important to me. Through every struggle she was there for me. She picked me up when I was down. It's funny to have met such a kind, loving person in Applebee's. Even though she is gone I know she is still here with me. She has helped me with goals I didn't think I could complete. Kept me in school. Mama is an angel. Though I mourn that she is gone, I know at the same time she really isn't. It's weird to say that I know she is with me and with that I know I can conquer whatever is thrown my way. Rest easy, Mama. You'll never be forgotten. I love you!" Chelsea Marceau ('16)
"Well, when I first came to SNHU I looked for a cultural and diverse environment, considering we are a predominantly white school. Culture is very important to me. So when I was introduced to Louisa I would a faculty member who I felt re­ally understood me and connected to me. Her office soon became a com­fortable place for me on campus and it was her welcoming attitude and realistic look on the world that made that happen." Samantha Chery ('18)
"Louisa was a brave and giving person, always fighting for what was right for humanity, especially her stu­dents. She had a great sense of humor and I will miss that great smile of hers around the office." Jacqueline Dunn (Office Man­ager, Student Affairs Office)
"Louisa had a positive impact on me and my players' lives. She took great care of our players and other athletes, especially in time of need. She gave them the support, guidance, love and encouragement when they first arrived on campus and continued even after they graduated! With the relationship she had with my players, we became closer. She was a mentor, a colleague and a person I could call a friend. I could go to Louisa for advice, a laugh or just to say hello. I grew more confident of who I am because of her! I had the privilege to serve on the di­versity committee with Louisa and I thank her for the opportunity to learn more about our students and their needs. My players and I will miss her and her infectious smile. Rest in peace, my friend!"  Karen Pinkos (Head Women's Basketball Coach)
"I met Louisa prior to entering the SNHU community. She was one of my greatest mentors, heroes and mother figures that had come into my life. The mother-son relationship I had with Louisa was something I never imagined waking up without being there. Being an inner city kid from Boston transitioning to a man living in Manchester, New Hampshire; striving as a college student and then graduat­ing; and developing as a professional post-college, Mama Louisa did not only implement discipline, focus and comfort for me to get through these phases, but she also was my motiva­tion. I was not working hard in life for just myself: I was doing it for her and I.
"The memorial service was a very beautiful service. The family members, friends and attendees of the memorial were all pleased and happy to celebrate the life of Louisa Martin. I am very thankful for the support of the SNHU community. It was a joy to know that many of Louisa's efforts in providing support for students did not go un­noticed. The memorial showed that Louisa Martin went "The Extra Mile" when it came to supporting students." Asad Hardwick ('14 graduate, Project Manager, Office of the Presi­dent)