SNHU adjunct professor Joshua Dallaire, 37, was arrested on October 21 in his Manchester home on three counts of both distribution and possession of child sexual abuse images.
Manchester Police began the investigation on September 7 based on a CyberTip forwarded by the New Hampshire Internet Crimes Against Children Task Force. They tracked the IP address to Dallaire's home on Pine Street and executed a search warrant on October 20. Forensics found incriminating images and videos on a cellphone in Dallaire's possession. His arraignment is scheduled for Thursday, October 22 in Hillsborough Superior Court.
At SNHU, Dallaire has taught English and public speaking courses for the past 6 years. Michelle Korbani '23, a student in one of Dallaire's public speaking class, said about him: "He was pretty quiet. I talked to the guys in my class and he graded them easy, but a lot of the girls had a hard time with his grades. He graded a kid with all A's but everything that I did he would take a bunch of points off. He was not a fair grader to the girls in the class. He took 30 points off of my grade at one point for not using a source when it was a personal speech, but a boy did the same thing and didn't get points off."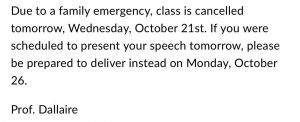 Dallaire cancels Wednesday 10/21/20 classes (img src: Anonymous Student of Dallaire)
This sentiment was echoed by Alex '23, a student in the same public speaking course, who requested his last name to remain anonymous. "Right off the bat, I thought he was odd, and I had very uncomfortable vibes from him…He would ask the female students if they wanted extra help. He graded girls way harder than boys." Alex went on to say, "I think it is really inappropriate that he was being investigated for child pornography while he was teaching us on Zoom. I understand that we are young adults but that is still creepy."
Both students commented that they were "uncomfortable" with the fact that Dallaire was allowed to continue to teach during the 6-week investigation. Michelle said, "I am happy that we were not on campus this fall because the safety of my home feels better. It's a bit eerie knowing that he was my teacher during this time."
The official statement from the university is as follows: "We can confirm Joshua Dallaire was employed as an adjunct professor at SNHU teaching one remote class this semester. Since learning of his arrest, we launched an immediate investigation and he was removed from the course. At SNHU, we take these matters very seriously, and will continue working with the relevant authorities to ensure the safety of our SNHU community. Our focus is now on supporting our students and ensuring they can continue to succeed this fall. Students in the impacted course will be receiving additional information and resources from the university."
The Manchester Police Department stated they cannot release information on a pending court case.