Over the weekend of October 19, SNHU held its 2019 Homecoming festivities. With some events occurring on Friday and Sunday, Saturday was when a majority of the activities took place.
Saturday started at 8:30 a.m. with the Homecoming 5K run and was followed by the 2019 Alumni Awards, the 3rd Annual SNHU Homecoming Cornhole Tournament and the SNHU Street Fair.
The 2019 Alumni Awards took place in The Gustafson Center's Alumni Hall. Three awards were given out to alumni and community members, the SNHU Distinguished Service Award, the SNHU Young Alumni Award and the SNHU Alumni Hall of Fame Award.
The SNHU Distinguished Service Award was given to a community member who shows leadership, dedication and service for SNHU and its greater objectives. This year's award was given to two people; SNHU Dean of Students Heather Lorenz ('98) and Wade Philbrick ('85). They were given the award for their work in service to help cultivate a greater SNHU community.
The SNHU Young Alumni Award was established in 2000 and is awarded to recent alumni who have shown leadership and support of the SNHU Alumni community. Barbori Streibl ('16) was honored for her work volunteering with the greater SNHU community, including leading the first Global Days of Service in Canada.
Finally, the SNHU Alumni Hall of Fame Award is given to an Alumni who graduated 10+ years ago who shows dedication and has made outstanding contributions to their fields, communities and SNHU as a whole. Laurie Chandler ('89) received this award for her work as a student mentor, SNHU trustee and for her involvement in helping SNHU become a host for the Center for Women's Business Advancement.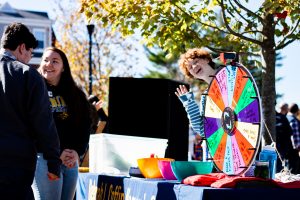 The SNHU Street Fair spanned over the Green Space to the Belknap parking lot. Full of tables, food trucks and games, the Street Fair had something for everyone. Tables that were run by student organizations hosted activities, crafts and gave out lots of free items. Alongside the annual Homecoming t-shirts, there were hidden puzzle pieces on the green space that awarded some free SNHU Alumni memorabilia.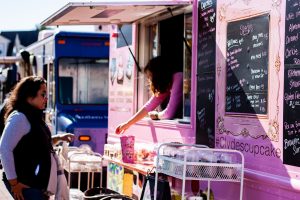 The street in front of the Green Center was packed with food trucks offering grilled cheese, tacos, desserts and more. Following the weekend's game theme, there were many games set up on the Green Space, such as SpikeBall, a rock-climbing wall and an inflatable jousting arena. There was also "bubble soccer" on Larkin Field, which allowed players to put on large inflatable bubbles and bump each other while playing soccer. Next to Larkin Field, there were 4 carnival rides. The rides stayed open an hour later than the rest of the Street Fair to ensure everybody got a chance to ride.
The day also hosted many varsity sports games, allowing SNHU alumni to watch men's baseball, and both men's and women's soccer teams play at home to celebrate the weekend. Alumni who were involved in Greek Life were also able to participate in the 2019 IGC Ultimate Frisbee Tournament, which was followed by Greek Night in The Last Chapter Pub. These events allowed alumni to connect with community members and experience how life at SNHU has changed.
To close off Homecoming Weekend, participants were invited to the Practice Field to see the annual fireworks show, complete with live music, fire pits and s'mores. The night ended with two big games of Big Money Bingo and Think Fast Trivia.