Efforts to raise the profile of gender equity on campus are not going unnoticed. As part of their Women's History Month celebration, The Deborah L. Coffin Women's Center has announced the winners of the first-ever Leaders of Distinction Awards, which will be recognized with a breakfast on March 29.
The awards, meant to "celebrate women who can serve as role models and mentors to challenge, motivate, and inspire," recognized three University Campus (UC) students: Eliane Cabral ('19), Oshea Turnbull ('19) and Osheen Turnbull ('19). They also celebrated two UC faculty members: Elizabeth Richards and Rose Palis.
"I feel like this award will encourage others to be student advocates. It's something to strive for," said Oshea Turnbull. "I want to see other girls on campus encouraged to take on leadership roles… it's a big thing for us to see others recognize our group."
The student award, called the Student Advocate award, is meant to recognize "outstanding feminist contributions of advocacy, scholarship, leadership, and/or service of undergraduate and/or graduate students at SNHU UC."
The three students were recognized for their leadership of Sisters of the Yam, an affinity group of the Office of Diversity Programs (ODP). The group started in 2017 in an effort to provide support and empowerment of women of the African diaspora.
As of this semester, the group has grown from its initial four student membership to upwards of 20.
The Women of Achievement is meant to recognize a faculty member. It "aims to celebrate women in our community who employ an intersectional approach to their work, role model their passion for gender equity with students, and whose commitment to this work and our campus may be underrecognized."
Elizabeth Richards, Director of the Chandler Center and recipient of this award, provides opportunities for students to better their own communities both on and off campus through service.
"The vision of The Chandler Center is when all students are civically engaged and committed to social action. For me, that social action is about creating more equitable communities where all people are valued members. My work is about providing opportunities for students to learn what it will take to create and sustain that kind of community, where justice is at the root," said Richards.
"She's raising two young men to be feminists. To me, that's really cool," said Kelley Hobbs, Associate Director of The Chandler Center. Hobbs expressed admiration for Richards' ability to create a family dynamic in her office as well.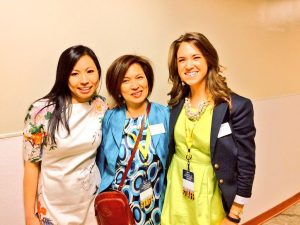 Rose Palis, administrative manager to the UC President, also received the award. Palis expressed modesty toward her award.
"I think that what I do is not anything extraordinary. There are so many people on campus who I admire," said Palis.
Many students know Palis from her work in UC President Patty Lynott's office. Palis also works as adviser to the Arts and Laughs Club and with the Presidential Scholars.
"No matter how busy I am, I'm never as busy as Rose," said Ryan Bailey ('19), a Presidential Scholar. "She still takes time to help me out when I need it."
Palis treasures the opportunities she gets to interact with students.
"I feel that every day that I come in gives me a chance to help make someone's learning experience a positive one… everything we do [in this office] is for the betterment of our students," Palis said.
SNHU's community can support the recipients of the Leaders of Distinction Awards at breakfast on March 29 at 9:00 a.m. in the Dining Center's Miles Room.