Everybody has their own story. We pass by people every day who have countless experiences that contribute to the person they are today. Sydney Tassinari ('21) is no different.
Tassinari's story begins when she attended the University of New Hampshire (UNH) at the Durham campus in fall 2017 for her freshman year of college. She immediately fell into a group of friends, enjoyed classes and loved her roommate.
"[UNH Durham] made me feel like home, and I just felt like I belonged there," said Tassinari.
Her first semester was exciting. It was filled with friends, parties and adventures. She was enjoying every moment of her freshman year and was living life to the fullest.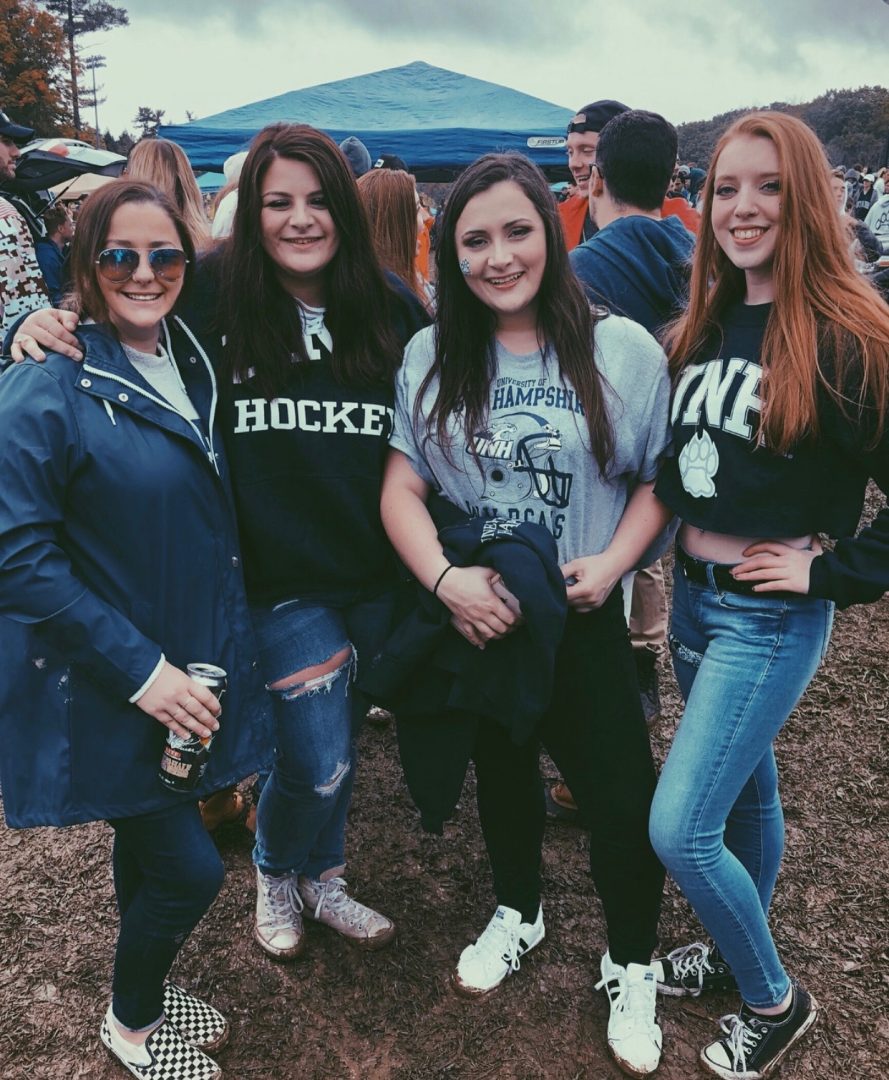 However, her second semester took a sour turn.
Tassinari was diagnosed with mononucleosis, or mono, in March 2018. While mono is common among young adults, her bout took a turn for the worse. The illness accelerated to the point where she was no longer able to get out of bed on her own. With the help of her roommate, Tassinari contacted her parents who immediately took her out of school at the end of the spring semester, just as she was finishing her freshman year.
When her parents saw her, they felt immediate concern for their daughter. Her face was discolored, or "glowing orange," as Tassinari described it. She was weak, exhausted and experienced pain throughout her entire body.
Her parents rushed her to Huggins Hospital in Wolfeboro, New Hampshire, but because of her unstable condition there, she was transported to Portsmouth Regional Hospital where she stayed in the Intensive Unit (IU) for seven days.
The discoveries they found there would change Tassinari's life.
Portsmouth doctors discovered Tassinari developed sepsis, a condition in which the body responds to a severe infection that causes injury to organ tissue. The sepsis was a result of severe pneumonia in her left lung that had been left untreated. A fungal infection was also beginning to grow in her right lung. These diseases left doctors pondering over whether there was another factor playing into Tassinari's diminishing health, or if it was simply a result of mono.
Tassinari's parents decided to inquire with UNH and requested them to make a wellness check in her dorm room. This led to the answers that Tassinari and her parents were looking for.
"We found out…that there was loaded amounts of mold found in my window that I slept a foot away from," said Tassinari. "I went to an allergist a week after I got out of the hospital and found that after being tested for around twenty to forty different mold types, the only three that I am allergic to are the ones found loaded in my dorm room."
Doctors told her that if the infection had another four to five days to accelerate, her organs would have shut down and she would have died.
Penicillium was one of the molds found in Tassinari's dorm room. It is known for causing pneumonia and may be a cause for the fungal infection that almost ended Tassinari's life. However, it has not been confirmed that Penicillium is the sole cause. Tassinari's allergist explained that the allergies she developed from the molds will never go away.
"I was really confused and out of it at the hospital. I don't think I really understood what was going on or how sick I had actually become," said Tassinari. "I remember just going through every situation in my head about how this could have been avoided and why it was happening to me and not my roommate or other people in my building."
Once the mold was discovered in her dorm room, university officials deemed the room uninhabitable and her roommate was forced to evacuate the room.
Despite all this, Tassinari tried to remain positive. She and her parents decided to take legal action against UNH for their negligence, and the process is ongoing. A court hearing is expected to take place over the summer.
"Mold is a silent and deadly killer, and if I had waited one week longer, I wouldn't be here to tell you that," said Tassinari. "I feel strongly that UNH be held somewhat accountable for allowing their students to live in hazardous conditions that leave them with health problems."
The legal action prevented Tassinari from returning to UNH, but she still wanted to continue her education. She remembered that she toured SNHU in her senior year of high school, and she thought SNHU would be an ideal university to finish her degree in Psychology.
Tassinari said she had many positive experiences while at UNH before she got sick. However, she has adapted adequately to SNHU.
"I don't feel like a number [at SNHU]. I feel like a member of the SNHU community whose safety and well-being matters."
She already has an established friend group and feels comfortable and happy at her new university.
While Tassinari has almost fully recovered, this experience has left her with untreatable conditions that ultimately could have been avoided, such as mold allergies, liver scarring, a greater risk of getting sick and the unending question, "Why?"
However, Tassinari stated that this experience has taught her irreplaceable lessons that she will likely carry for the rest of her life.
"I have a new outlook…and I view my health as the utmost importance," said Tassinari. "I know what it's like to not be able to stand on my own and walk to the bathroom without passing out, and I never want to be there again. If I have one message I got out of my experience…it's that mold is a scary thing that should not be ignored…and ask for help when you need it."