UPDATE (12/10/2018, 11 p.m.): According to the Union Leader, the driver has been identified as 24-year-old Emilie Camire of Hooksett. In Camire's car there were multiple emptied alcoholic beverages, and the substance in the ziploc bag has been confirmed to be marijuana. Camire admitted to drinking alcohol and took a field sobriety test but refused a breathalyzer test. She has since been released on bail and will appear in Hooksett District Court on December 27.
~
A head-on collision took place at the intersection of North River Road and East Side Drive, just north of the Academic Complex, around midnight on December 10.
Two SNHU undergraduate students were stopped at the intersection, listening to Dan and Shay, when the driver crossed into the wrong lane, crashing into the student's vehicle. At the moment, it is unconfirmed whether or not the driver is a SNHU student, according to Sergeant Ducharme of the Hooksett Police Department.
"The driver has been placed under arrest for DUI," Sergeant Ducharme said. A ziploc bag half full of an unknown substance was removed from the driver's car. "We'll send it to be tested, but at the moment, we cannot confirm what the substance is."
Two fire trucks, an ambulance, three Hooksett Police cruisers and two Public Safety vans were at the scene that was littered in debris from the crash. Later, two tow trucks were called to take the cars.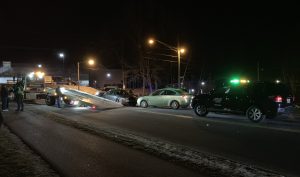 The SNHU students were quick to inform Public Safety of the accident. Due to the liquid leaking from the student's car, the Hooksett Fire Department was called, however the trucks left shortly after. Officials said that the substance was likely antifreeze.
Public Safety officers could not recall the last time a collision like this had taken place on campus, saying they only occasionally saw fender benders.
Luckily, all parties involved are safe and unharmed.
We will continue to update this story as more details arise.