Despite not having any sales experience until this semester, Rafy Castillo ('18), an economics and finance major, broke the SNHU Sales Program records at a recent sales competition. The Global Bilingual Sales Competition (GBSC) took place at Florida International University (FIU) in Miami from February 21-25. Though SNHU has held regional championships, it has not held national championships, let alone global championships, until now.  
There were 54 student competitors at FIU, including four SNHU students: Castillo, Michael Murphy ('18), Brian Nguyen ('18) and Chase Coogan ('19), accompanied by the director of the Center for Professional Sales, Professor Micheline Anstey.
The competition consisted of three categories: English, Spanish and Bilingual. Within each category, competitors role-played different scenarios with "potential buyers."
"Sales is really about uncovering the needs of the buyer and fulfilling those needs," according to Anstey, who teaches professional selling courses at SNHU. She explains to her class that sales is not pushy, despite what people often perceive it to be. Competitors demonstrated this during their role-plays.
The first and second rounds in both English and Spanish are completed in a room with a camera displaying video to judges. The final rounds are done in an auditorium. For the bilingual category, the rounds are completed in a room with the "buyers" along with a camera live-streaming the conversation to the judges and other competitors.
For SNHU to compete in GBSC, there needed to be at least one participant who could compete in both the English and Spanish sections. After interviewing three candidates for the position, Anstey selected Castillo in December, supplying him with reading on the subject for Winter Break and enrolling him in her sales competition team course this semester. In addition to working with SNHU alumni coaches and sales professionals alongside his classmates, Castillo also had a Spanish coach from FIU that he Skyped with weekly.
"Prior to this, I had zero experience with sales," Castillo said. He began learning and practicing six weeks before the competition, and despite the competition being one of his first experiences in sales, he was not nervous going in.
While other competitors were stressed to tears leading up to the rounds, Castillo felt relaxed and spent his time meeting people. "The way that I was looking at it, like, I'm just having one more conversation, and I'd like to think I'm pretty good at having conversations with people," Castillo said.
This sales competition team course in addition to the foundational professional selling course and other courses in the program help to educate, demonstrate, develop and apply skills learned in the classroom, according to Anstey.
Castillo was a necessary piece for SNHU to participate in this competition, as he is bilingual. "He knew he was doing it for the school, but I don't think he realized the value it would bring to him, and how difficult sales really is," Anstey said.
In the Spanish finals, Castillo took home first prize of $300. He came in second place for the Bilingual category, winning $400, and made it to the semi-finals in English. Murphy, Nguyen and Coogan also reached the semi-finals in English.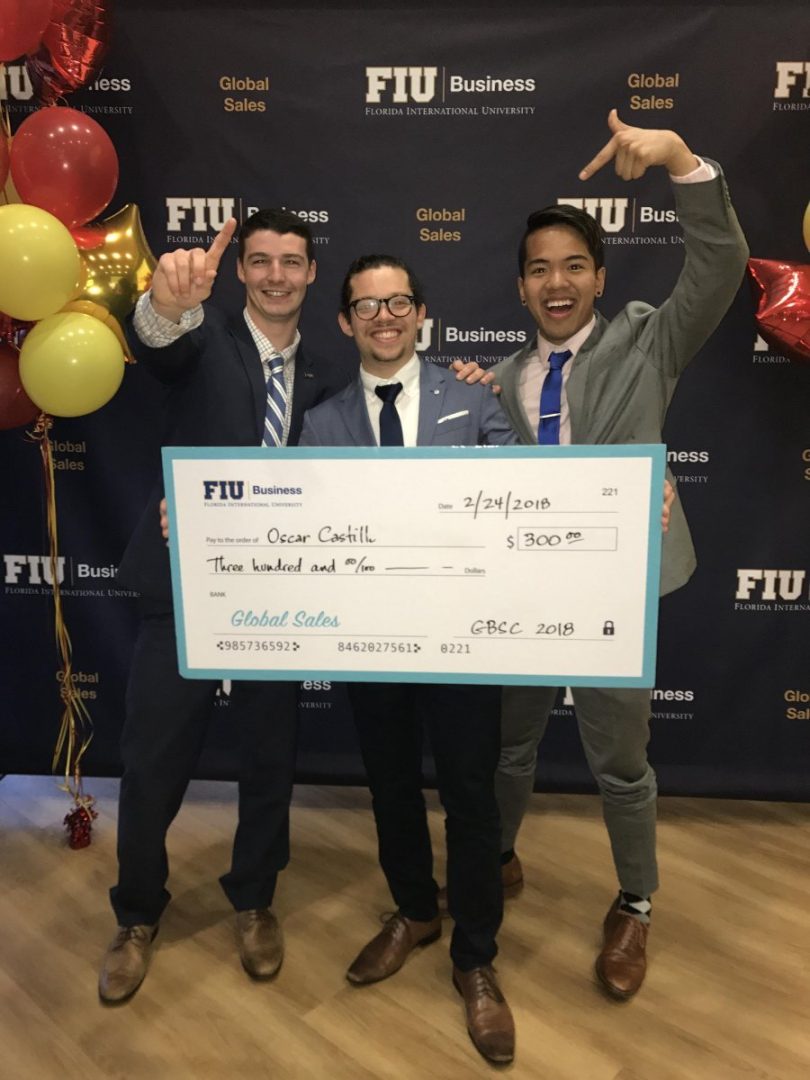 "I think that if I could attribute my success in that competition to something, it would be being that calm and relaxed about it because if you're calm, you transmit that to people you are talking to, right? And if you transmit that calmness with being relaxed to your buyer, it's a more mellowed-down environment."
In addition to monetary prizes, Castillo received multiple job offers from recruiters for companies such as Johnson & Johnson and DHL Express, though he later discovered some will not hire international students due to their company's immigration policies.
GBSC was sponsored by DHL Express. Other companies host a job fair at the competition and recruit sales students for jobs and internships. Nguyen will be flown down to Arizona to be interviewed by DHL Express as a result of his performance at the competition, according to Anstey.
Anyone interested in participating in one of the many sales competitions the Professional Selling Program attends should register for the professional selling course and contact Anstey at m.anstey@snhu.edu. The course fulfills general education requirements and the Professional Selling minor and concentration.  
"Whether you're a communication major, sport management, finance… you need sales skills. Everybody needs sales skills. It's everywhere. You sell every day," Anstey said. "Even when you go for a job, guess what? You're trying to sell your brand."