When Alexa Bedell ('18) was in middle school, her father gave her a special gift. It was a gift she would hold near and dear to her heart for years to come. Every day after school she would immediately pick it up. She loved this gift, and her persona and athletic career has changed because of it.
It was bold.
It was red.
It was her first lacrosse stick.
Ever since Bedell received this lacrosse stick, she has been glued to the sport. To this day, she still has her father's gift, and it's special to her as it has allowed her to express her passion for lacrosse. Although she no longer uses it, she displays it proudly on her bedroom wall at home in Londonderry, and whenever she returns home and sees it, she is reminded of the moments during her youth in which lacrosse became devotion.
Bedell credits her father for first introducing her to the sport of lacrosse. He started coaching her when she was just in third grade. As she got older, she began taking lessons at Granite State Elite in Milford, New Hampshire. The support she received from her father allowed her to grow in her passion for the sport and to see what dedication really looked like.
"He was harder on me than other kids because he expected more from me. He has always been my number one fan and has supported me by driving thousands of miles over the years to tournaments and games," said Bedell of her father. "I was allowed to play wall ball against my house growing up, and when I broke a window he only laughed at me for my lack of accuracy. I probably would have never picked up a lacrosse stick if not for my dad."
While playing other sports such as basketball and soccer throughout her youth and high school career, lacrosse was the one that stuck. Bedell ceased pursuing basketball upon reaching high school because she was "terrible" but continued soccer up until her high school graduation.
Following her high school career playing both soccer and lacrosse, the decision to play lacrosse at and attend SNHU shaped what would become the next four years of her life. "I went on a recruiting visit to a few schools and didn't fall in love until I visited SNHU," said Bedell. "I loved how close the team was, and I wanted to be a part of it. I practiced with the team on my recruiting trip, and I felt like I could make a difference on the team. I didn't want to go to a school where I couldn't make an impact as a player."
And make an impact she has. During her career at SNHU, Bedell has excelled as an offensive midfielder. She has played in 57 games, started in 48 and has made 110 goals and 81 assists for a total of 191 overall points. This season alone, she has scored 16 goals and made 13 assists. As a midfielder, Bedell loves working the ball and assisting in plays; she has an attack-oriented mindset.
"I prefer offense because I love working with players to get the ball in the back of the net," said Bedell about her position. "My favorite part of the game is assisting players by threading the needle. I struggle with defense because playing midfield is very tiring and I am more attack/offense minded. I try to be solid on defense and I plan to improve by focusing more as well as talking. My most important role on the team is to win draw controls as a midfielder in order to get the ball to the attack."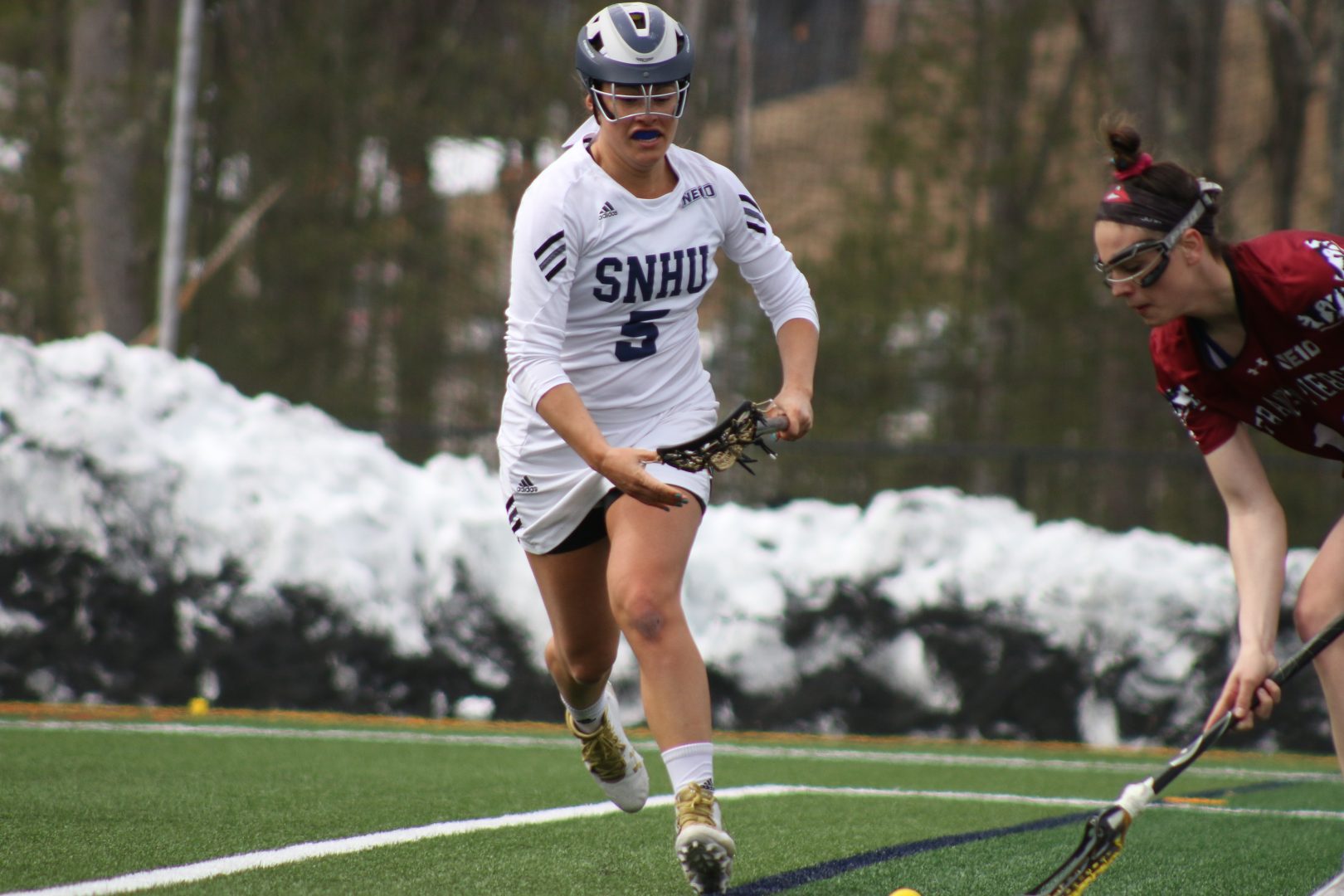 Like most coaches would be, head lacrosse coach Kathryn Beall is impressed with Bedell's mindset and performance on the field. She said Bedell "has been a big impact on the field."
"Alexa sees the field very well and is unselfish out there," Beall continued. "She gets more joy out of setting up a teammate for a goal than scoring herself, which is apparent in her stats. She is a big impact on the draw for us as well. Overall she is a smart player and off the field she cares a lot about her teammates and wants the best for everyone."
Bedell, who says her biggest motivator is being out on the field with her teammates, has not always been as confident in her game as she is now. During her freshman year, she was nervous to join the team. However after much practice and a shift in mindset, Bedell's confidence on the field elevated.
"My freshman year I came onto the team nervous to prove myself. I didn't have any confidence as a freshman, and it showed when I played. I was one of three substitutes on the bench, and I completely lost faith in my ability to play lacrosse. I had so many negative thoughts running through my head that I wasn't good enough. Instead of giving up after an unsuccessful freshman year, I used it as motivation over the summer. I changed my mindset by focusing on enjoying the sport again and being positive. I came into my sophomore season and earned a starting position."
This shift in mindset has allowed her to change the way she plays the game and to channel her energy into every second and every play of every game.
"If I throw the ball away, I pick myself back up by telling myself 'next play,'" said Bedell. "I threw the ball away last year in an important game against Stonehill in the final seconds. Our team could have won if I didn't throw it away; the play bothered me for a few days after the game. I picked myself back up by focusing on the little things in practice." Her attitude toward the game and self-improvement make her an important part of the SNHU team.
With graduation looming around the corner, she hopes to find a job that suits her marketing major such as an analyst or market researcher. She intends on playing in an adult lacrosse league following her time at SNHU, knowing that the transition from being a college athlete to not being a college athlete is a difficult one.
Prior to this, however, her sights are simply set on making the most of the last few weeks of her undergraduate career, as well as the last few games. She has high hopes for the rest of the season.
"I want to make playoffs this year and to be top six in the conference. I think our team can easily make playoffs if we focus during the season and win the close conference games. I am also looking forward to beating teams we previously lost against by a few goals. I want to end my lacrosse career on a positive note with my team."