The Southern New Hampshire University men's ice hockey team concluded their 2017-2018 winter season Saturday, February 24, when they fell 3-1 to Saint Anselm College during the Northeast-10 conference semi-finals. The loss amounts the Penmen's overall record to 12-9-3 and their conference record to 6-7-2.
First-time head coach Sean Walsh is immensely pleased with the success of the team during his first season with the Penmen. Although the loss to Saint Anselm was disheartening, he is impressed with the quality of play seen throughout the season and believes the Penmen played their best against the Hawks.
"You always want to end the season with a win," said Walsh, reflecting on his season. "We fell short; however, I was very happy with our team's effort. It was the best we played against St. Anselm this year. Looking back at it, I am happy with the progress we made throughout the year."
"From the start to the end, we improved a lot," said Griffin Connor ('21), who scored three goals and made five assists in his first season with the Penmen. "I think for the upperclassmen, it was a tough way to go out. But we all had a good time. We all progressed really well. It was a good start to my freshman year."
Senior Chris Moquin totaled a phenomenal 20 goals this season, including the lone goal in Saturday's loss. His 20-goal season topped the Northeast-10 and is the highest single-season goal total by an SNHU athlete in nearly 10 seasons. He also registered his second hat trick of his career during a 6-2 victory over Stonehill on February 9.
In addition to Moquin, many Penmen had standout performances on the ice this season. Brett Strawn ('19) led the Penmen in points. He registered 29 points accounting for seven goals and 22 assists, while classmate Artem Efimov-Barakov registered six goals and six assists for a total of 12 points. Jared Goudreau ('20) filed 20 points off of eight goals and 12 assists, which was the most of his collegiate career. Timothy Baylis ('18) logged a career-best 19 points, 12 goals and seven assists, while D.J. Goldstein ('20) racked up 17 points off of eight goals and nine assists.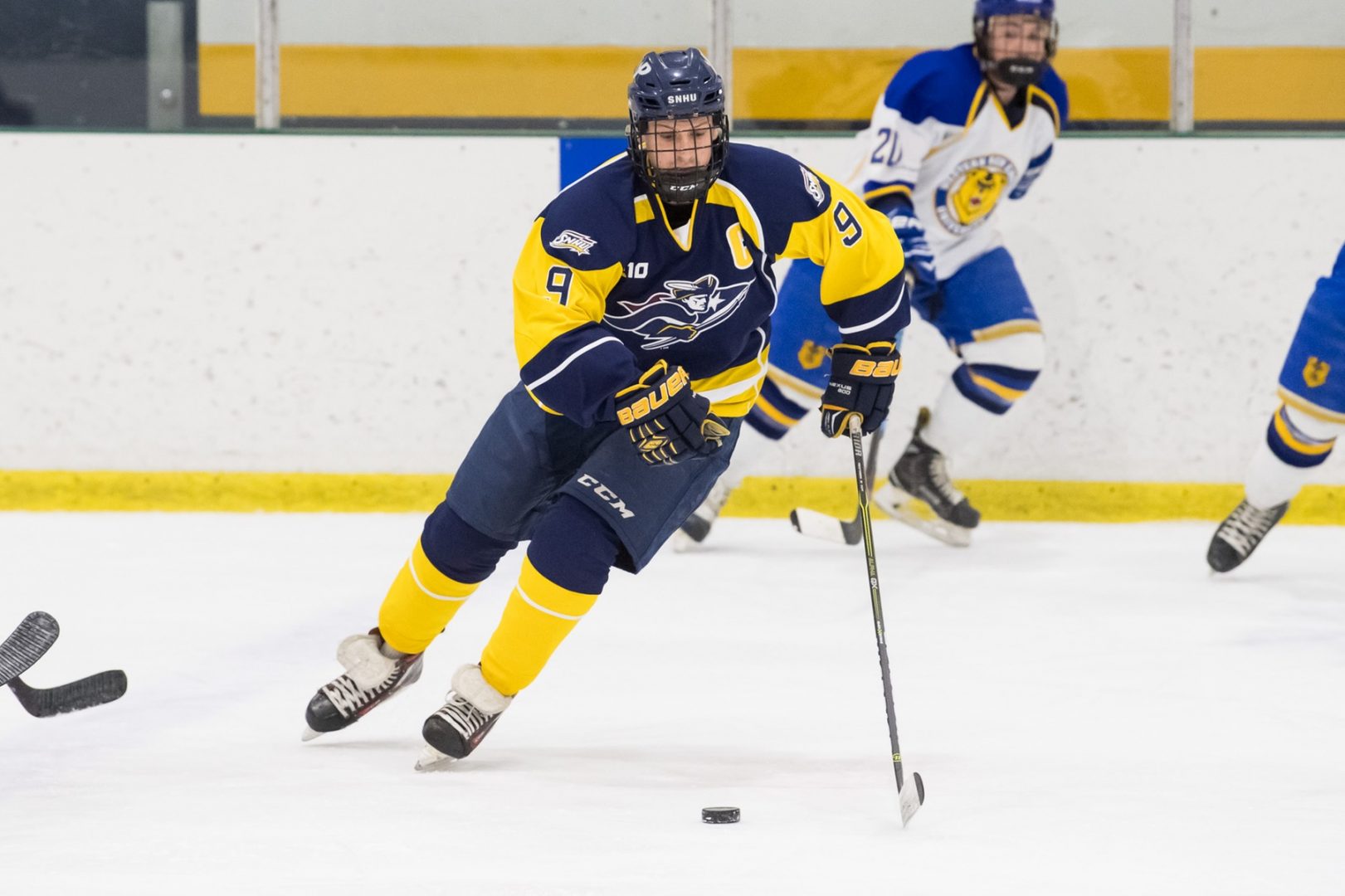 Goaltender Ryan Slatky ('18) saved 448 shots in his final season with the Penmen, bringing his career saves to an impressive 2,068 and a .919 overall save percent average. Slatky broke over 2,000 goals-saved during the matchup against Stonehill and is just the fourth Penmen goaltender to do so. Second-string goaltender Kurt Gutting ('20) saw action in 10 games, saving 321 shots, accounting for a .942 save percent average, locking up the starting goaltender position next season.
"We had lots of guys who had career years," said Walsh. "Timmy Baylis had a career high in goals, along with Chris Moquin. We had fantastic goaltending with both Ryan Slatky and Kurt Gutting. We also had great leadership with Chris Moquin, Matt McLelland, Alec Cochran and Brett Strawn." Moquin stood as the head captain for the Penmen, while McLelland, Cochran and Strawn were alternate captains.
McLelland, who was the team's best defender, capped off his collegiate career during a season that saw him make 12 assists and one goal. He led the team's defensive line and was a key asset on the penalty kill.
"Matt McLelland will be next to impossible to replace," said Walsh. "Matt was fantastic on the ice. Matt was our best player. He skates well, he's physical, played a ton, hard to play against and made good choices. He was a nightmare for opposing teams to play against. He ran our first power-play unit and was a key asset on the penalty kill. As much as we will miss him on the ice we will miss him off the ice even more. He is a leader by example, he is extremely dedicated, works his rear end off and was a coach's dream to have."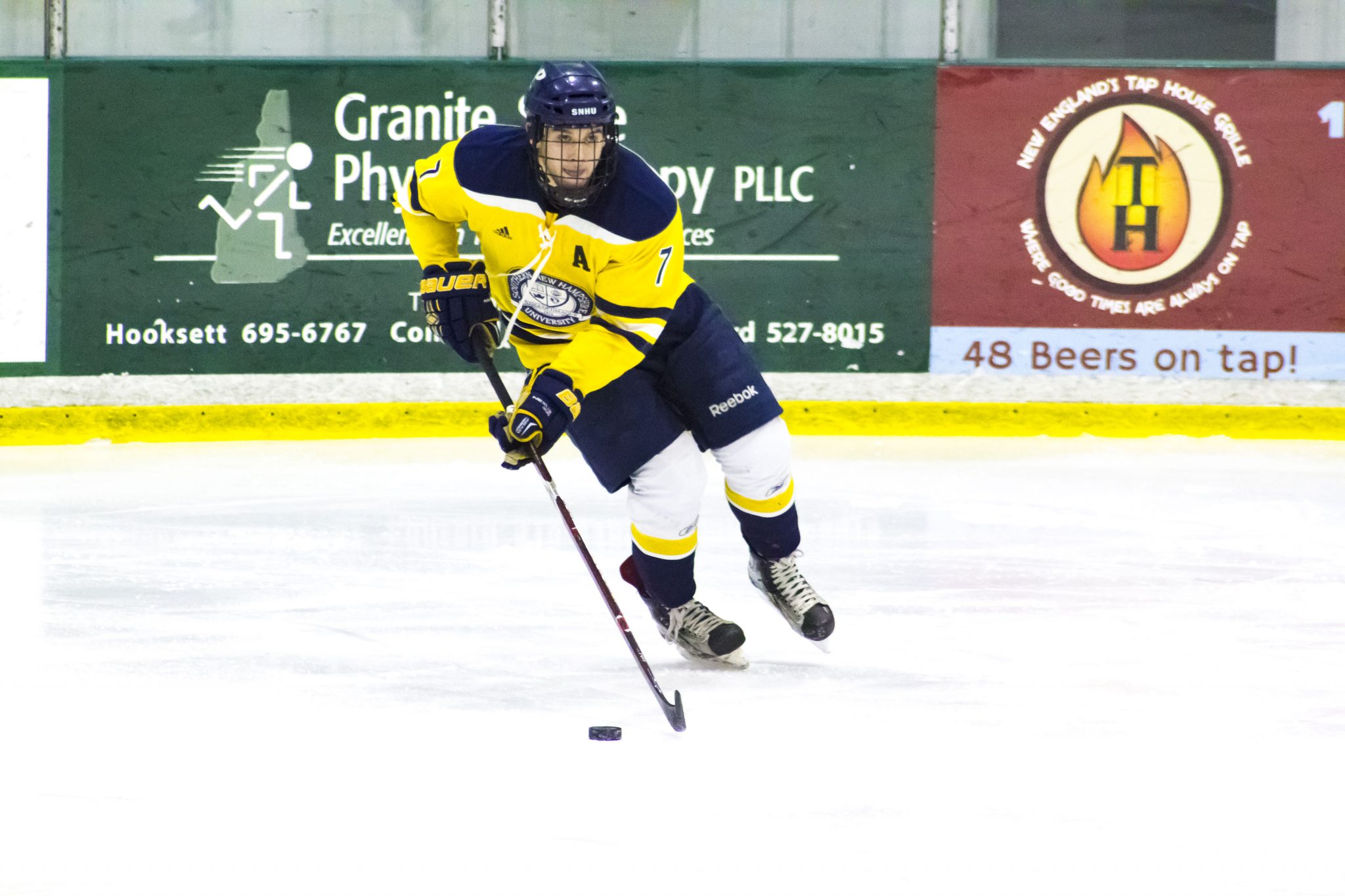 The Penmen lose seven seniors, all of whom demonstrated outstanding skills on the ice this season and seasons past. They include McLelland, Slatky, Baylis and Cochran, as well as Sam Jenkins, Kyle Valliere and Griffin Rogers. Moquin will return to the ice in the fall as he works on earning a master's degree in business administration. The team will also keep leaders like Goldstein, Strawn and Goudreau, who will combine their talent and experience with new incomers next season.
Despite the loss of key players, however, Walsh and the rest of the coaching staff are looking to embellish the skills of the underclassmen and gather talented recruits for next season. They plan on teaching the new players the fundamentals and rules of the team so they can properly fit into the roster.
"Next year is a whole different team," said Walsh, looking to next season. "We will have some big shoes to fill. We are losing some guys who will be hard to replace. We also have some guys who had career years that are going to need to do the same, if not take another step forward. We will have a whole new group of [incomers] which will be a different dynamic and will have to get everyone on the same page."