The SNHU Men's Tennis team kicked off their spring season with a 6-3 win over Northeast-10 rival Le Moyne College on Sunday, February 18.
The match took place at Elevate Fitness in DeWitt, New York. Graduate student and co-captain Xavier Aubron and sophomore Bas Van Biezen dominated the lineup by securing wins in both their singles and doubles matches to lead the Penmen to victory over the Le Moyne Dolphins. Aubron and Van Biezen teamed up for second doubles where they pulled off an 8-6 victory over Le Moyne's Andres Hernandez and Jason Barton. In singles play, Aubron took control over Xavier Graells, posting a 7-5, 6-3 win at the number four spot, while Van Biezen stunned Hallam Doney with a 6-3, 6-2 triumph at number five.
The Penmen continued to dominate singles matches, winning five out of the six. Senior Tiago Fernandes captured a big win at number one singles, posting a 6-4, 6-1 victory over Philip Blythe. Classmates Ricardo and Miguel Marreiros also came up big. Ricardo posted a 6-2, 7-5 win over Hernandez, while Miguel secured a 6-4, 6-3 victory over Barton at number two and three singles, respectively.
Winning against the Dolphins extends the Penmen's Northeast-10 conference winning streak to 26 straight, dating back to October 15, 2015.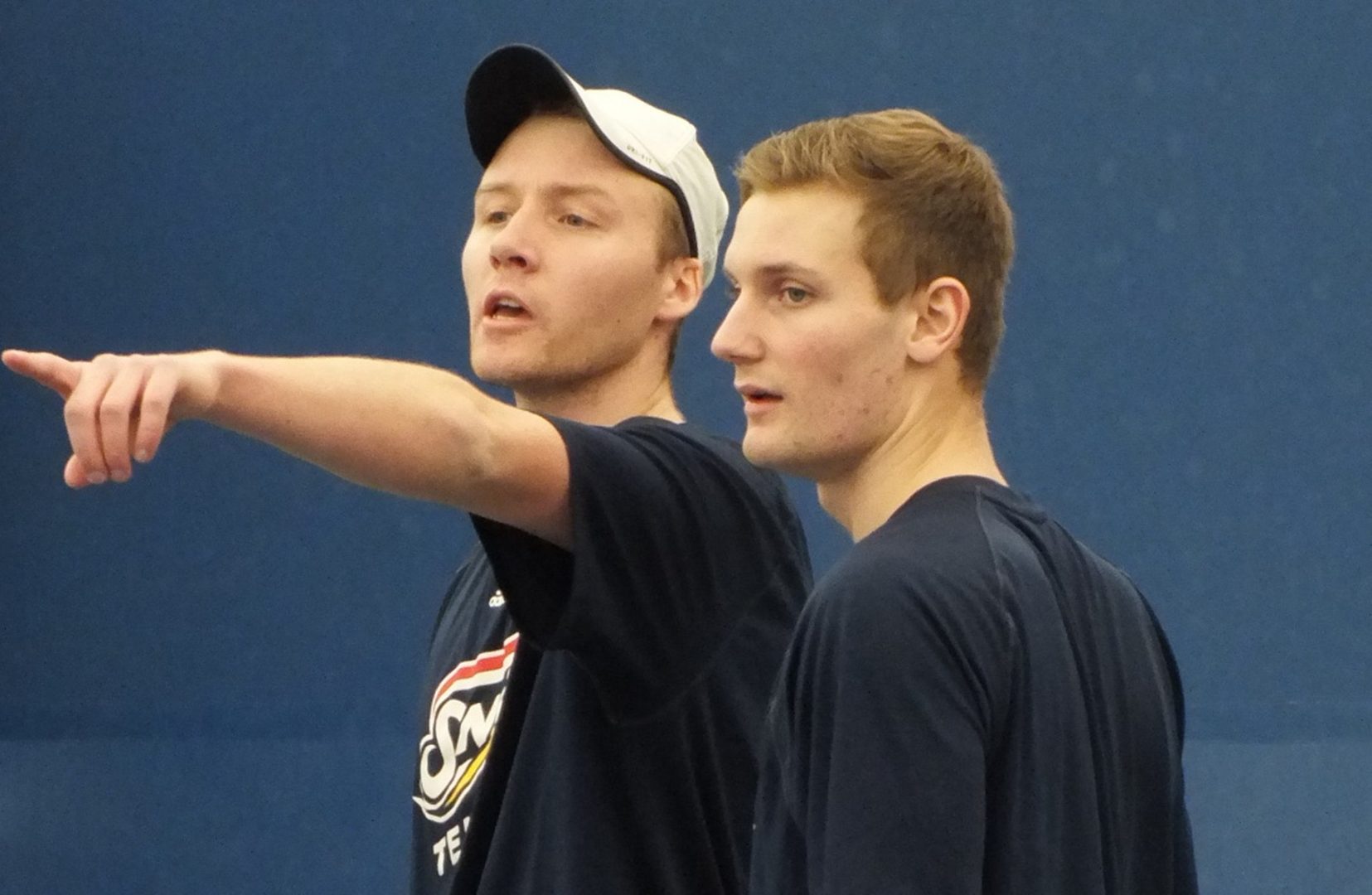 The Penmen are diving into what they expect to be another phenomenal season. They look to dominate conference play and become Northeast-10 champions for the third straight year. On Thursday, February 15, they were chosen by the Northeast-10 Coaches' Poll to win the conference.
They are entering the 2018 season following a more-than-successful 2017 season in which they finished 16-7 overall and 9-0 in the league. They later captured their second straight NE10 title and advanced to their sixth NCAA Tournament.
With the win over Le Moyne in the season opener, the Penmen have high expectations advancing toward the thick of the season. With intense practice and conditioning since returning from summer break, the Penmen are determined to govern the conference.
"I think we are able to three-peat as the NE10 champions," said Van Biezen. "Since we got back after summer break, we have been working hard for this moment, the beginning of the conference. We are all very excited, and [we] practiced hard to get the best out of ourselves and be prepared for a tough conference."
The Penmen have not added nor lost any members from last season; they enter the 2018 season with the same roster as last year. With only seven members, they have become increasingly close and have created bonds and friendships with each other, propelling them to prosperity and dominance on the court.
"Our team stayed the same as last year," said Van Biezen. "This does not mean that we did not get better as a team; in fact, the opposite. All the players improved over the year, and I haven't seen the team more motivated than ever before to fight for the third ring this year. There is a good team spirit going on within the team. We all get along really well and help each other out when we need someone to pump us up. We have a small but a special team."
"We are really engaged as a team," added Fernandes, who is co-captain with Aubron. "The team chemistry has been phenomenal. Everyone is getting along extremely well, even better than other years."
The team consists of Fernandes, who was the Northeast-10 Player of the Year for the 2017 season, Aubron, Van Biezen, Miguel and Ricardo Marreiros, Jeremy Reichentahl and Faizan Khalid.
"We are a very strong team overall, said Fernandes. "I believe our confidence and winning mentality are strong points, as well as our singles play. Overall, I think we are prepared, and we will give everything we have as a team to make it to the championship and get another title for us."
The Penmen will continue their quest for a Northeast-10 championship title when they host the New York Institute of Technology on Friday, March 2 at the YMCA Allard Center in Goffstown.