There are a few essential qualities that a great café must possess. Such qualities include top-notch coffee, creative eats and a comfortable, stress-relieving atmosphere. These ideals are embraced whole-heartedly at The Local Moose Café.
Located on Queen City Avenue in Manchester, The Local Moose is a little café churning out specialty coffee drinks, sandwiches made from provincially sourced ingredients and baked goods.
Established in 2015, The Local Moose is the creation of co-owners Natalia Umpierrez, Bo Tong and Marc Lee.
"For me, I wanted to have a space in Manchester where people could go for farm to table [products] and coffee," said Umpierrez.
Many of the products utilized come from local purveyors. The milk used for lattes comes from Hatchland Farms in North Haverhill, Massachusetts and the sustainably-raised chicken is sourced from the locally-famous Misty Knoll farm in Vermont.
Umpierrez's favorite sandwich on the menu is the Bahn Mi. "It is a Vietnamese style sandwich with local pork, pickled root veggies and sriracha mayo on a house-made baguette."
For those looking to preserve their new year's resolution, The Hungry Goat is a vegan option featuring raw beets, pickled carrots, cucumber, microgreens and roasted red pepper hummus on a baguette. The clean, fresh flavors and array of textures make for a delicious combination that won't weigh you down.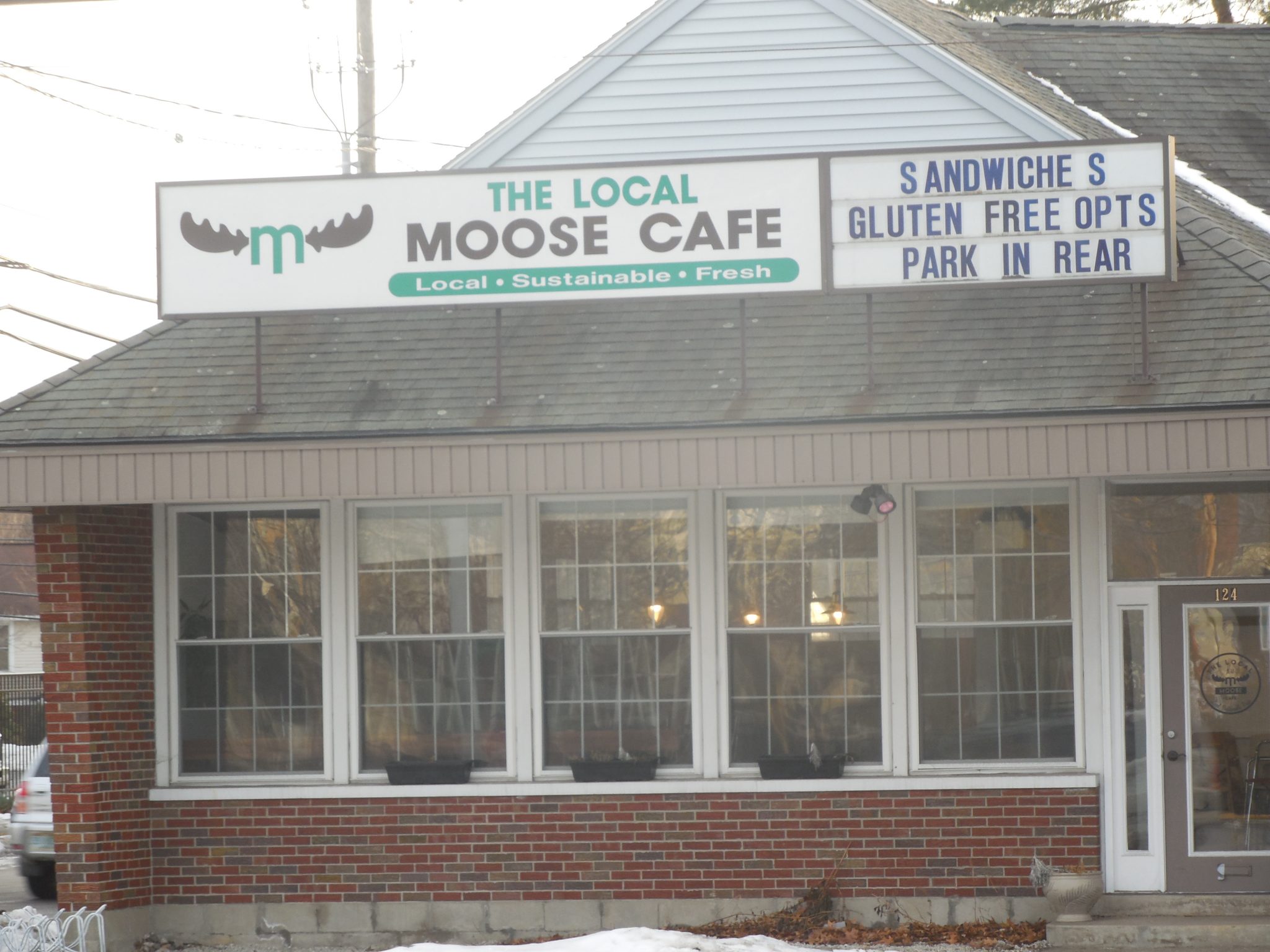 For those uninterested in resolutions, the café also offers fresh baked goods including homemade, creatively-flavored doughnuts on the weekends. Past flavors have included maple bacon, mimosa, gingerbread and cookies and cream.
The café also takes their coffee as seriously as their food. All the coffee is sourced from the nearby A&E Roastery
"We have your typical espresso menu; we also have Vietnamese-style coffee, which is double-shot espresso poured over sweetened condensed milk," said Umpierrez.
The art-adorned, wood-accented space is an ideal place to relax after a hectic week or to study for an upcoming exam. A chalkboard displaying where all the ingredients are acquired is proudly displayed for all to see.
When asked where she envisions The Local Moose in five years, Umpierrez replied, "We would love to source all of our ingredients locally, increase sustainability and get the community more involved."
The Local Moose is a café with a conscience; a café that recognizes the value of supporting local vendors and sustainable products.