While most athletes experience anxious jitters before a big game, SNHU senior Trisha Luis remains as calm as a summer sea. She perceives every game as the same, whether it's an exhibition or a championship game. She will enter each game with a strong and positive attitude. She says that if she does what she has been practicing her whole life and adapts to the style of her opponent's play, then she knows she will do her best, and that's all she can hope for. This attitude has awarded her with a Northeast-10 Championship Title, the Northeast-10 Championship Most Valuable Player Award, and the possibility to play professional soccer in Finland.
Luis is from Lowell, Massachusetts and has been playing soccer since she was three years old. Growing up, she would watch her older sisters play soccer as they were also very active in the sport. Luis loved watching them play, so much in fact that she decided to try it out, too. When she kicked a ball for the first time, she fell in love with the sport.
"My sisters really inspired me to get out on the field," Luis said. "They really like soccer and it seemed like a really cool sport from when I was watching. And from the moment I started kicking a ball around, I knew I was going to play it for the rest of my life. I love soccer so much; I can't imagine my life without it."
Luis attended the Portuguese-American Soccer Academy (PASA) in Billerica, Massachusetts where she learned how to play soccer. PASA taught Luis how to be a tactically intelligent soccer player from a young age through continuous repetition and training. This training allowed Luis' skills to grow, which prepared her to play at much higher levels. She transferred to the FC Stars of Massachusetts, which Luis currently plays for, and the Olympic Development Team. Both clubs are highly competitive in the state of Massachusetts as they prepare athletes like Luis for collegiate athletics.
"I would watch pretty much any team that was on," said Luis. "I would watch the midfield and see how they were receiving the ball or where they're turning, rather than playing back, so I really look into the details of what the players are doing. Then when I'm at practice, I'll try the new things that I saw on TV and see if it works for me." Doing this has embellished her performance on the field while making her a smarter and more tactile player. Luis also watches a lot of her own film. At practices, one of her coaches may videotape her playing, which she says is a "huge help" when determining what she needs to improve upon before heading into college.
Luis started looking into colleges in late high school. After much consideration, she narrowed her search down to two schools: Southern New Hampshire and the University of Massachusetts at Lowell (UMass Lowell). UMass Lowell was shot down after she visited SNHU to scope out the soccer team because when she arrived, she was blown away by how eccentric and positive the atmosphere was. It was in that moment she knew SNHU would be the best fit for her.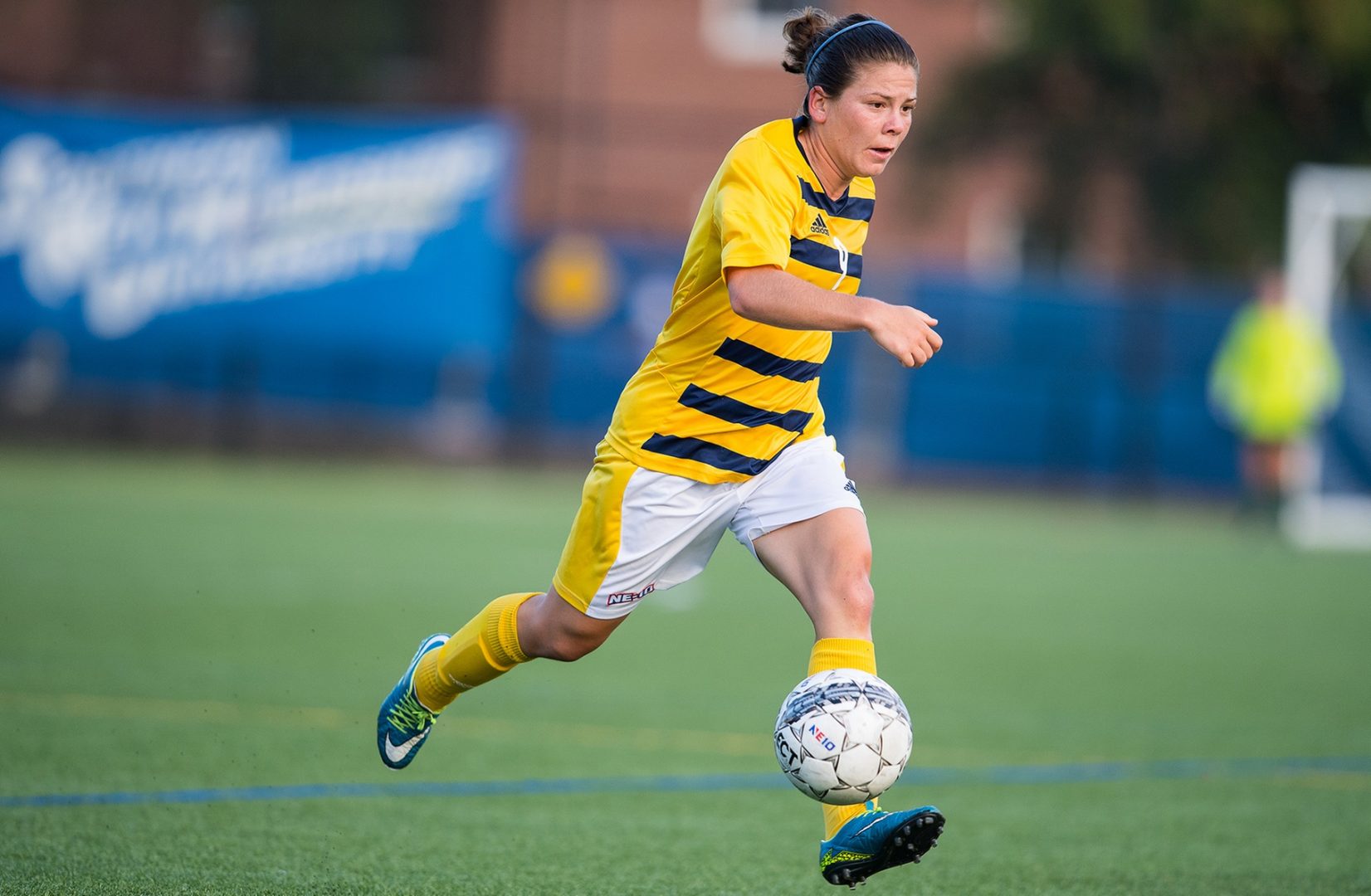 "I really liked the SNHU soccer team's grit," said Luis. "They wanted to work hard, and they were always working hard. I saw their commitment to the team and how they got along. Plus, I noticed a lot of people cheering on the sidelines; it wasn't even a game. People were just excited to see the girls play. It was amazing. It was that energy and the commitment from the girls that let me know SNHU was the place for me."
Luis' choice to attended SNHU was also greatly influenced by current head SNHU coach, Elie Monteiro. Before coaching at SNHU, coach Monteiro coached the UMass Lowell women's soccer team for 13 years. Having followed their game play and Monteiro's strategy, Luis and Monteiro spoke her senior year. Luis even promised him she would attend UMass Lowell the following year, but when she visited SNHU for the Women's Soccer practice, she knew this was the school for her but was disappointed she wouldn't be playing for Monteiro.
Southern New Hampshire was looking for a head Women's Soccer coach the same year. As a graduate of SNHU, Coach Monteiro jumped on the opportunity as soon as he found out.
Monteiro's first year at SNHU was also Luis' first year at SNHU. When they met on the first day of preseason her first year, Luis and Monteiro shared a laugh. Luis was pleasantly surprised to find Monteiro working at SNHU.
"It was really funny when coach Monteiro switched to coach SNHU," Luis said. "I've always wanted to play for him because of his style and his commitment he has for the game… Luckily, he came here the same year I did and I couldn't have been any more excited. I'm thankful I got to spend four years playing with him."
"She's a great player," Monteiro said of Luis. "Having her play for me has been a great experience. No words can explain how thankful I am to have coached her. She is very talented and is somebody who doesn't have to have the captain title because I know she's a leader. She is a wonderful person and I can't wait to see where she ends up next year."
Luis has now finished her final season as a Penmen. This season was the most successful season the Penmen have seen in all program history. The Penmen finished the season 15-3-5, captured their first Northeast-10 title since 2012 and won their first-ever game in the NCAA East Regional Tournament. Luis was a major cause for these accomplishments. She racked up a career high 11 goals, including five game-winning goals, and five assists. Luis also earned 27 points, went 4-4 in penalty kicks, and shot two goals in a 3-0 blanking of New Haven on September 27.
In a ceremony held on Larkin Field after the Northeast-10 championship game, Luis received the Northeast-10 Championship Most Valuable Player award for her hard work and devotion to the sport.
Luis' journey to becoming MVP was not a smooth ride, however. She had to overcome family disputes and personal issues that weakened her mental state. To get back on the right track, Luis looked to her biggest inspiration, Carli Lloyd, for guidance.
Carli Lloyd is an American soccer player for the U.S. Olympic team. She received gold at the Olympics two times in a row and was FIFA Women's World Cup champion. Although she is a well-decorated athlete, Lloyd has had her fair-share of difficulty as well. Multiple personal experiences and her own self-doubt influenced her to change her mindset; she started saying that she was a good player who was capable of being the best in the world, and it worked. This is why Luis looks up to her so much. Nothing comes easy for Luis, either. She may be the star on the Southern New Hampshire soccer team, but she, like Lloyd, must work hard for everything she wants.
"(Lloyd) had to work for what she got, and that's what I had to do for my whole entire life," said Luis. "Things don't come easy to me, so I really have to put the time and energy into things and that's what she does. She wasn't the all-star on her team when she first started and she had her doubts, but then she told herself she could be the best player in the world and she did that… I took the same approach by saying I'm capable of doing whatever I put my mind to and I've seen improvements with that."
In terms of difficult times, soccer was the one thing Luis would look forward to. The sport has helped her through tough times while improving every aspect of her life. It has taught her time management, how to be a great person and how to respect other people. Because soccer has become such a monumental part of Luis' life, she can't image life without it.
"Soccer has taught me so much," said Luis. "If I didn't have soccer, I don't know where I'd be. I see some of my friends from back home and they're not doing too well. Luckily, I had soccer to get me away from that. Soccer has been my outlet."
Earning the Northeast-10 Championship Most Valuable Player award was the "greatest way" to cap off her college career, she said. It let her know all her hard work was accounted for. Because she had a difficult path getting there, she is beyond grateful for the honor, and that's what makes a strong athlete.
"I never thought I'd get it coming into the season," Luis said, referring to the award. "It's a great feeling that says all the work I've done to prepare myself for this season has paid off. I changed my attitude and it worked. I'm honored. Getting that award was getting something extra. It is the best feeling."
Now that her college soccer career has come to an end, Luis is considering playing soccer post-graduation as she is not ready to give it up just yet. Head Coach for the Women's Soccer team, Elie Monteiro, is helping Luis join a professional soccer team in Finland. Monteiro is talking with the proper authorities to seek out more information about this opportunity. Due to the uncertainty of this path, Luis is also considering the application of her criminal justice major, hoping to be a police officer.
"I'm not ready to give up soccer just yet," Luis said. "Soccer has changed my life in more ways than I can express, and I don't want to see it end just because college soccer has. It's helped me through the tough times, and it's been here through the good. It's an amazing sport that has taught me so many lessons. I hope Finland works out, but if not, there will be other opportunities."