It all started when I woke up one morning with a realization. My favorite artist, Harry Styles, is currently on tour in Europe. I'm in Florence, Italy, right now. What are the chances of me seeing him in concert while studying abroad? After doing my research, I discovered that there were no tickets left for Milan, but a handful left for London.
London, England—the city I always dreamed of visiting. I had the hope of going there while abroad, but put it off because I had no one to accompany me. My mother warned me of the dangers of traveling alone. In addition, London has been a victim of terrorism within the past year, one of the acts occurring specifically at a major concert. At that point, traveling there felt hopeless.
But as I watched the opportunity on my computer screen stare back at me, something changed. I was no longer overthinking every worst possible scenario like I normally would. Instead, I asked myself, "Who else can say in their life that they got to see their favorite artist at a concert in London?"
Once I clicked the checkout button, my life would forever change.
I became a self-taught travel agent in a day. I spent hours researching the cheapest possible way to make this spontaneous trip successful. Since one-way flights were cheaper than a round trip, I came up with the idea of a six-day trip (three days in Dublin, Ireland, and three days in London, England), for only about €210 ($244.63). Considering this was my first time ever booking flights and I found such a good deal, I already started to feel confident about my solo traveling.
My friend then introduced me to Airbnb, an app that allows people to book hostels worldwide for half the price of hotels. I researched and found great reviews on two different hostels that were guaranteed to provide a safe environment specifically for solo travelers. The website also gave me the option to book unique experiences during my visit, including a Dublin Busking experience.
Once I planned my activities, all that was left to do was tell my parents. I thought, "How could I possibly tell them in a way that will assure them that I will be safe?"
So, I typed up a full, detailed itinerary that included my flights, my scheduled tours and any emergency number I could think of. Then, my cousin introduced me to an iPhone app called "Find My Friends" that would allow my parents to know my location at any time throughout the trip. Finally, I did what Florence University of the Arts requires all students to do and filled out the weekly travel log, informing the school of where I would be.
Once I told my parents and presented them with this information, I was off.
Getting on that plane by myself for the first time felt crazy. I was afraid that all of my parents' fears would come true. I had no idea what laid ahead of me, but I had faith that this trip would be good for me and that I would come back empowered.
Since I'm Irish and the country is very close to England, I knew Ireland would be a great place for me to visit. The moment I stepped off that plane in Dublin, it was like a candle was instantly lit inside of me. My happiness that day was unlike anything I ever experienced in another place in my life… and all I did was take the bus to meet my host, Paola and her family.
The next day I took a day tour to the Rock of Cashel, the city of Cork and the Blarney Castle. By the end of the tour, I befriended a girl from the group around my age named Laura, who was, by chance, originally from my home state of Massachusetts! She too was a solo traveler.
On my third day of Ireland, I met up with "Runaway John," a professional busker (street performer) who provided my group with a tour of Dublin's hidden musical gems, as many famous Irish artists started off their careers busking. By the end of the tour, I befriended two more girls from the group—Marion (a French girl living in Barcelona) and Sofia (an American studying abroad in Barcelona). They were also solo female travelers close to my age.
After I went on my own to visit Saint Patrick's Cathedral, I arranged plans to unite all three of my solo-traveling friends together later that night. The connection we made that night felt natural. In one day, we created a friendship that could have lasted for decades. It was at that point that I started to see the beauty of traveling alone.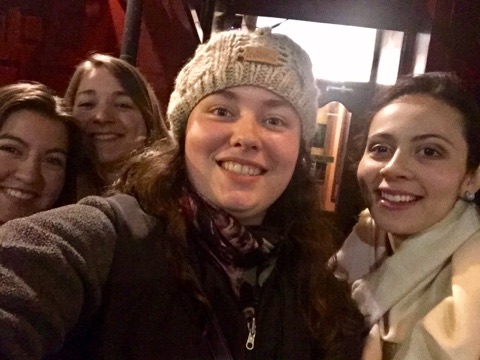 London, the next day, was a different story. Unlike Dublin, I did not come to London with activities planned. I wanted to try to experience London naturally without a set schedule.
My first day was filled with a long train ride, figuring out how to use the subway system ("The Tube"), eating overpriced fish and chips, being awkwardly stuffed with a large family inside the London Eye and risking hypothermia on the top of a big red tour bus as I took in the beauty of the city. Although I couldn't see Big Ben because it was covered with construction work, I was able to relate to it.
My perfect solo trip was deconstructed.
The next day, the day of the concert, was what helped me realize why I did this trip. I caught the attention of a 42-year-old woman who laughed when I told the bartender it was my first time being able to drink at a concert. Our casual conversation converted to yet another friendship I made as she too came to the concert on her own.
The moment the curtains unfolded, everything made sense. It wasn't just hearing my favorite songs live at the Eventim Apollo in London or being in the same room as my favorite artist that made this trip worth it.
Two months ago, I thought spending four months studying in a foreign country with no family to lean on was the hardest thing I would ever have to do. But standing at that concert knowing that I just spent six days in two foreign countries on my own at 21 years old and survived? I felt like I could do anything.