Her official title on campus is Residence Director (RD) of Newcastle as well as Adjunct Professor. Despite only being here for two years, her responsibilities extend beyond these roles though. She is also a co-advisor for the clubs Generation Equality and SNHU Buddies and a chaperone for the Alternative Spring Break (AB) trips. As an adjunct professor, she teaches SNHU 101 courses.
"The material this year is so important," Adair said, "because it focuses on how to be an inclusive, active and informed citizen."
Adair found a home in the club Generation Equality, which promotes inclusion and a safe space for LGBTQ+ community members to come together, from the request of a former Alternative Break participant.
Adair graduated from the University of New Hampshire (UNH) with a Bachelors in Psychology and a focus on Sex Education. She also said she "[is] incredibly passionate about LGBTQ+ rights, and I feel that our students need a safe place on this campus where they feel loved and can be themselves."
Becoming a co-advisor to the club seemed to almost be fated. Adair became passionate about sex education during her sophomore year at UNH when she was a first year Resident Assistant.
"A lot of my residents had questions." Adair said. "I thought, 'This is basic sex education. How come they aren't informed?' So, I saw a need, and I was like, 'I can fill that'."
After this realization, she went on to get an internship with UNH's Health Services Center. "That great love to and need to fill that has continued."
As a Residence Director, she fills this need by putting on sex education programs for residents. She enjoys going to other residence halls as well and having fun with the subject. Adair tries to make it upbeat and light hearted. Regarding her style of teaching, Adair commented, "If you're not laughing, people aren't learning."
Working for the Office of Residence Life is her "lucky break". After obtaining her Master's Degree in Social Work at Hawaii Pacific University in Honolulu, she decided to move back home to New Hampshire, because, as she said, "It is cheaper to fly out of Boston than it is Honolulu."
As a self-proclaimed adventurer, this reason was compelling enough. Adair knew she wanted to work in higher education, as she hopes to pursue her Ph.D. in Educational Leadership and become a professor. Having had residence life experience both in undergraduate and graduate school, the opening for a Residence Director position would become one of her greatest passions.
Her favorite part of being a RD would be the interactions she has with students. "Everybody has something to learn, and everybody has something to teach," Adair shared. As an RD, she finds passion in her ability to help people in their time of need. She is inspired by her own personal struggles when helping her residents with theirs.
"A lot of it is attitude; you choose how you respond," Adair said. A big part of her duty as RD is handling conduct. When faced with her own personal challenges, she reflects on the lessons she will be learning and why she is learning them. When working with her residents, the process is much the same. How did this happen? How did we get here? "Someone is not their behavior," she said. She enjoys conduct-related issues, because it gives her a chance to interact with individuals she normally would not.
Another one of her passions on campus is being a chaperone on the Alternative Break trips. Last year, she stepped in last minute after another chaperone could no longer attend. She joined the trip going to Pulaski, Virginia. The trip involved working with securing access to food and meal replacements. Again, she considered this another lucky break as she had been begging to participate with AB.
"I highly, highly value volunteer work. I think one of the most beautiful gifts you can give someone is time," Adair said. She also wanted to connect with students on a better level. The trip turned out to be more influential than expected for Adair. She was inspired by the students "level of thought and the ability to dream."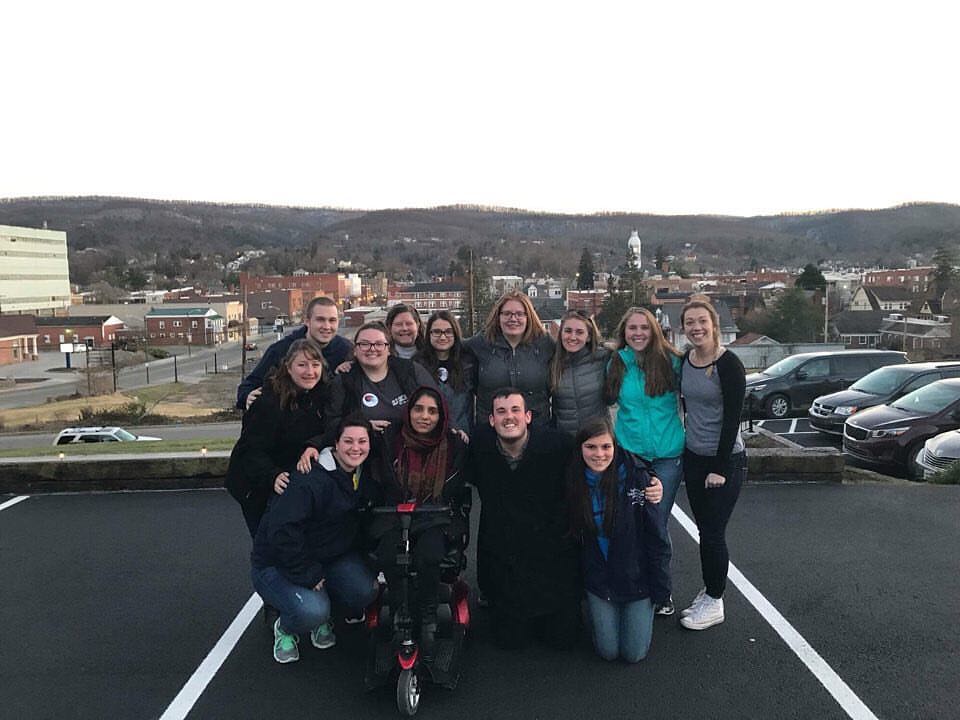 This year, she will be joining the trip to Washington D.C. which focuses on understanding the causes and effects of urban homelessness. Adair finds passion in fighting homelessness and supporting those who experience it, and her personal mission is to "make them visible."
To Adair, AB became a vehicle to spark a passion in at least one student, hoping they will become invested in the cause. Her goal is to make people understand the difference they can make, even in just a week. "It [AB] gave me faith in the quality of individuals here and the strength of will SNHU students have. It was really inspiring. I left that trip thinking 'I work in the greatest place in the world'," she said.
Lucky for SNHU, Adair does not plan to leave soon. She found her place at here, because she loves the innovation, the support and the fulfilment of her need to travel. She would love to continue working her way through other offices or as a professor. "A professor is a platform to give to others and ultimately inspire them to be who they are and go on to change," Adair said.
Outside of SNHU, Adair spends her time watching "Forest Gump" or "The Wedding Singer." She also fangirls over Harry Potter, since she is a self-described "next-level nerd."
Her favorite times are spent with her family over long dinners filled with laughter and banter. But her favorite thing to do is to travel. She spends her summers volunteering abroad. Last summer, she was working with rhinos through the Imire Conservation Program in Zimbabwe, Africa. She also taught in Tanzania through the International Volunteer Headquarters.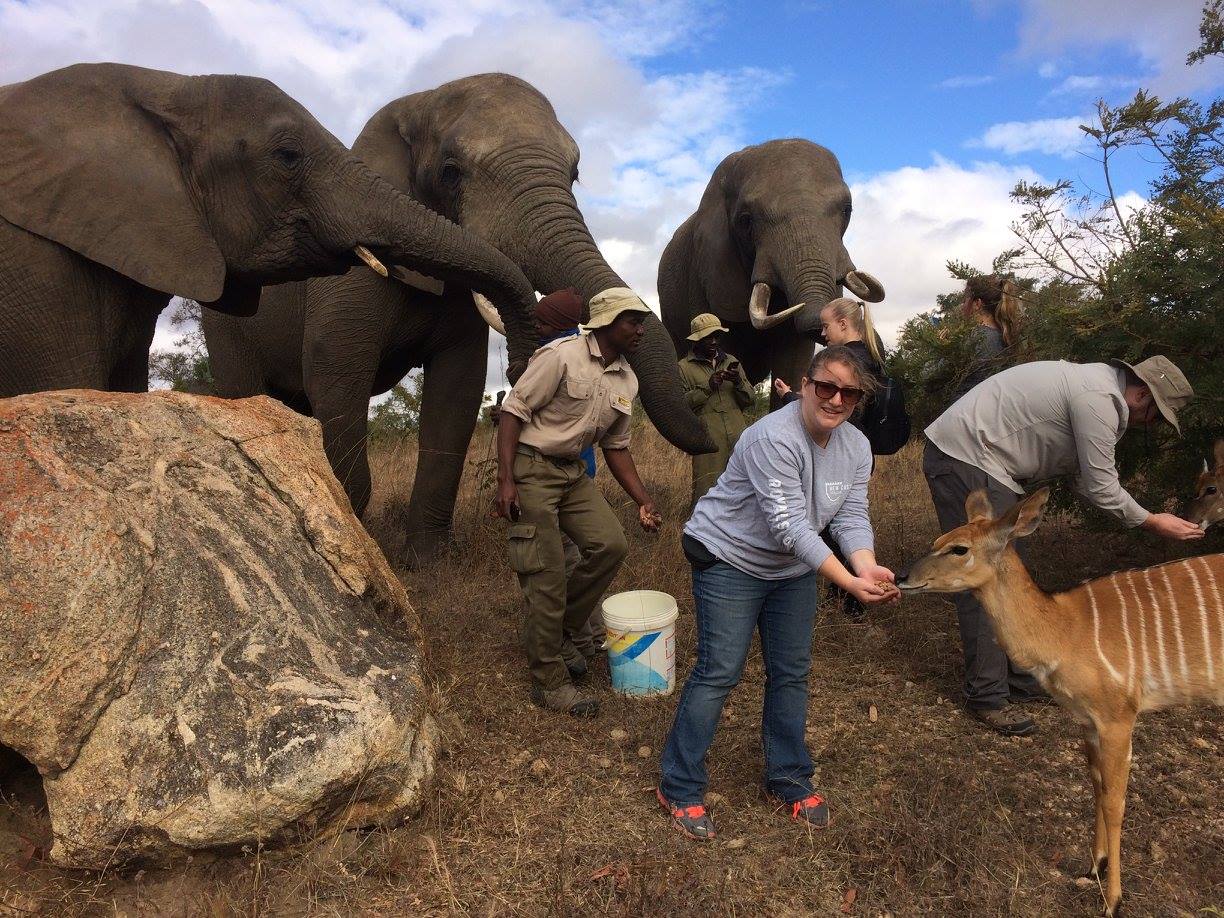 This summer, she is hoping to work with the Great Orangutan Project. During these trips, she puts emphasis on spending time with the homeless communities in these cultures. She has also travelled to Iceland, Norway, England and France.
Her piece of advice to SNHU students would be: "Listen with the intent to learn and with the intent to hear what the other person has to say and with kindness. Approach people as best you can with unconditional positive regard. Don't be afraid to go adventuring. Do it alone. Don't wait. If you wait for somebody else, you'll never go. But go out into the world and do good.