In the middle of a clear blue sky, a bright yellow sun vibrantly gleamed over the University of New Haven. Six tennis courts, nestled behind a row of rich, dark-green trees beyond the beaten path, stood peaceful. Yet, as peaceful as they were, they were about to feel the power of the Southern New Hampshire University women's tennis team. The New Haven Chargers' hosted SNHU in a Northeast-10 women's tennis battle.
Southern New Hampshire showed who was boss from the start, capturing all three doubles matches to make the overall score 3-0 upon entering singles play.
Junior Anna Sala, from Mataderpa, Spain, was riding high from her 8-3 win at number 1 doubles with partner Sofia Morais (Porto, Portugal). She walked proudly with her shoulders back and chin up to the first court where she would play her second number 1 singles match of her career. She entered the court ready to fight. After placing her bag down on the bench next to the exterior bleachers, she stretched her arms and energetically jogged to the baseline, where she would begin her warm up with her opponent.
Sala felt good during warmups. She was pleased with the way she was hitting the ball, especially off her forehand and serve. She swung strongly and proudly, the best she ever has. She noticed her opponent was skilled as well; she ran after every ball and tracked them down with authority and hit them with heavy topspin and power. She was a competitive opponent for Sala; however, she did not allow that to bother her. Instead, she remained confident in her game regardless of who was on the other side of the net.
Once Sala and her opponent got their final practice strokes in, the match began. Sala took a deep breath and said to herself, "You're playing good, let's do this," and went over to the bench to grab her water bottle. She chugged gulps of water down her throat to replenish herself after the intense warmup. After a brief pep talk with coach Greg Coache, she assertively walked back to the baseline with two balls in her hand ready to open the match on serve.
Sala dominated the first set. She fired forehands from left and right, and tracked down every ball. She pulled away with a set score of 6-3. Although her strokes were dominating, it was not easy to achieve winning the first set. Her opponent, much like Sala, was a fighter, and she fought during each and every point. The points were long and tiresome, but each point showcased the athleticism of both players. Therefore, Sala was ecstatic when she captured the first set. She was relieved she could outlast her strong competitor and excited that she played her best. She had high hopes entering the second set.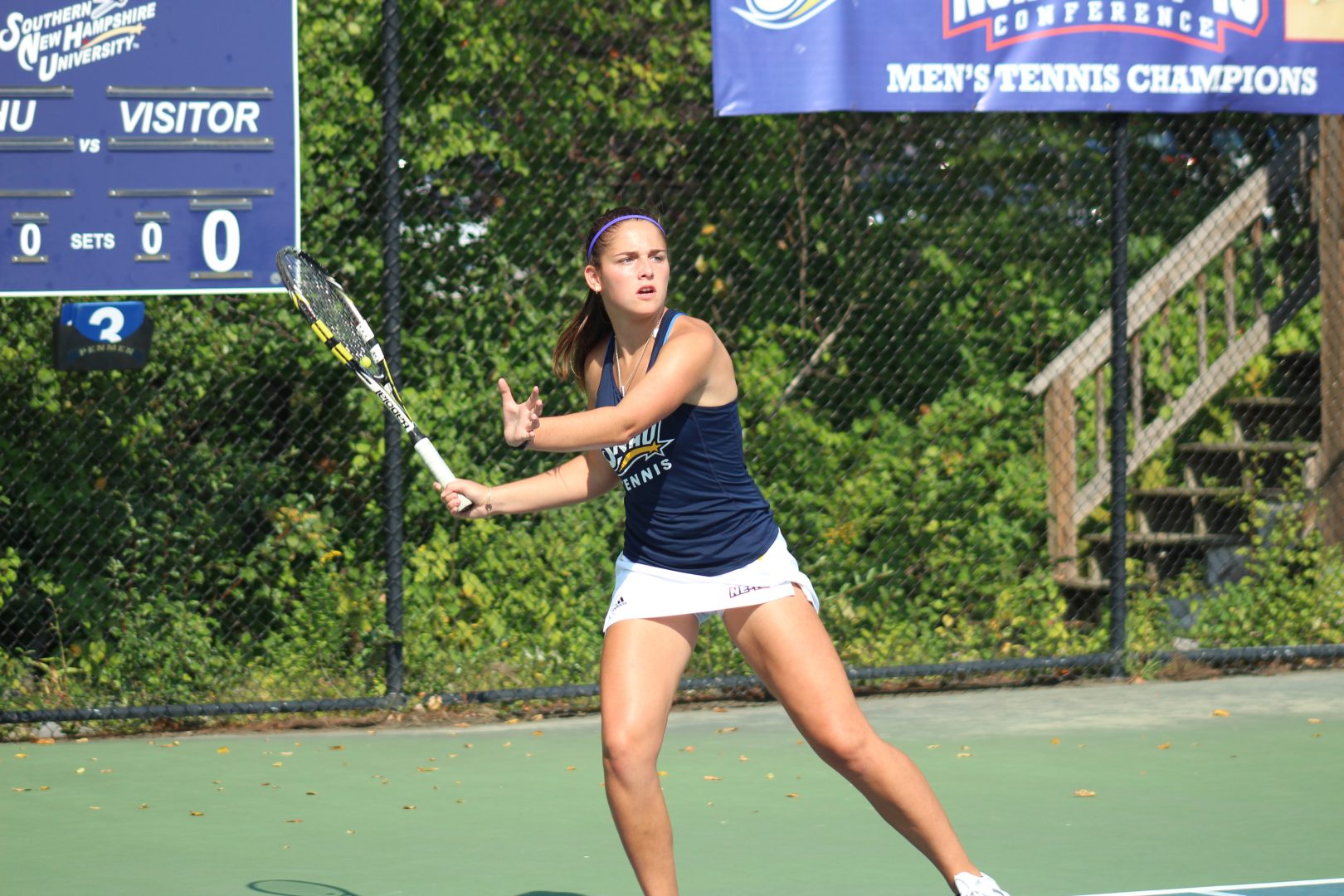 Sala's opponent gained momentum in the second set, making it an even bigger challenge for her. It was a lot closer and a lot more tiresome. Sala's opponent began chipping away at points, which in return allowed her to win more games. Every point was a battle. Every ball was brought back over the net and every stroke was strong and powerful. Neither player allowed a mistake or a winner from the other player to get the best of them; they shook it off and kept fighting with high hopes.
Sala and her opponent held serve throughout the set, which, as a result, forced a 10-point tie-breaker at 6-all. Sala was exhausted. She baked in the hot September sun wiping sweat off her forehead. She grabbed a towel at change-over and sat on the bench where she gulped down water and gave herself a pep talk.
"I'm a good player," Sala told herself. "The girl's good, but I'm better." Sala was confident in herself, and she believed she was good enough to close out the match. She knew she could pull away with the win, even though it was going to be a challenge. But Sala likes challenges. In fact, she thrives on them. Any challenge big or small gives Sala a sense of determination and purpose.
Sala kept her head up and did not let anything stand in her way. She ran back and forth across the court, grabbing as many balls as she could. When the opportunity struck, she hit winners down the line, to which she let out a loud "BAH" with a fist pump to release her excitement.
Sala and her opponent battled throughout this tie-breaker. The score was close; however, Sala's opponent came up big in a couple of major points, forcing Sala to lunge or hit the ball out. This resulted in her opponent clinching the tie-breaker 10-8 and the second set 7-6. This forced a third set, or in this case, another 10-point tie-breaker, as the overall match was already decided.
Going into the third set tie-breaker, Sala knew she needed to keep her mental composure. If she were to get down on herself, she would not receive a score she would be proud of. Tennis is a very mental sport, and one negative thought can send you on a downward spiral.
"Mental strength is really important," said Sala. "It's 90% of the game. You have to work on it on and off the court. You got to make sure you are focused on the game and not anything else, like a bad shot or what's going on at home. The next point is always the most important"
The third set tie-breaker was just like the first, containing long strenuous points, winners, and few mistakes. Sala focused on her strategy: keeping the ball in play and patiently waiting for the opportunity to hit a winner.
The score was tied at 8-8. A very big point was approaching. The ball went back and forth several times, but a solid forehand of the racket of Sala's opponent generated the error from Sala, giving her opponent a 9-8 advantage. Sala told herself, "Come on, Anna, stay in it," but a similar point struck and Anna hit the ball long. Sala took her first defeat at number 1 singles.
Regardless of the score, Anna looked at this match as a win. She looked at it as an opportunity to improve her game. She knew she played well, and was pleased with her game, especially her strong forehand and fast serve, to which she said were the "best [she's] hit this far in [her] career." The match also gave her the chance to become a better player ,because when you play tougher competition, your game will improve. The score may say she lost, but Sala won for herself.
"This was a huge match for me," Sala said, reflecting on the match. "It was the first match I played my absolute best. I ended up losing but I was happy with myself because I saw how I can keep up with it. I don't think of it as a loss because I learned a lot. Even though I lost I was able to never get down. I was always there fighting for the win. She ended up being better in a couple points, but I was there. So, I took it as a win."
Sala's mental strength and optimistic attitude stem from her childhood coach, Ramon Sanroma. Sala and Sanroma have been working together since Sala began playing tennis at age seven, when she enrolled at Grupo de Competicion Perea Sanroma Tennis Club in Barcelona, Spain. Sala started playing just for fun, but as she got older, she started to fall in love with the sport. At age 12, Sanroma told her she should be playing in tournaments. He believed her game was at that level of play and that she was a strong enough player to compete.
Coach Sanroma has taught Sala everything she knows about being a mentally strong player. As any tennis player knows, mental toughness is a huge part of the game, and if you don't have it, then you are not going to make it far in any tournaments. Sanroma wanted Sala to succeed. He knew she has the game to, but he needed to make sure she was tough enough to take her game to the next level. A man of wisdom, Sanroma gave Sala some advice she still adheres to today.
"My coach from back in Spain, he told me that every time you don't go for a ball and you let it bounce twice, to think of it as an opportunity in your life that goes by. But if you run to it, you maybe can get it and get it in, but if you just don't run, or don't go for it, you're going to miss it for sure. He made me always think of opportunities and balls as something to fight for."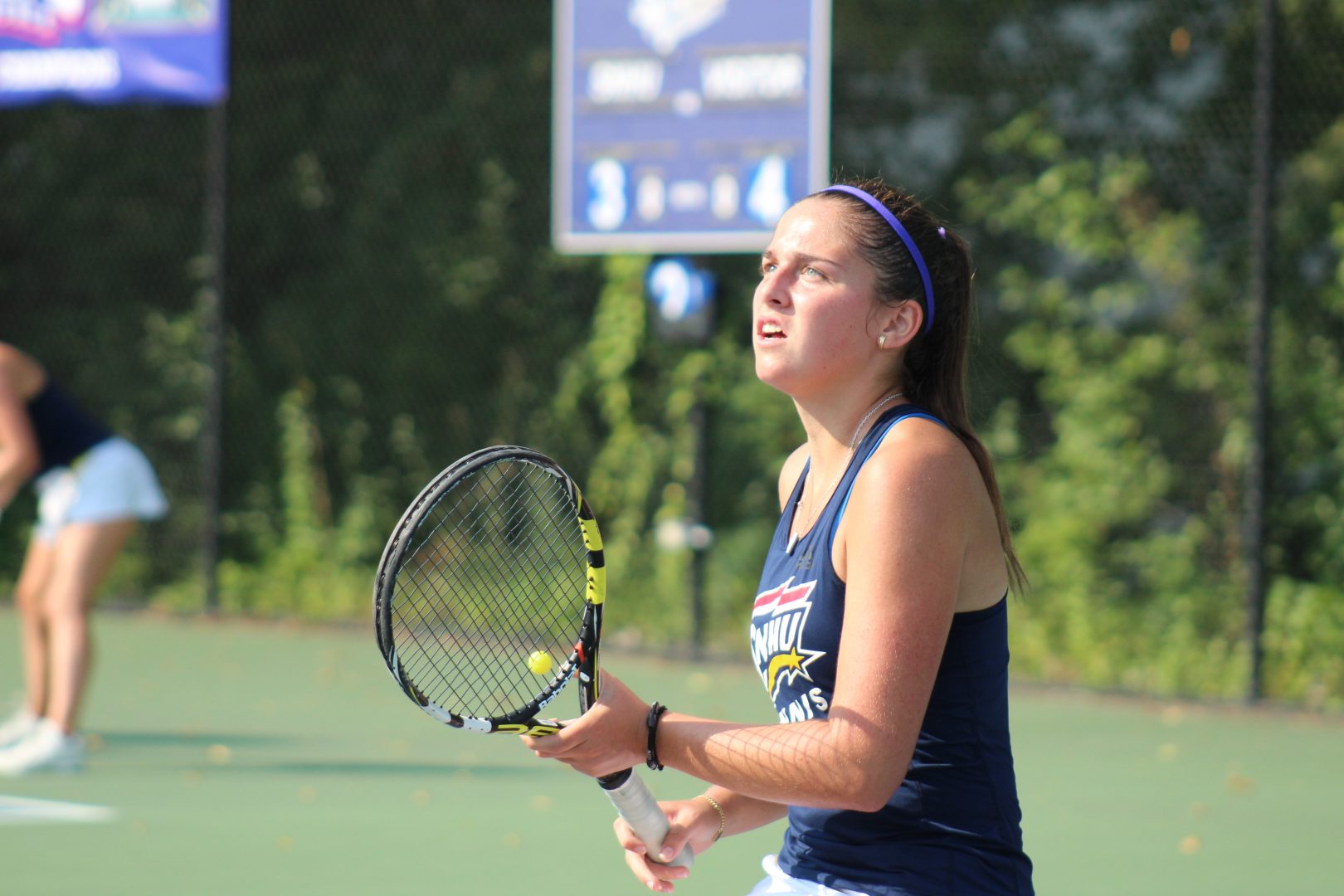 When Sala was 17, she enrolled in a cup futures regional tournament that Sanroma suggested she play in. By listening to Sanroma's advice about being mentally strong, she and her doubles partner captured the title. Sala describes this moment as "the highlight of my career" and an achievement that "boosted [my] confidence." Following the win, Sala was ranked number 180 in the country.
The following year, Sala wanted to further her tennis career at a school in the United States. She went through a Spanish sports agency that helped her pick out schools that would best suit her. She looked at schools in Philadelphia, Mississippi, and Portland, but none of those schools compared to Southern New Hampshire University. Everything Sala was looking for could be found at SNHU. They have a great tennis program, wonderful facilities, great academics and a graphic design program – her intended major. Sala even talked to a couple players on the team about the school, and they all told her it is a really great university in which she can thrive. Everything about SNHU "looked better" to Sala than any of the other schools.
Southern New Hampshire coach, Greg Coache, has been pleased with Anna's game and mental toughness since the start. Since viewing her recruitment video in 2016, he has been nothing but impressed with her performance on the court.
"There's a list of criteria that us coaches look for when recruiting a player." said Coache. "Like a strong forehand, the way they move around the ball, swing technique… and Anna had them all. I checked out her stats and her record and I was impressed by all that. She looked like a great addition to the team."
Coache is also very impressed with Sala's mental toughness and the way she can keep herself grounded and focused during tough matches.
"Having her on the team is special," he said. "She has this fire about her. She puts in a lot of work day in and day out and it shows in her matches. When other people would get nervous and quit, she fights through and gets the job done. She's a fighter. I know I can always count on her."
Last season, Sala was primarily playing number three singles, where she only lost one match. This season, Sala has proven to herself and to Coache that she can be a strong competitor at the number one singles spot.
"I went from number 3 to number 1, which was a big challenge for me," said Sala. "Before preseason, coach and I had a talk and he said that he really believed in me because my game was really good for that position and I agreed. I thought it was a challenge for me, but I love challenges." Sala is also one of this season's co-captains.
Sala has been dominating her matches this season. In singles, she has won eight out of nine matches at the number one spot, and four of four at second. In doubles, Sala plays number one and has not lost a match with either Morais or freshman Casey Burns (Westbrook, Connecticut).
Like Coache, Sala's teammates are impressed with her performance and her mental attitude. Morais, who is one of Sala's best friends, is very fortunate to have her as a teammate.
"Anna's a great player and has been winning every match which is really important for the team," said Morais. "She has fantastic shots, especially her powerful forehand. Her mentality is also great; she never quits. That's why she's a friend and teammate."
Junior and co-captain Rachel Wagner (Framingham, Massachusetts) loves working with Sala as co-captains. She said she is a "great communicator" who is very "easy going."
Wagner went on to elaborate. "She has positively impacted the team. She always has a positive attitude and always gives 100% at matches and practices. She has a great mental attitude; there have been times when she's down in the second set and will come back to win it. It just shows how mentally tough she is. She's someone who never gives up and leads by example."
Sala loves being on the team. In Spain, there are no teams, not even high school teams. Everyone plays for themselves out of clubs, much like the one Sala went to. Sala said that playing tennis on a team and not only for yourself makes you feel for others. Playing on team is playing for something bigger than yourself, and that is something Sala has never done before. In terms of her mental toughness, being on a team makes it stronger because "[I'm] not only thinking about me; [I'm] thinking about my team."
Sala is having much success in her third season with the Penmen, and a lot of that success comes from her mental toughness. Between her lessons with coach Sanroma in Spain and her work in the States with coach Coache, Sala has proven time and time again that she is a strong, talented player who can tackle any challenge thrown at her. She wants to be the best player she can be and will continue practicing to achieve that goal.
"Tennis is basically all my life. It means everything to me. Everything I do stems from tennis, like being here at SNHU. Basically, tennis is my past present and future."