On October 19, the Southern New Hampshire University Student Government Association (SGA) hosted the Town Hall Panel in Walker Auditorium, an event dedicated to bringing information directly to the SNHU Community from a variety of SNHU leaders.
Moderated by Dean of Students Heather Lorenz, the evening featured top voices from all across campus including President Paul LeBlanc, Provost Patty Lynott, Director of Residence Life Shannon Brown, Associate Dean of the School of Business Andy Lynch, Dean of the School of Education Ray McNulty, Dean of the School of Arts and Sciences Steve Johnson, Director of Online Engagement Tiffany Fifer representative and General Manager of SNHU Dining Dan VanAvery.
Throughout the evening, the discussion covered a broad and wide range of topics, directly answering questions and concerns brought forward by those in attendance.
Michelle Fortin, SGA vice president, shared her thoughts on the event's purpose. "The importance of the Town Hall panel is for students to be able to share their opinions and questions for campus. Having that direct face to face contact and getting the direct answers from the direct source is so important for students to feel heard."
Among the first questions brought forward by the audience was, "What is the purpose of the SNHU Arena?" President Paul LeBlanc responded, providing insight into the decision both from the marketing possibilities, as well as more altruistic ones.
"The purpose is, on one level, simply marketing the university's name, building our brand," said LeBlanc. "When we looked at it, they presented an amazing amount of data, [a] really well done, like surprisingly detailed level of data that showed us that their marketing footprint is throughout the Northeast, and we wanted to make sure that we were reaching students increasingly in Massachusetts, Rhode Island, Connecticut. So we looked at the number of impressions, the number of hits on their website, the fact that every single ticket they print says SNHU Arena, it was just a really good brand building opportunity… and the primary reason."
LeBlanc continued, describing their intentions attached to the naming rights that were not directly related to the branding aspects. "The second piece," he said, "was that we would do some events there… We also use our building to get really low cost tickets to make really large swaths of tickets available." LeBlanc shared that in the past, this ability to purchase tickets in bulk and for a low price, had enabled the university to provide a local elementary school the ability to see Disney on Ice. These schools witness high poverty rates and this ability to give back has been made possible with this deal.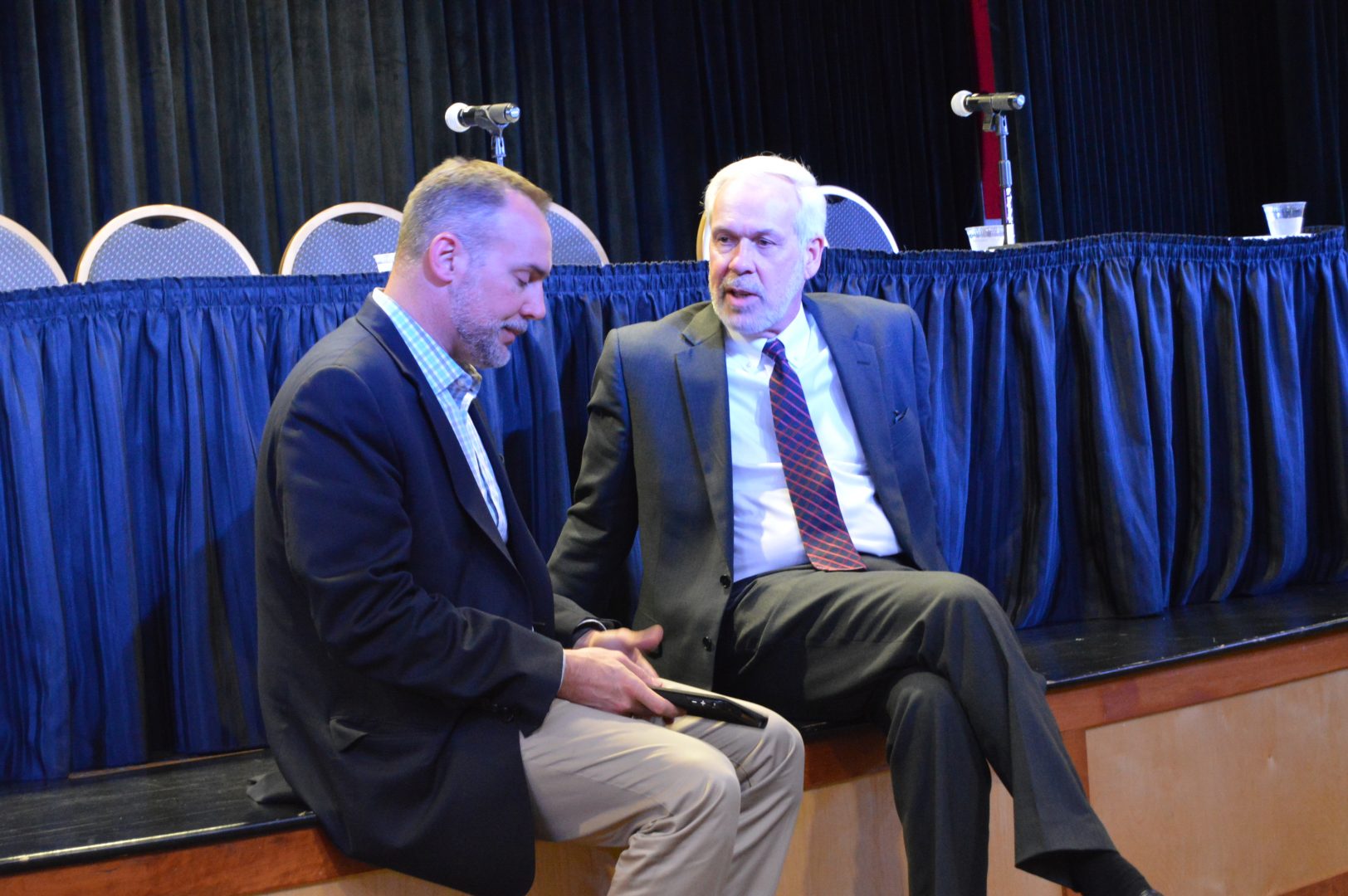 Another key topic brought to the attention of the panel is one a little closer to home and on campus: Kingston. Director of Residence Life Shannon Brown shared some insight into the progress and blueprints of the upcoming residence hall. "There will 382 beds in the building, and there will be mostly doubles and some singles," Brown said. "The rooms will be in clusters, so a group about 16 students will be in close proximity to a close, shared bathroom and then one single use bathroom."
Brown went on to describe how there will be a fireplace, multipurpose spaces, a kitchen for the building a game room, designated classroom with an exterior entrance and more study space.
The following discussion also included the changing policies regarding meal plans, how students can now select whichever plan they prefer, the inability to get meal plan refunds as a result, as well as a wide range of other SNHU-related topics.
The evening empowered the SNHU Community to ask questions and enabled those answers to be immediate, synchronous and direct, and junior Nejra Fazlic shared her thoughts following the conclusion of the event. "I thought the Town Hall Panel was really informative. It was great to see the leaders from this school at one table willing to answer questions that students have been wondering about!"
Elle Tibbitts, senior, echoed this statement, encouraging all members of the SNHU community to attend Town Hall panels at their university.
"I wish more people had attended; we received valuable insight on SNHU's vision and direction for the next ten years that any student, staff, or faculty m ember would benefit from knowing."