In early April, six students from a variety of majors and disciplines represented SNHU at the National Conference of Undergraduate Research (NCUR) in Memphis, Tenn., to share their extended research projects along with 4,000 other undergraduate students.
Traveling with School of Arts and Sciences' Crystal Bickford and School of Business' Kevin Snyder, Ashlee Carper, Nate Fournier, Casey Morrison, Megan Palmer, Jenelle Psaledas and Alicia Tilsley left for Memphis from Boston International on April 5 and returned April 8.
The projects spanned a variety of fields and disciplines; from education to robotics, from sports to psychology, these presentations encompassed so much of water of what SNHU has to offer. These presentations included: "How College Athletics Impact Career Development" (Carper); "Education Paradox: The Opportunity Cost of U.S. Professional Soccer" (Fournier); "Body-Worn Cameras for Police Officers and the Security vs. Privacy Issue" (Morrison); "Student Perceptions of Grit and Best Practices for Mediated Failure" (Palmer); "A Pilot Study on the Effect of a Cat Robot for Patients with Alzheimer's or Dementia" (Psaledas); and "A Study in Robot Instruction for Elementary Baton Twirling" (Tilsley).
The projects were split evenly between 15-minute oral presentations and hour-long poster sessions, each providing the presenters with a unique experience in a professional setting.
The students shared their thoughts about the experience, highlighting the opportunities they had to network with both other students and professionals in their fields.
"I believe undergraduate research is one of the best and most applicable ways to add real value to the classroom experience that encapsulates us at SNHU," said Fournier, a senior. "Having the opportunity to travel with, present to and engage with like-minded individuals in the pursuit of new and exciting fields is not only invigorating – it's necessary for growth."
Fournier expanded on this statement, thankful for the opportunity to travel, saying, "It's easy to find yourself stuck in the bubble of the SNHU community… that safe, warm place where you know where you stand and how you compare. Taking the initiative to step onto the 'national stage' to share your work is exciting, rejuvenating and even courageous to some extent."
Fournier's project focused on the thoughts and perceptions of young athletes in the Major Soccer League (MLS). Winning first place in the work-inprogress section at SNHU's Undergraduate Research Day that same week, Fournier's project built upon his observations and studies conducted through his internship at MLS in New York, N.Y.
Carper's project also had a sport component; however was focused on the career development opportunities available to student athletes. Carper, a junior, commented on the way in which she thought the conference supported her professional development, saying, "The most memorable part of NCUR was being able to see speak with other students and learning about their research and road to NCUR. I was nervous to attend NCUR, not knowing what to expect. I believe that others felt the same way but it's pretty awesome to see the excitement others get from presenting because I have only ever gotten that kind of excitement while playing sports."
Both Carper and Fournier presented oral presentations, while Morrison, Psaledas and Tilsley presented their posters. Psaledas' project fused psychology and robotics, as she utilized the calming presence of a robotic cat in conjunction with calming effects it had on patients living with dementia.
Psaledas, a senior, reflected on the ability to receive feedback that she had as a result of traveling to NCUR: "The most memorable part of this experience was getting feedback about my presentation. Getting to talk to more people gave me the opportunity to hear many different viewpoints. I got the chance to talk to nursing professors and students. They had some great suggestions for when I continue my research."
In addition the positive reviews from the students, NCUR chaperone and mentor to Palmer and Carper emphasized the importance of undergraduate research and its role in national conferences.
"Aside from the research component itself, I think having students attend and/or present at national conferences offers a 'complete' experience in that they learn to negotiate travel (sometimes under difficult circumstances), execute time management as they juggle responsibilities on campus while traveling, experience networking opportunities and engage in presentation/public speaking skills," Bickford said.
Bickford also commented on the group of students that she traveled with, saying, "For this trip, specifically, the students were engaged, energetic and eager for new experiences."
While the four days was jampacked with conferencing, the group of eight also found time for adventures through Memphis which included trips to Beale Street, Rendezvous Barbecue, Graceland and the Mississippi River water front.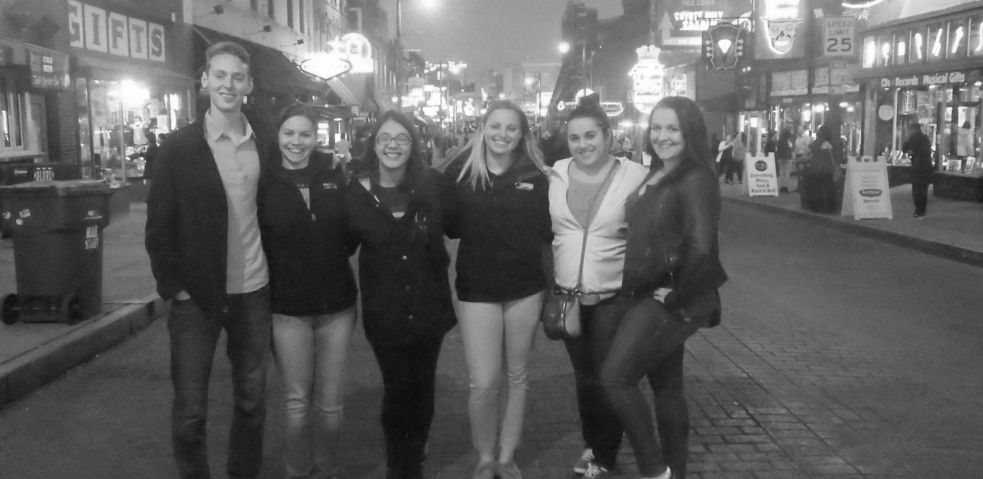 The students' passion and support for undergraduate research and their trip to NCUR rang throughout the high praise they provided and the sharing of their experiences. Fournier, emailing his responses from a New York subway, wanted to share the benefits of the trip.
"Personally, the biggest gift that NCUR gave me with was a shift in perspective," Fournier said. "As I sat watching a presentation on molecular biology, I realized not only the breadth of research at the conference, but the breadth of ideas, people and experiences that were taking place all around me. I believe this expansion is critical to developing the "growth mindset" that is essential to the college experience."
After returning from Memphis, the photos and presentations were collected from all the students to create an online portfolio documenting their trip and their hard work. Their portfolio can be found at snhu-ncur2017. weebly.com.