Senior Kylie Lorenzen made history Saturday afternoon when she broke Julie Dabrowski's 29-year-old scoring record to become Southern New Hampshire University's (SNHU) Women's Basketball's all-time scorer.
Lorenzen, who scored 16 points in the first half of Saturday's tightly contested matchup against Merrimack College, surpassed Dabrowski's record off a basket during the first half. She went on to score a game-high 29 points, including the game-winning free throw at the 2.1 second mark in overtime.
"I was shaking at first," Lorenzen said of the free throw after the game. "But I knew I needed to collect myself."
Lorenzen led the Penmen to a 74-73 win over Merrimack, bringing SNHU's overall record to 16-9. Merrimack's record, however, drops to 17-8.
During the game, Lorenzen went 14 for 26 from the field with 13 rebounds and three assists. She also recorded her tenth double-double of the season and her 34th of her career. Lorenzen also scored 20 plus points for the 13th time this season and the 30th time in her career.
Lorenzen's exceptional performance brought her total number of points to 1,728. It passes Dabrowski's compilation of 1,713 points from 1986-1990.
Dabrowski, who was inducted into SNHU's Athletic Hall of Fame in 1995, had one of the most prolific athletic careers in all of SNHU history.
She received the ECAC-North Player of the Year honor in 1990 and was a three-time recipient of SNHU's Female Athlete of the Year award. She also collected the Francis Pomeroy Naismith Award as the top player in the country under 5-foot-6. During her senior year, she led the Penmen to a 22-8 record and a NECC title.
Dabrowski has been observant of Lorenzen's significant career since her freshman year and recognized she could one day surmount her 29-year-long record.
Dabrowski, who resides in Merrimack, NH, attended SNHU's matchup against Merrimack knowing Lorenzen was closing in on her all-time record.
She spoke on Lorenzen's accomplishments following the game. "It's exciting for me," she said. "I feel honored because she's a great kid. She earned it, she deserves it, and so it's exciting for me to be a part of that and get to see her play."
Dabrowski officially passed the torch, or in this case, a basketball, to Lorenzen in honor of her beating her record. The ball, which Dabrowski played with when she broke the school record in 1990, was presented to Lorenzen in a post-game celebration in the women's basketball locker room.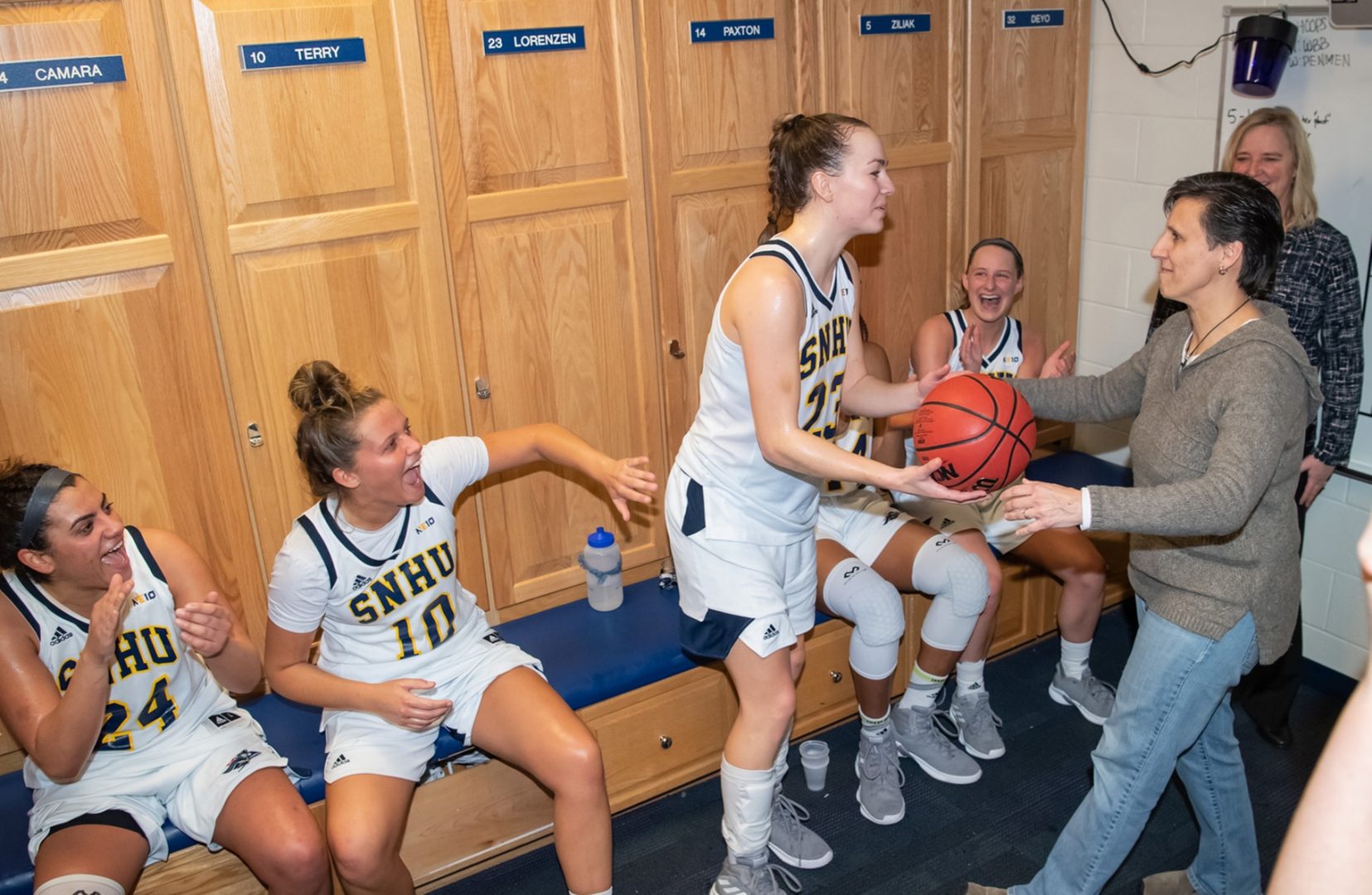 When talking to reporters shortly after the game, Lorenzen was still processing her achievement.
"I've been working at it, but honestly I haven't really thought too much about it; I try to do whatever it takes for me to win a game. That's how it kinda rolls, I just score points and stuff. I do whatever it takes and it just takes my mind off it."
Even in her moment of glory, she stressed the importance of her teammates and getting to this level.
"I couldn't do it without them," she said. "They keep me sane and composed."
Lorenzen will look to add to her scoring totals Wednesday, February 20, at Saint Anselm College. She will also celebrate Senior Night Tuesday, February 26, at the Stan Spirou Fieldhouse against Assumption College in the season closer.