"Sisterhood. Solidarity. We exist, and we will rise," said Boston Women's March keynote speaker and Massachusetts Congresswoman Ayanna Pressley. This is what the 2019 Boston Women's March was all about.
The third annual Boston Women's March drew in large crowds full of women and men of all ages, races, sexual orientations and backgrounds to call for equal rights. The supporters came in masses on the Boston Common in the biting cold weather Saturday, January 19, to listen to speakers, protest, chant and rally before marching across the city.
Southern New Hampshire University's (SNHU) Deborah L. Coffin Women's Center took a bus of 27 students down to the march to show support. These students wanted to be part of the movement and voice their support for the cause. Women's Center member Erika Cantarella ('21) spoke on the importance of being at the march.
"Women coming together to support each other shows media we are stronger than they think," said Cantarella.
The first Women's March took place in 2017 following President Trump's inauguration, known then as The Women's March on Washington. It was the largest, single-day protest in U.S. history built from the momentum of outrage against anti-women comments made by Trump. Women's Center Director Brooke Gilmore spoke on why the march remains important with each passing year.
"My biggest fear is that people get complacent in the new normal," said Gilmore. "Even though there maybe didn't feel like this sense of urgency like there had two years ago, it is as urgent and as important as ever that people show up and have these conversations and decide how they want to act and what they want to do and commit to that or we just accept things."
Protesters expressed their beliefs by dressing in colorful outfits and holding well-decorated signs. A few signs read, "I've Seen Better Cabinets in Ikea," "A Woman's Place is in the Resistance" and "Big Bitch Energy."
These posters further proved that these marchers came with a backbone and a message to spread and that they don't plan to sit by silently. Some outfits worn to support the cause were costumes from popular television shows like The Handmaid's Tale and t-shirts saying, "Girl's Doing Whatever the Fuck They Want." One woman even wore a tracksuit covered in Hillary Clinton's face.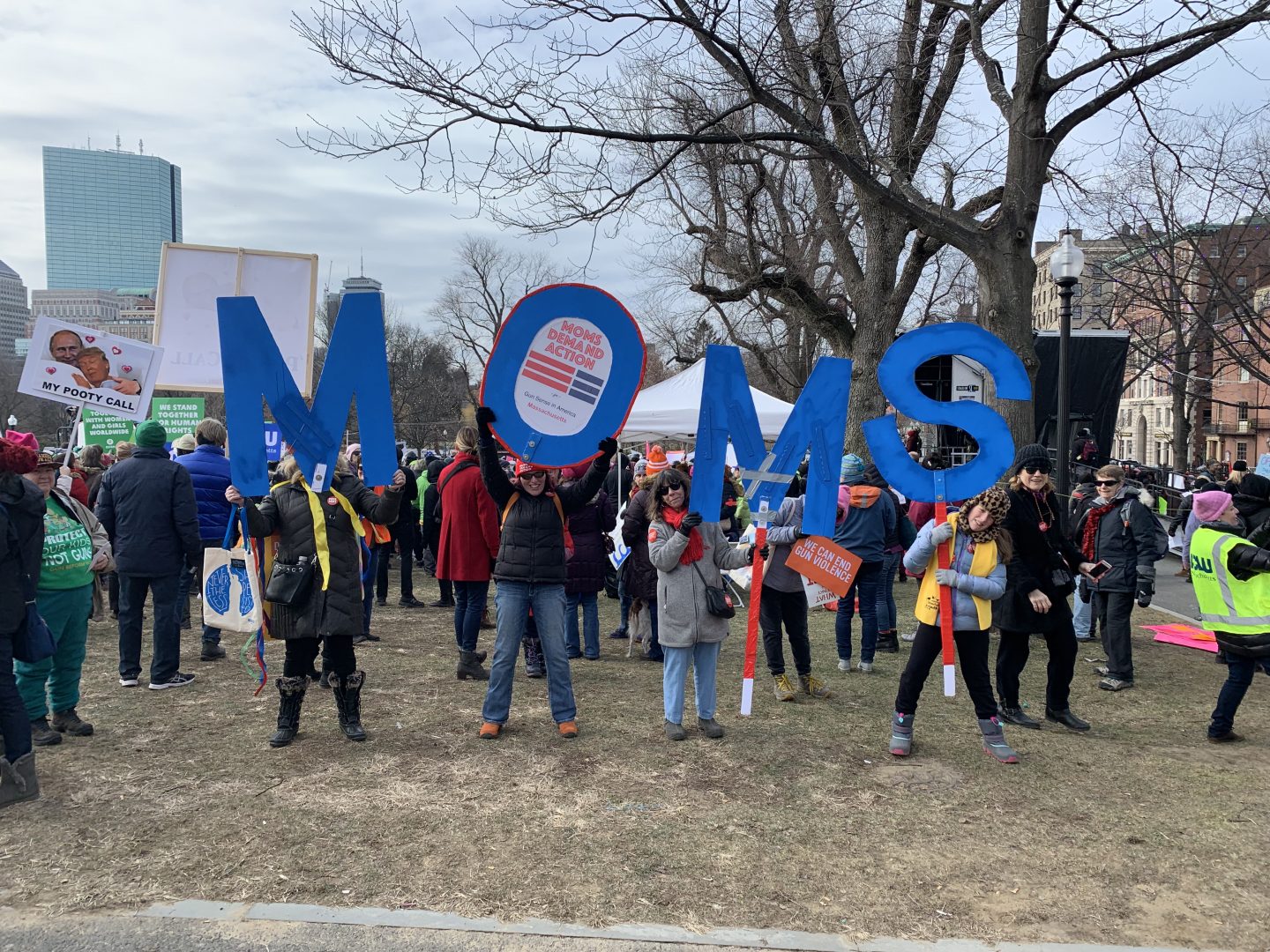 The Boston Women's March is hosted by March Forward Massachusetts, a non-profit organization that aims to advocate for women, LGBTQ+  immigrants, refugees, people of color, indigenous people, religious minorities, and more. These ideas were a main focus for the march in making sure not only women were represented, but all groups of people who are subject to injustices.
With the recent controversy surrounding the Women's March on a national level involving anti-Semitism, the Boston Women's March and March Forward Massachusetts made sure people knew they had no ties to such.
"We have never been a part of the Women's March [organization]. A lot of our constituency are super diverse. We have never supported anything along those lines and are immensely opposed to anything anti-Semitic and anti-anything, any of the phobias," said Natalie Sanchez of March Forward Massachusetts's Board of Directors.
"I think the first year people were obviously coming out post-election because they felt this cloud of depression. They wanted to find a way out of it and find a way forward. People are a lot more laser-focused now and really know why they are coming out," Sanchez continued.
The protests were not limited to those in favor of the movement. Nationalist protesters were barricaded off by police officers to keep them separated from the marchers.
"[We barricaded the group] to allow people to express their opinions and feeling while protecting their first amendment rights while keeping everyone safe," said Boston Police Captain McCormick.
All attending groups were civil, overall.
It was a day filled with speakers and performers from all backgrounds. These speakers included Mahtowin Munro from United American Indians of New England, Holly Ryan from LGBT Liaison at the City of Newton Mayor's Office, Tanisha Sullivan, the President of NAACP-Boston, and Mehreen Butt, the Wakefield, MA Town Councilor, just to name a few. The speakers were chosen to highlight differing issues related to human rights. Each spoke with passion and intensity that filled the crowd with energy as they cheered and waved their fists and signs high.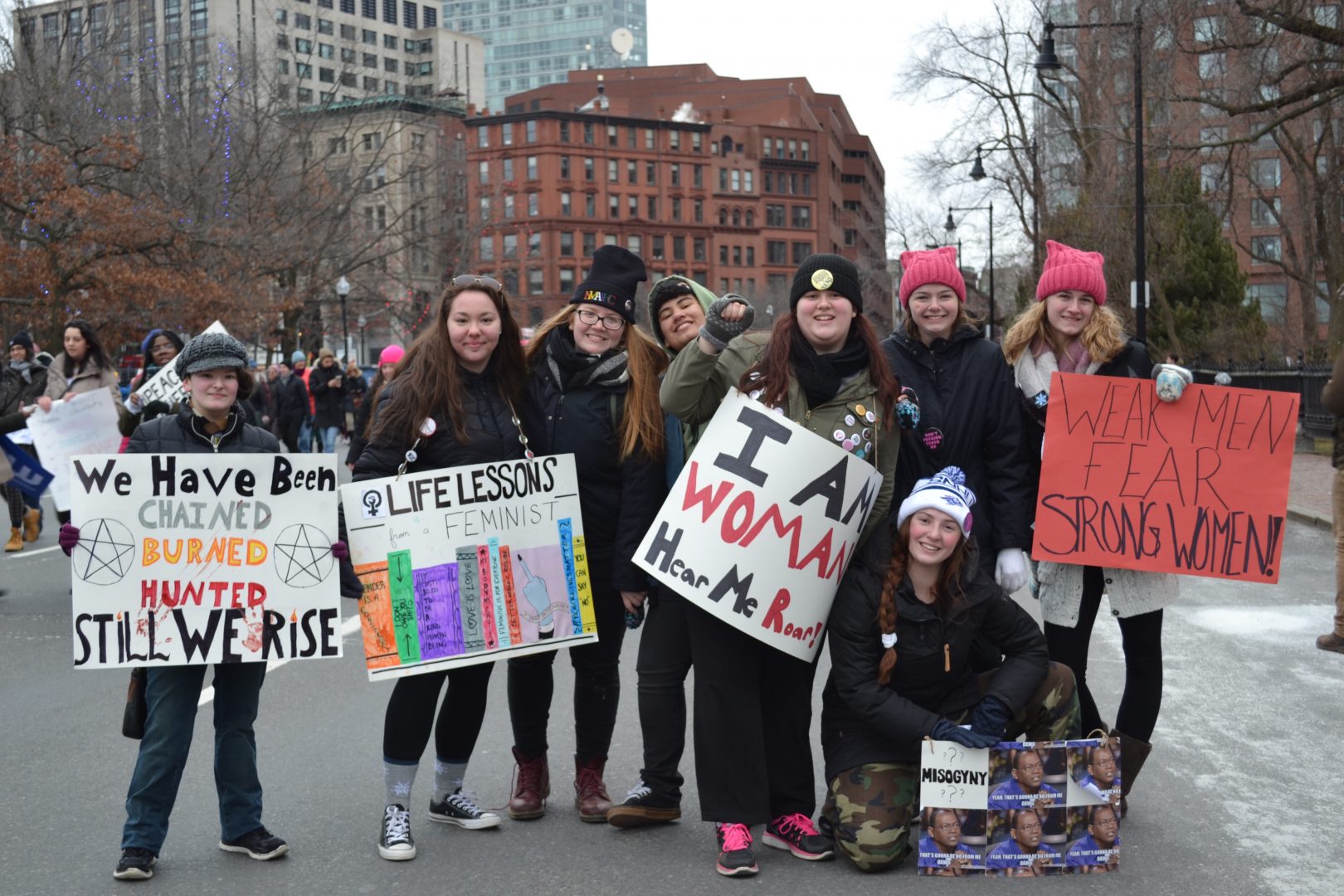 Butt is the first Muslim woman in Massachusetts to be elected for the board of selectmen and was representing the Muslim community during the march. Butt spoke to how her religion prepared her for an event like the Boston Women's March.
"The values that were instilled in me through my faith about being kind to others, helping people, feeding the hungry, housing the homeless; those are all reasons that I am here to make the world better and kinder for everyone," Butt said.
Coming together as a solid force is one way to create awareness and community around progressive ideas, but real change is made from policy and the government. The importance of having women represented in the government is a major part of Mehreen Butt's message.
"I want to see more women and more minorities, under representative populations running for elected positions at all levels. Local levels, state levels, and congress. You know, [in] 2018 we had great victories. There is now over 100 women in Congress," Butt said. "Congress has 535 members and 100 is not equality and not representative of what our country looks like. We have to keep going and keep building the movement."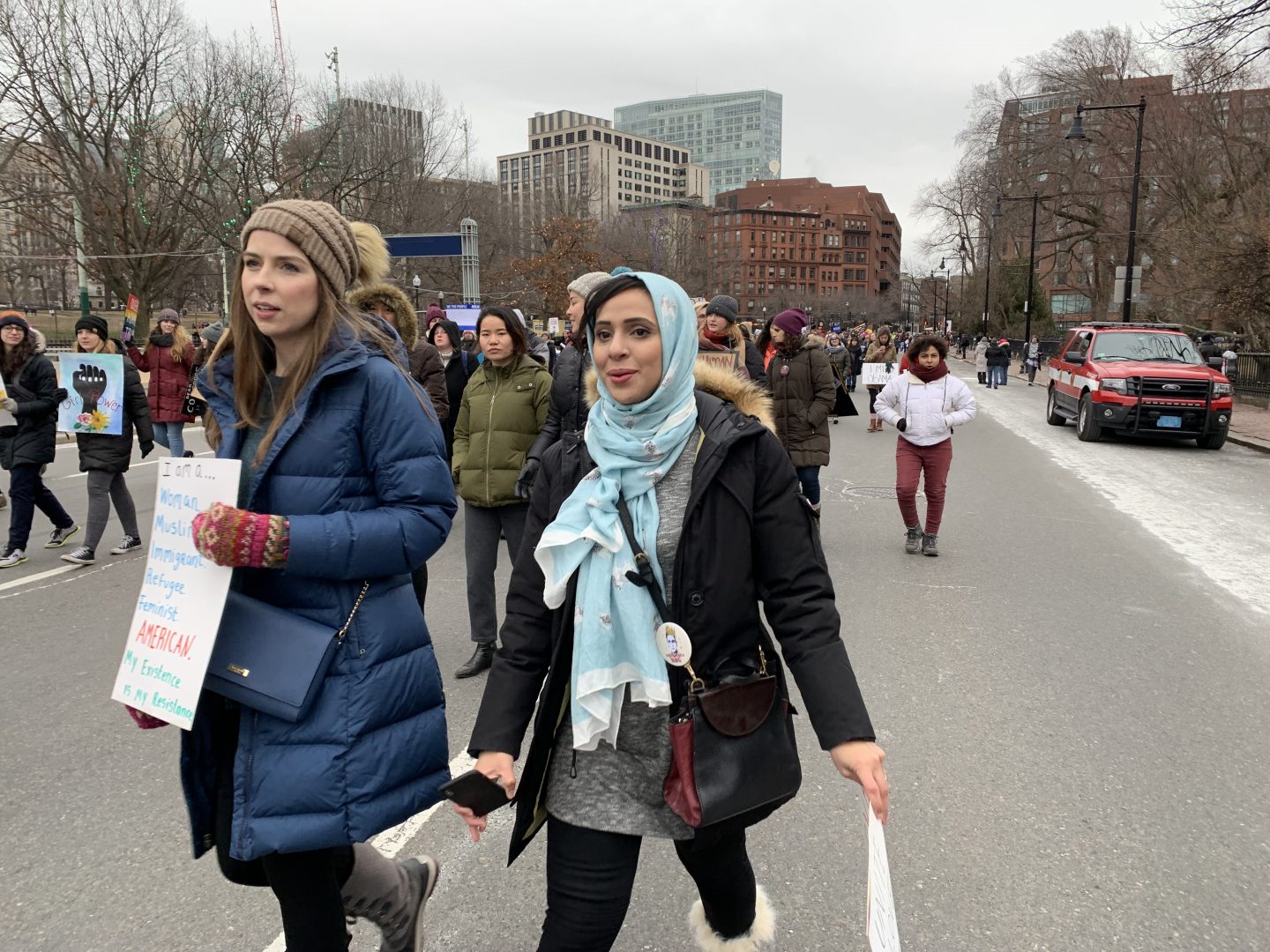 One of those new members of congress is Ayanna Pressley, the congresswoman from Massachusetts. As the keynote speaker of the event, all eyes were on her. Her speech was full of passion as it informed everyone she was ready for action. She told the crowds, "today we march, tomorrow we run," and "justice is uncomfortable and an inconvenience." Pressley got the crowd inspired and fired up just in time for the march around the city of Boston.
The congresswoman has already made great steps forward to make a change for Massachusetts, which she spoke to in an interview after her speech.
"I have already advocated for the introduction of legislation requiring universal background checks for gun purchases. I have introduced legislation to ensure that federal contract workers affected by the shutdown are entitled to back pay, and I have been vocal in opposition to the cruel and draconian policies of this Administration, which are harming the communities I represent. I intend to continue being an intentional activist leader on behalf of the people I represent," Pressley said.
The 2019 Boston Women's March was a day full of aspiration for people as thousands gathered together with a common goal in sight. From SNHU students, to the marchers, the organizers and the speakers, it was a successful day that brought real hope.
"I was proud to stand with thousands of activists this past Saturday – on the same weekend we celebrated the legacy of Dr. King – and recommit to continue our advocacy and our activism, to reject hatred and affirm the humanity of every person," said Pressley.