Hampton and Windsor Halls underwent a bit of a face-lift over the summer. The recent renovations for these two dorms transformed them completely. Between the new furniture and the installment of themed housing, these two halls have been the talk of the campus at SNHU.
In the same way every legend is made, we must first venture back at their origin story. Hampton and Windsor's original decor could be described as sad, depressing, and unwelcoming. As for the bedrooms themselves it was as if the janitor's closet finally got the extension it needed. Hampton and Windsor truly needed an upgrade.
Now, with the current renovations installed into both Hampton and Windsor it's clear that students have been sending out positive feedback by those who are currently living in Hampton or Windsor and those who briefly visited.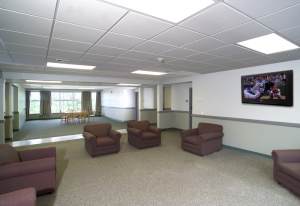 Buying furniture. We all enjoy doing this. We could buy a lamp that matched with the ceiling fan in the bedroom, purchase a rug that had the same decal as the bedroom sheets, we could even buy a new furnished couch just because it reminded you of the same couch you saw in a family photo. It's practically human nature to enjoy spending money on stuff, it makes you feel powerful. But you know what's better than spending money on stuff? Buying stuff without paying a single dime. Now you may ask, 'how can you buy something without paying?' Easy, capital money. That's what SNHU and Residence life used to buy all the renovations for both Hampton and Windsor.
Speaking of students, did you know that the idea for theme housing was brought up by students? Well its true, the idea of themed housing was constructed and thought out by students who were very interested in a general theme for housing (wellness, gaming, no substance). Its pretty cool how students could come together and give out ideas to residence life and be able to create an entire floor designed by a specific theme that they had an idea about. So now you know that if you or a few of your friends have a themed housing idea you could all group up and email residence life about it. Who knows maybe the next dorm that they build will have your theme in it. There's only one way to find out, right?